Finally on the way, finally! Nevertheless, before I (or we) sat on the saddle, there was a long bus ride to Krakow ahead. About 20 hours we both (Natali and I) drove to Krakow to meet. At Krakow airport we slept another night before we flew about 14 hours to Bangkok.
In Bangkok we spent a few hours by bicycle etc..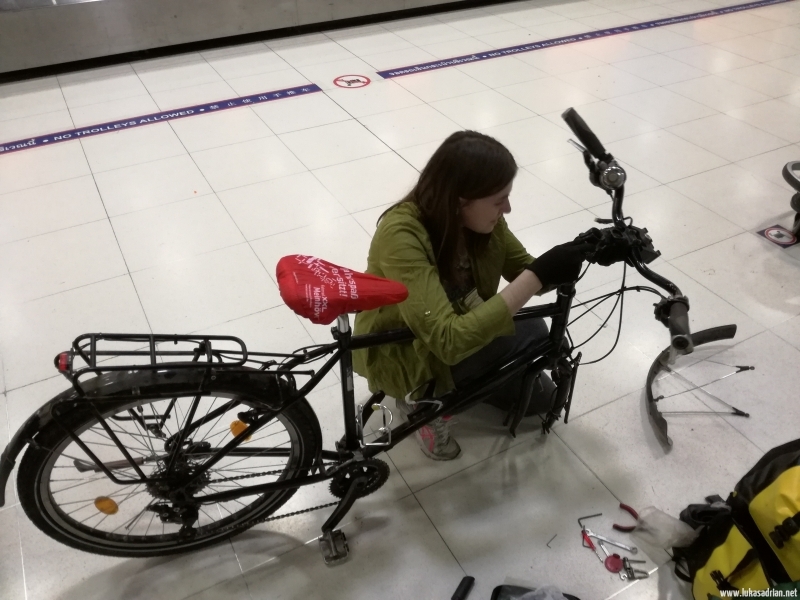 Unfortunately it got dark and the traffic was big. The unfamiliar heat did me quite good.
We decided to go to the hotel to come down. About 15 Euro for a double room with own shower. Not exactly cheap, but everything clean.
In the afternoon we finally started. First of all over smaller streets, where I felt every 50 m there was a small stand with food. Rice and meat. Something new for me, not being able to eat everywhere and everything I see (since the end of December I am vegetarian). Even if you only order vegetables, it is possible that this is done with a fish sauce. The Thais often get their food in such stalls.
Typical picture with cables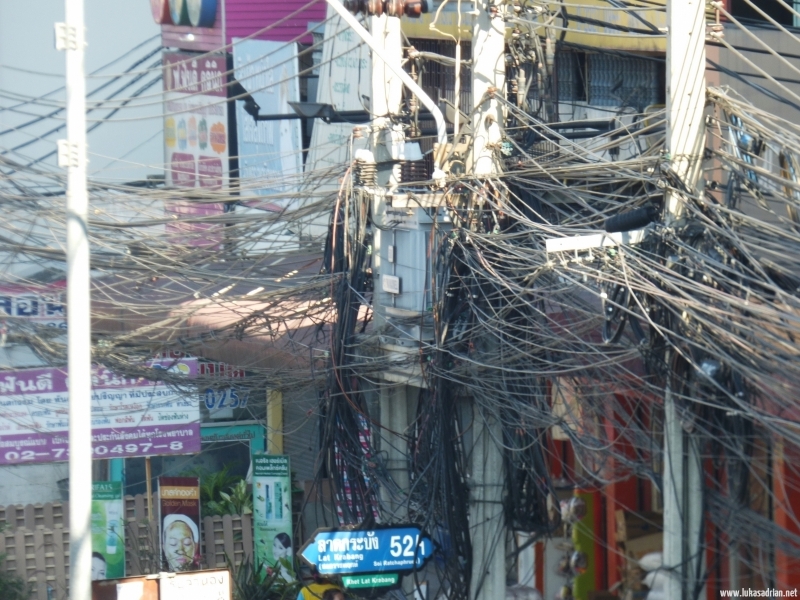 View from top

From time to time we were barked at by dogs. There are really many dogs here. Passing smiling people, we soon had to take a main road. Natali was unfortunately not so safe on the bicycle and was also quite loaded. It was all new for her. So in the extreme left-hand traffic we had to drive slowly and walk every now and then. Therefore we drove only very short sections on the main roads, otherwise only on side roads.
On the way we found a market where we bought bananas for about 50 cents a kilo. I bought a bag of rice and a bag of vegetables for less than one Euro.
At a side street, where we ate in peace, Thais came and brought us water. We also tried a dragon fruit. It tasted good, but I find the comparison with kiwi exaggerated.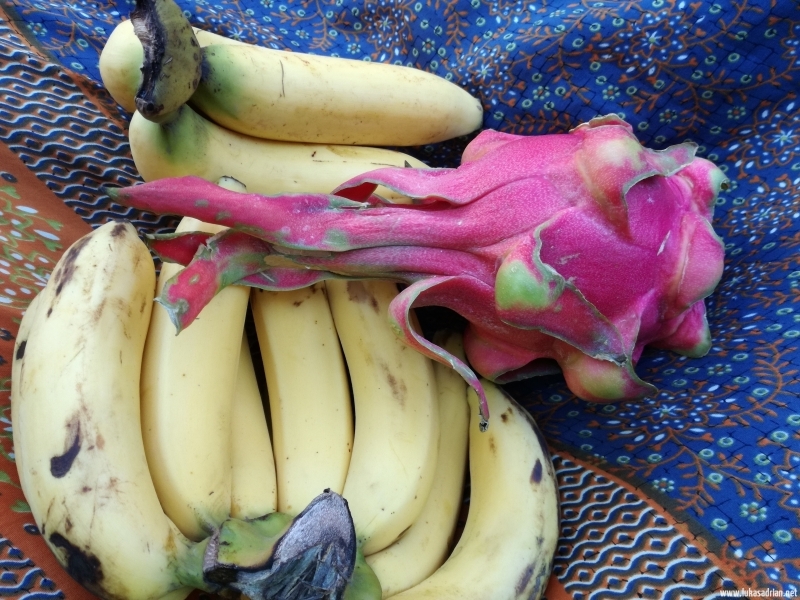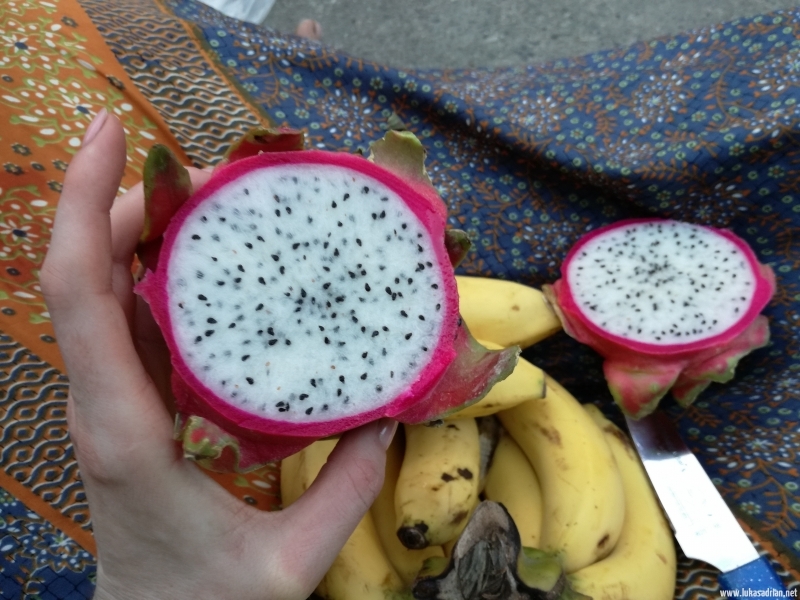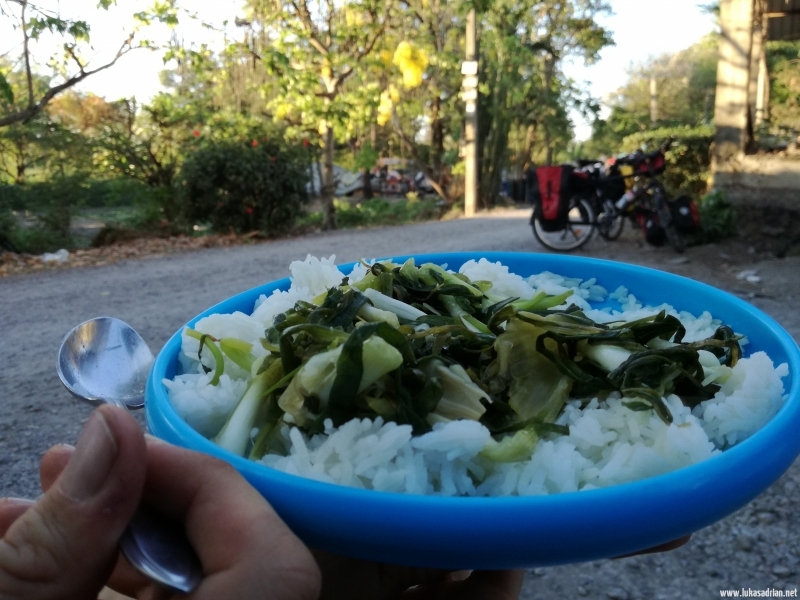 On the side roads outside the villages rice fields and fish ponds were to be seen again and again. Hardly beautiful natural landscapes. Unfortunately it soon got dark and it was difficult to find a campground in the light. Nevertheless it worked at some point. At a fishpond was a quite good and hidden place.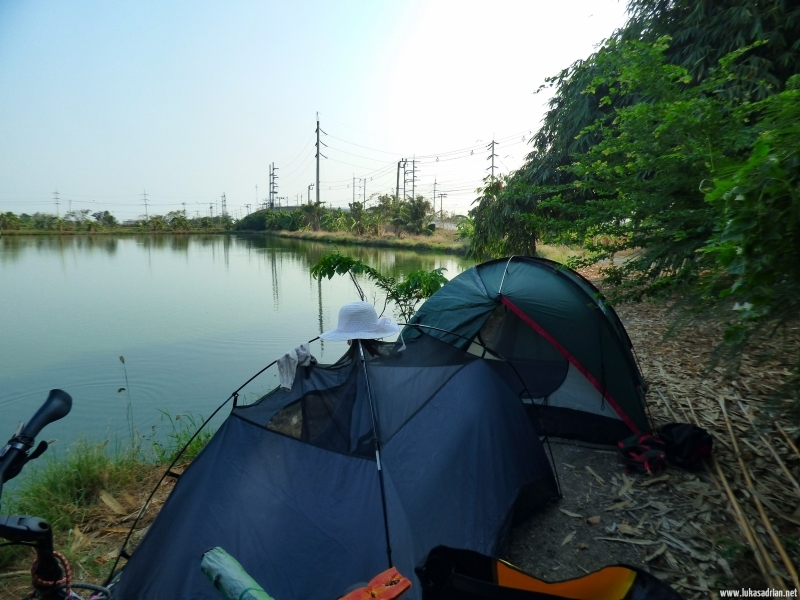 That night we heard birds we'd never heard before. All in all there are many animals that are only known from documentaries.
In the morning Natali got a fresh coconut from the tree. There were many palm trees at the pond. With effort and need we got them up and enjoyed the drink. We took out the flesh later and took what we could not eat with us.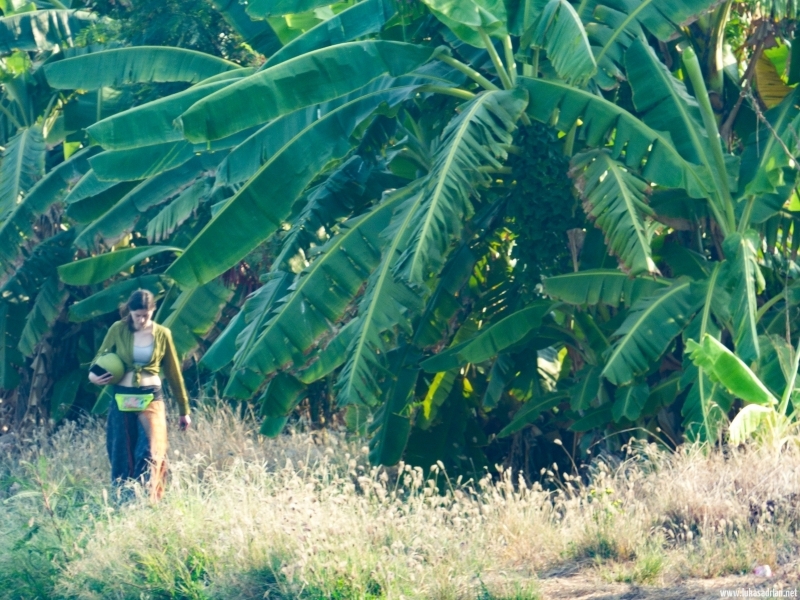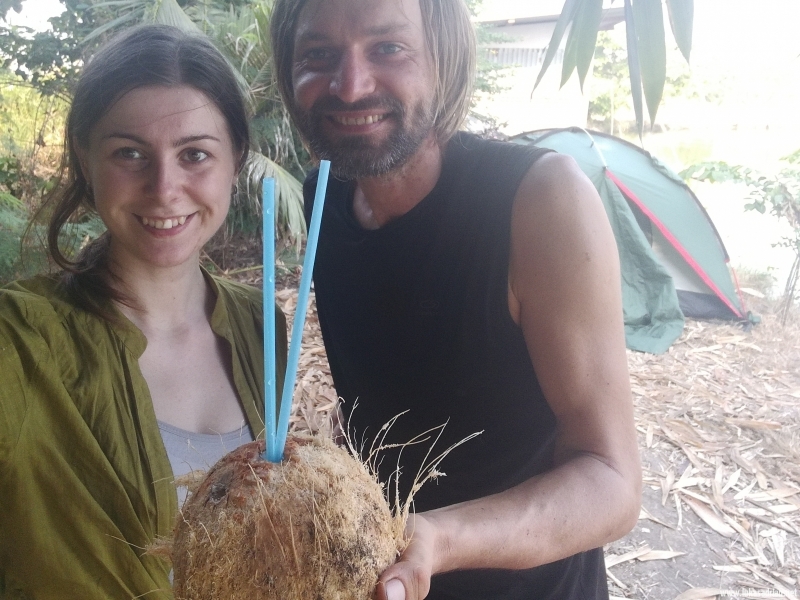 We also took fresh bananas with us. Since they were still green, they would now accompany us for an indefinite time.
Although everything seemed so strange to me, somehow it wasn't. Maybe because I couldn't enjoy it yet, because I was busy searching for gas cookers, sleeping places, food, routes and left-hand traffic.
In the late morning we drove off. We hadn't really arrived in Thailand yet, so I had the impression or the feeling.
The people are very nice and helpful. If one stands a little on the bicycle, someone comes who would like to help one. A lot of people smile at you or just wave at you.
We were tired, the heat was sometimes unusual and therefore exhausting. After a few kilometres we had too long a siesta. Again at a fish pond. By the way, these ponds are pumped out and the fish are collected there.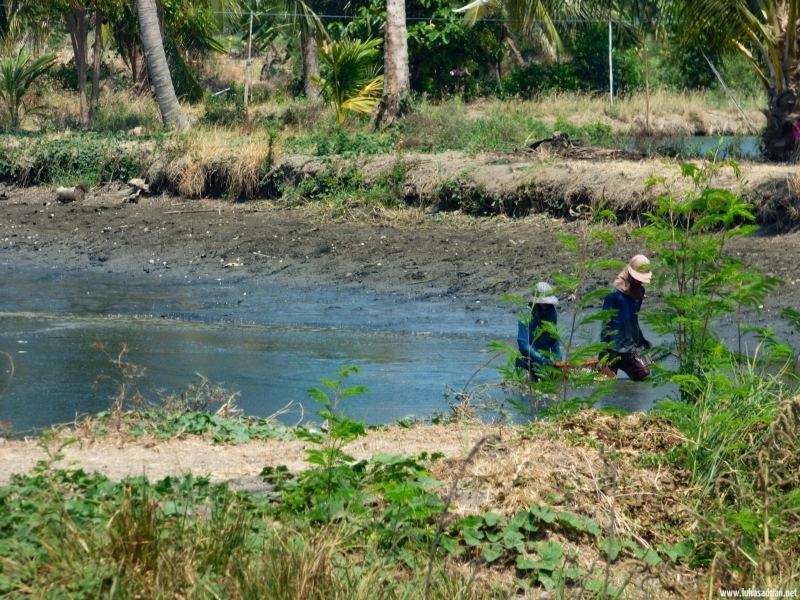 After the break we wanted to eat something that was not brought by us from Europe. Off to the store and look for what could be edible for us. Natali is vegan, I am vegetarian thanks to Iran. The Thais eat a lot of chicken and fish. Fish sauces are also very common.
So it was difficult to eat from the stand because you didn't know what was in it. Very few people speak English. We still lacked a certain routine.
With the help of the employees and our smartphones we could find something in a shop. There are microwaves in the shops and ovens where the food is warmed up. When we wanted to eat the hot food outside, it was already dark. But it was delicious.
We drove a few kilometres until we could find a place to sleep at a pond again. Some barking dogs accompanied us.
Also here it was recognized in the meantime that plastic is not good. Nevertheless everything is packed in bags. The garbage problem can also be seen very clearly in Thailand.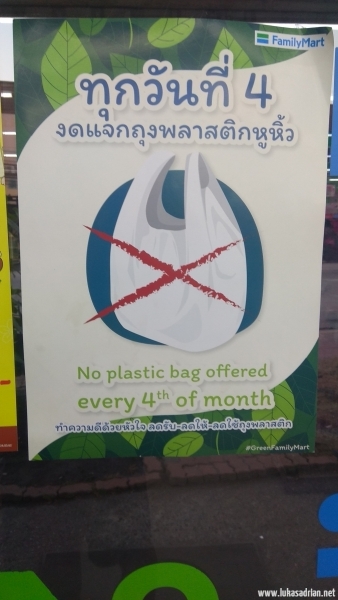 Entrance to a village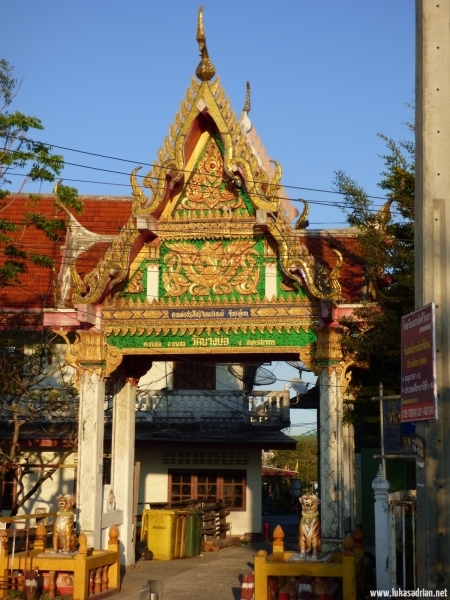 temple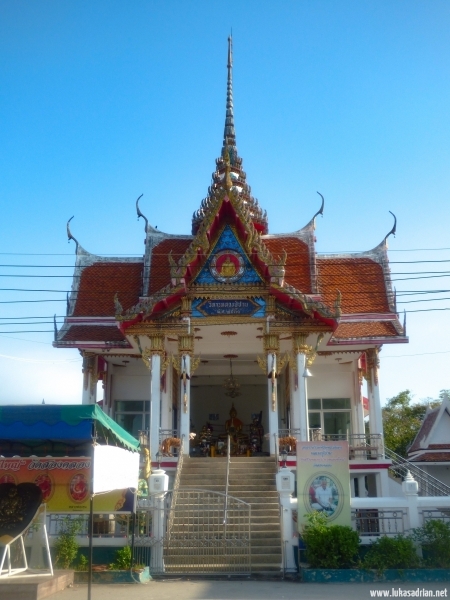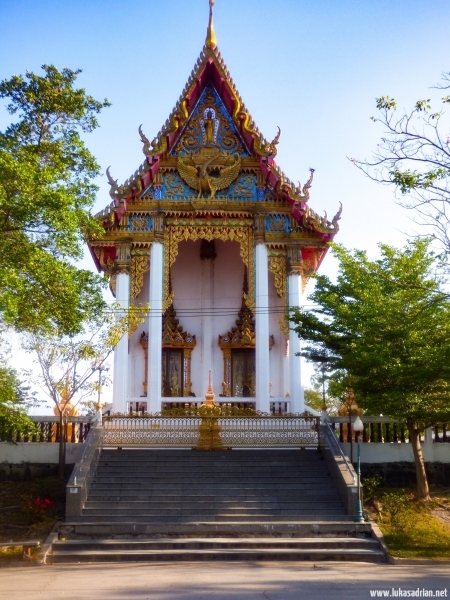 Cemetery for certain people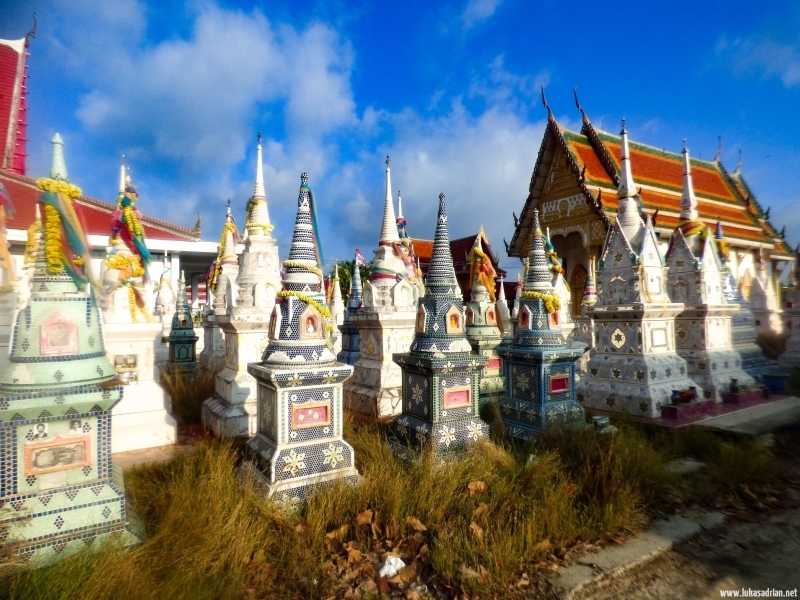 Unfortunately, since the flight a pressure accompanies me in the ears. Speaking is very difficult for me because it is unpleasant. This is very annoying. I fight permanently against it, but after a few seconds it comes back.
I also have back and neck pain, which I have had since the trip/flight to Bangkok. The lugging of my luggage, the bicycles and the bad sitting in the bus and in the plane have also contributed to this. It annoys me that I am not at 100%. So I have to watch out for the next days. Sometimes it was hard for me to fall asleep.
In the following days we found a warmshowers host. It is the Mosaic School with an Eco Garden, an alternative school where English is spoken. Starting with the new week, more than 100 children should spend their holidays there. We offered our help for this week. We should start on Monday.
Directly friendly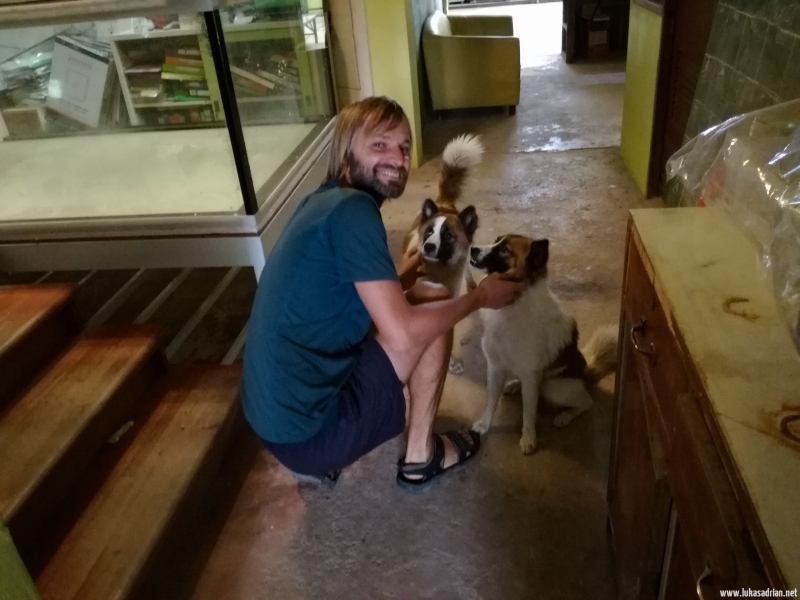 But first we decided to take the buses to Ayutthaya, the old capital of Siam (formerly Thailand). It is located over Bangkok, about 160 km away from us. We took a tent with us. After about 3 1/2 hours bus ride, we ate some fruit and with borrowed bicycles we drove once around the island and through a few tourist places.
We slept in the hostel, because no places for camping were found. Natali tried the next day with Henna Tattoos people to paint to earn something. All tourists from all over the world, but nobody wanted.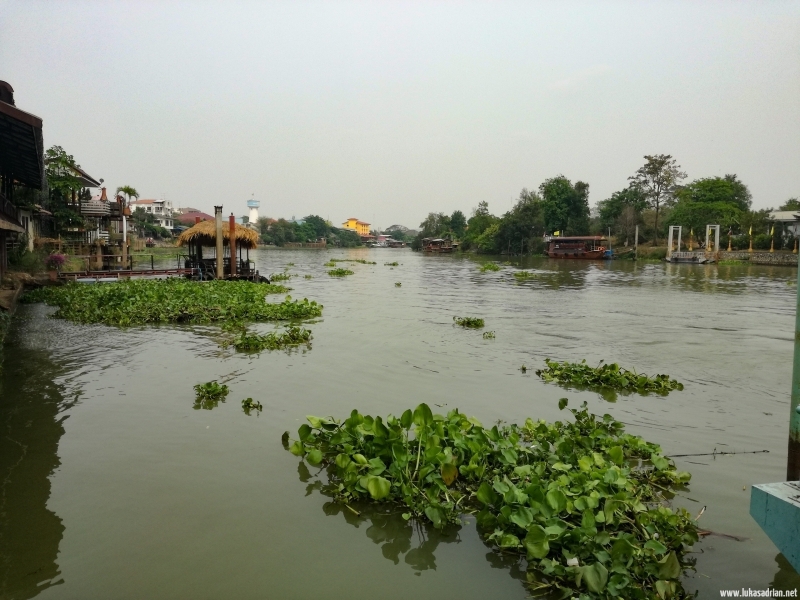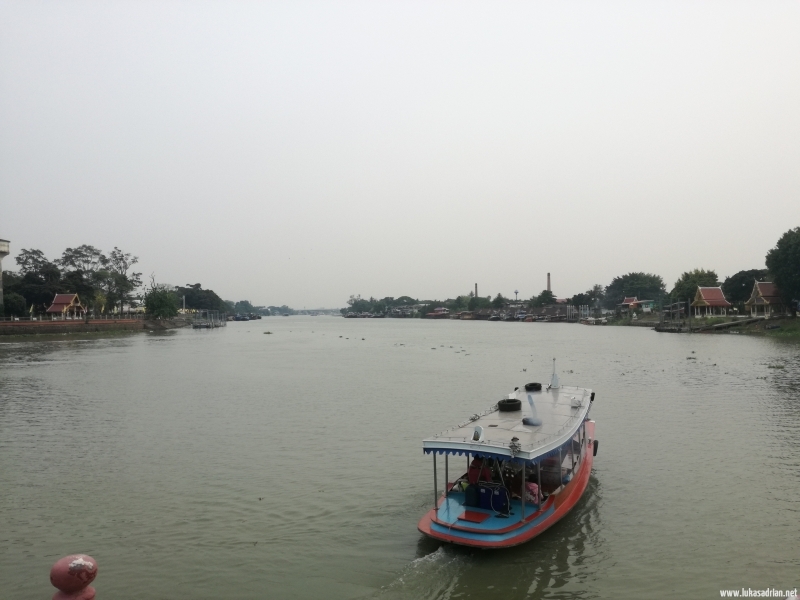 Special prices for tourists

Our borrowed bicycles. Mine with a plate.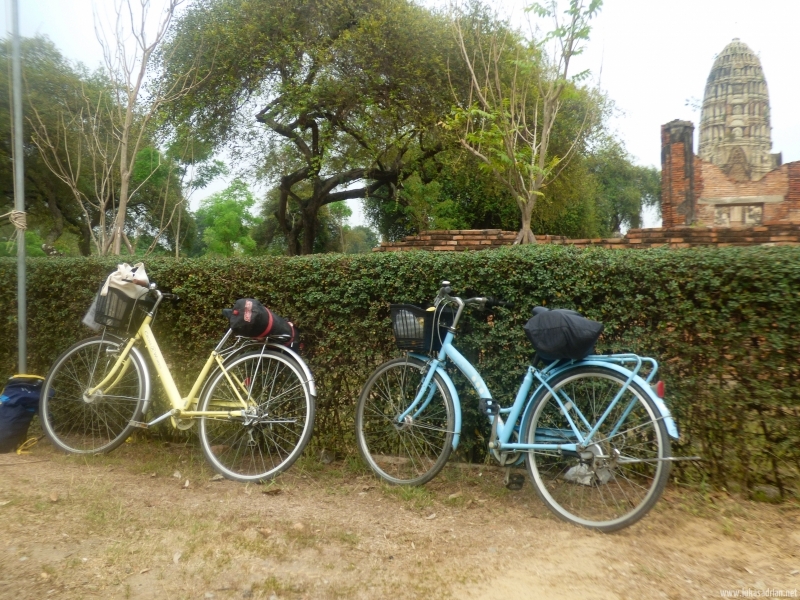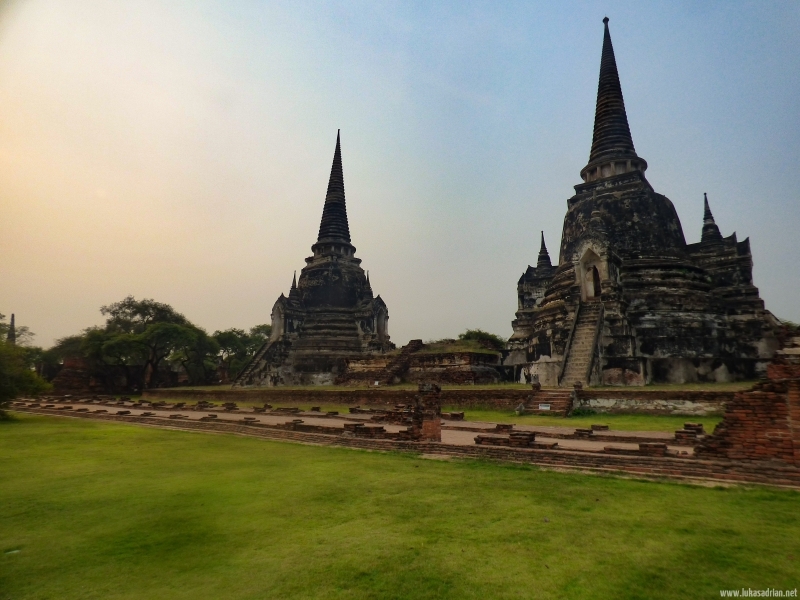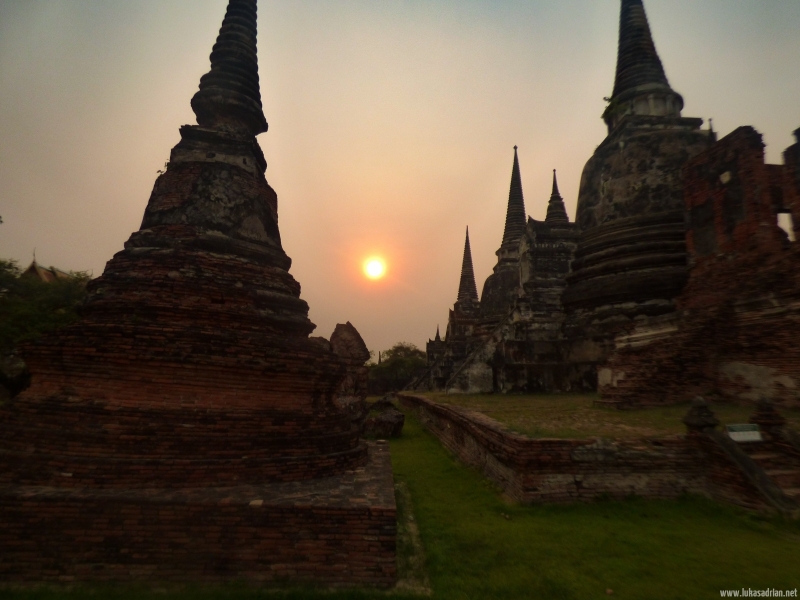 Everywhere small shops, cars and food stalls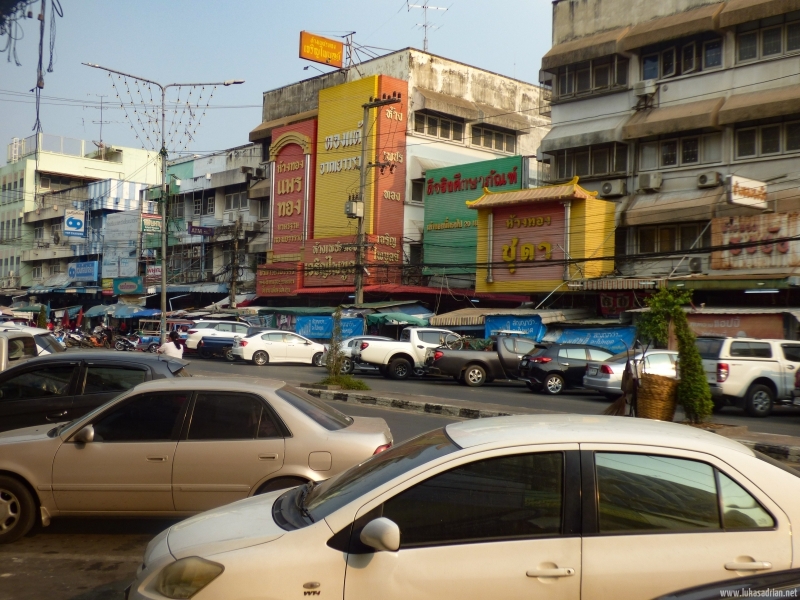 In Ayutthaya I reached a small low point, my head was exhausted. And that after only a few days. We couldn't find a campground, I couldn't find a train back either on the internet, Natali didn't want to spend money for the hostel. The permanent search for sleeping places, looking for cookers, looking for food, Cochsurfing/warmshowers, thinking up plans and routes, just like the days before, made me a little listless. After a few days doubts arose in me. Hardly any pleasure, almost only work. Nevertheless, I am firmly convinced that as soon as the stove is there and I learn to live in Thailand, it becomes easier. The beginnings in Turkey and Iran were also not easy and later I missed the countries. But empty landscapes are missing, here everything is so built up and full of fields.
Fans as air conditioning. In addition open windows.

Bangkok railway station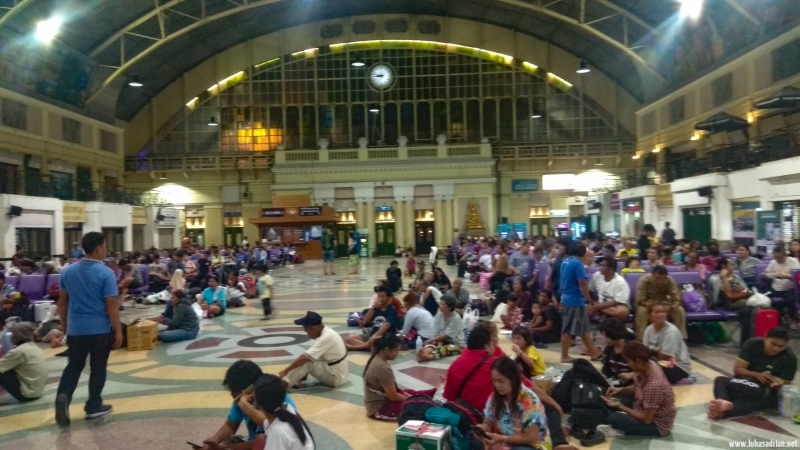 Many people also live on the tracks. Even quite close to the trains that slowly pass them.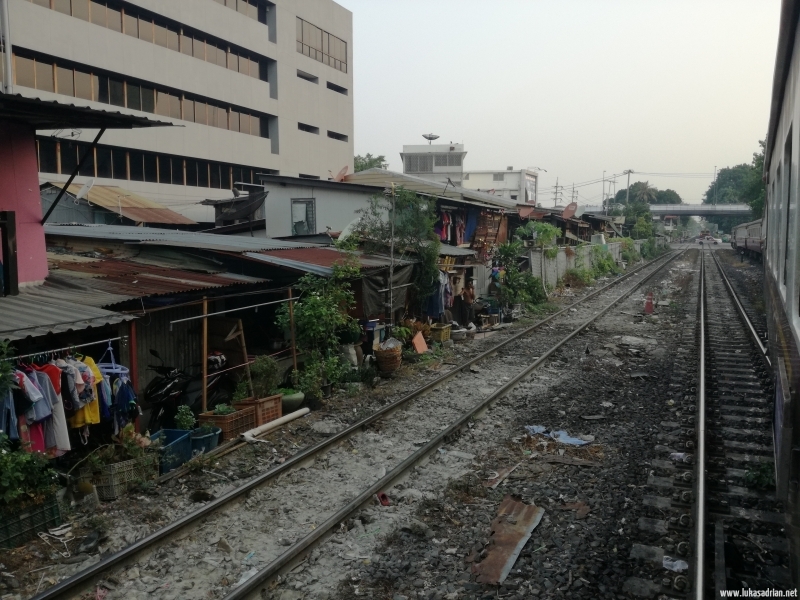 Geckos are everywhere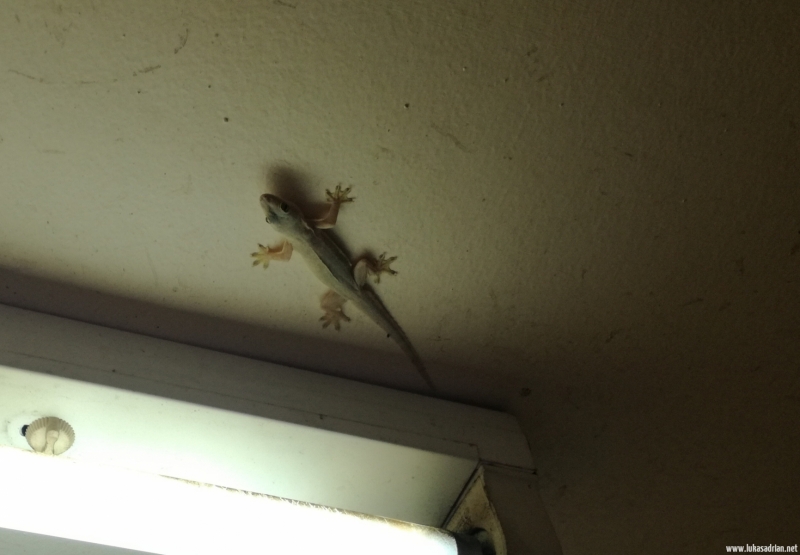 Temples again and again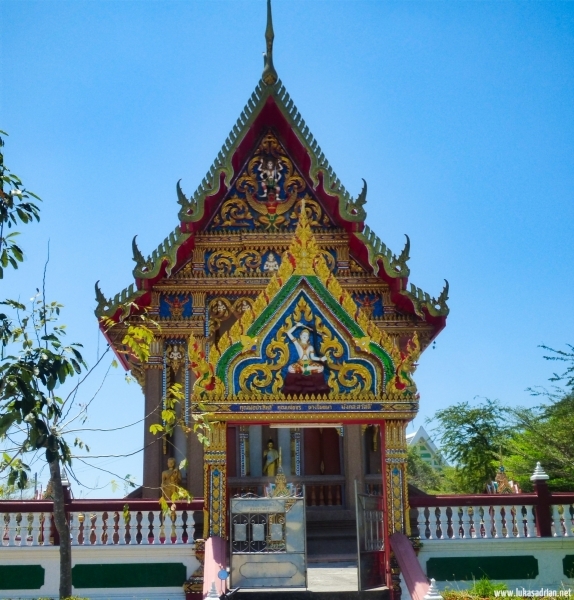 From Monday on we supported the teachers with watching, playing, cleaning up etc.. For me it was a completely new experience and it was mostly fun.
The children are only allowed to speak English here, so communication is easier. All lessons are also in English.
Unfortunately we can hardly eat, because almost everything is meat, and we have to cook something ourselves at the fire. Since I mostly eat vegan food because of Natali (it is easier to cook together than separately), I starve every now and then. Sometimes it is still possible to eat the food at school if it is made without animal products for us.
Playing, painting, cutting, gluing, paying attention, I would not have thought how exhausting all this can be with more than 20 children.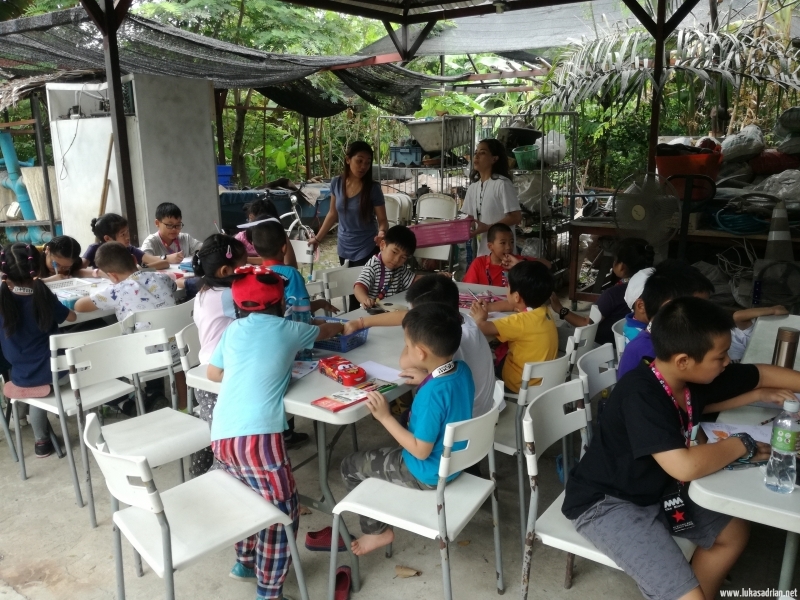 When we made a little trip in the afternoon, behold, monkeys! Many were in the trees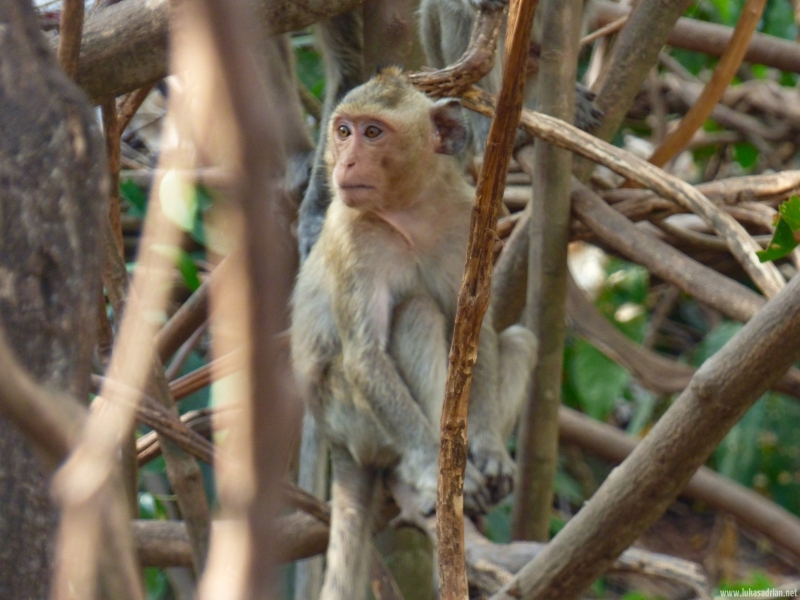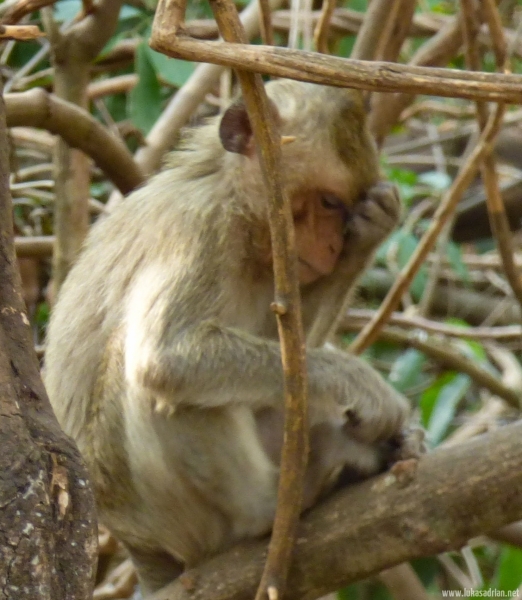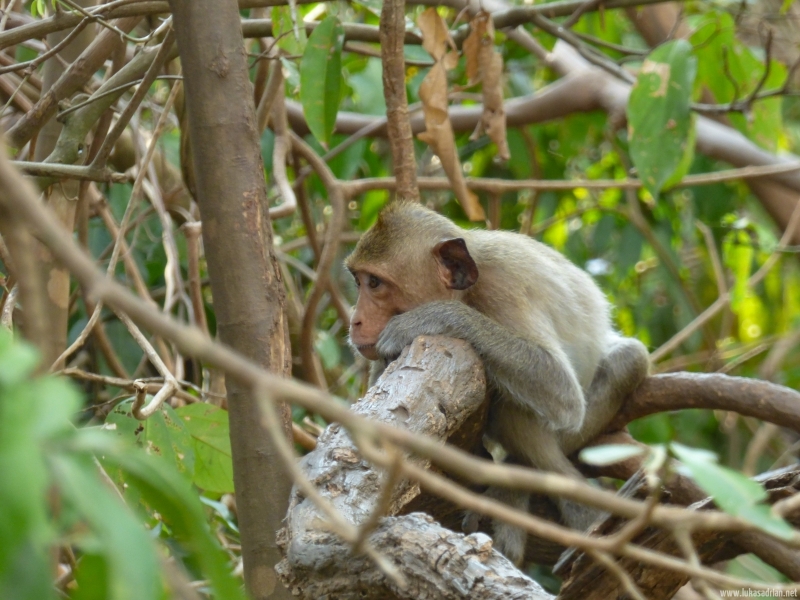 We drove around a lake, the change was good for us.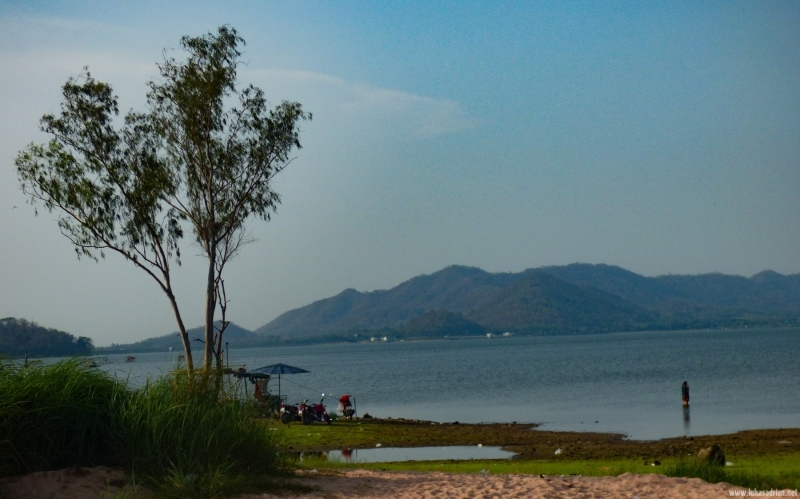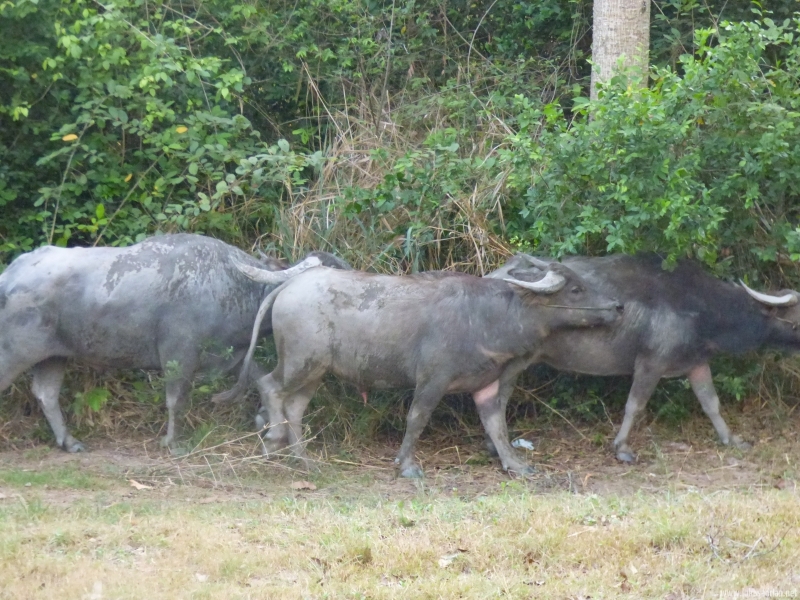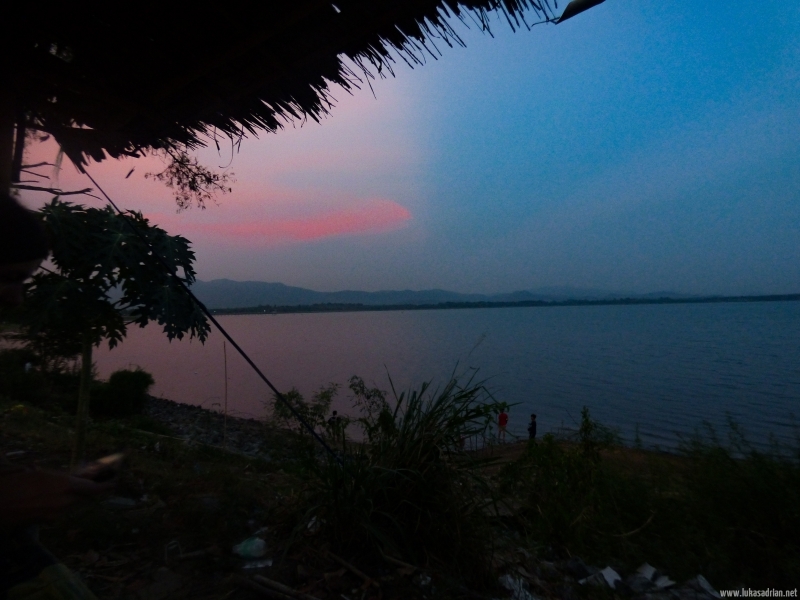 Wow, the Thais have a moon, too.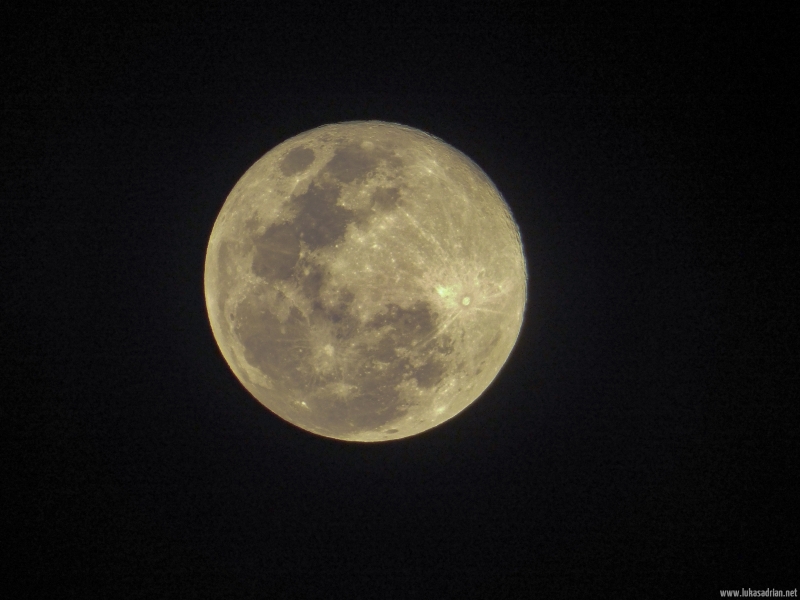 My hair is shorter 🙂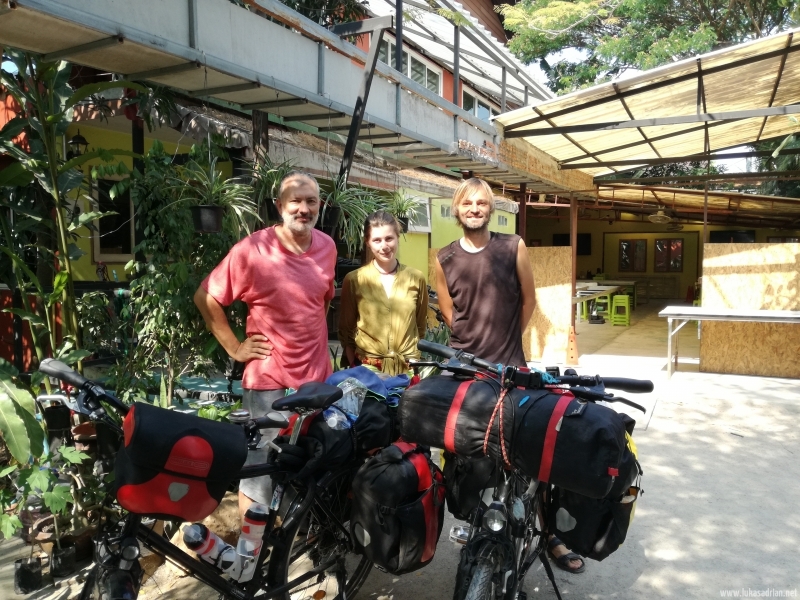 We left the school, but unfortunately the sun didn't do Natali any good and we had to take a break more often. I thought about the children for a few more days, a few I missed somehow.
Slowly we got closer to Pattaya.
A topic that will probably annoy me until the end of my life, garbage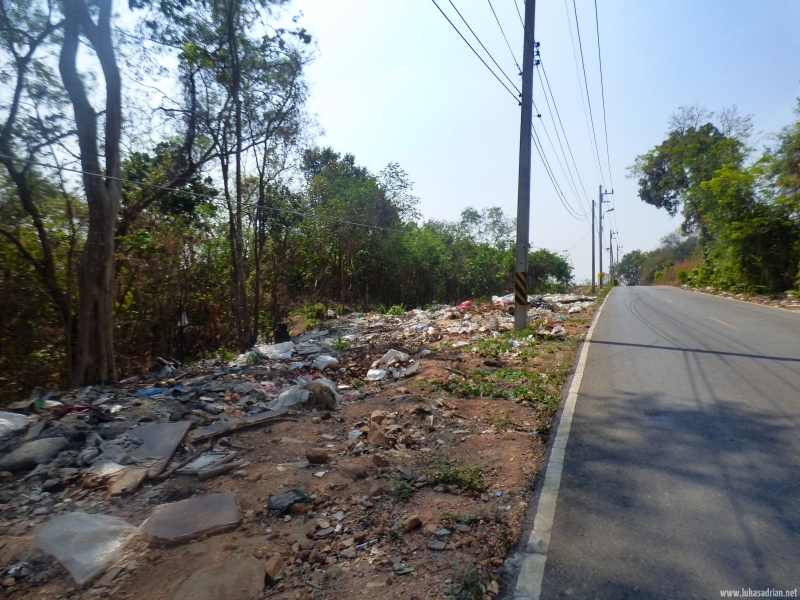 Natali pushing. I haven't told her yet that I have planned a lot of mountains. Here she still laughs 😀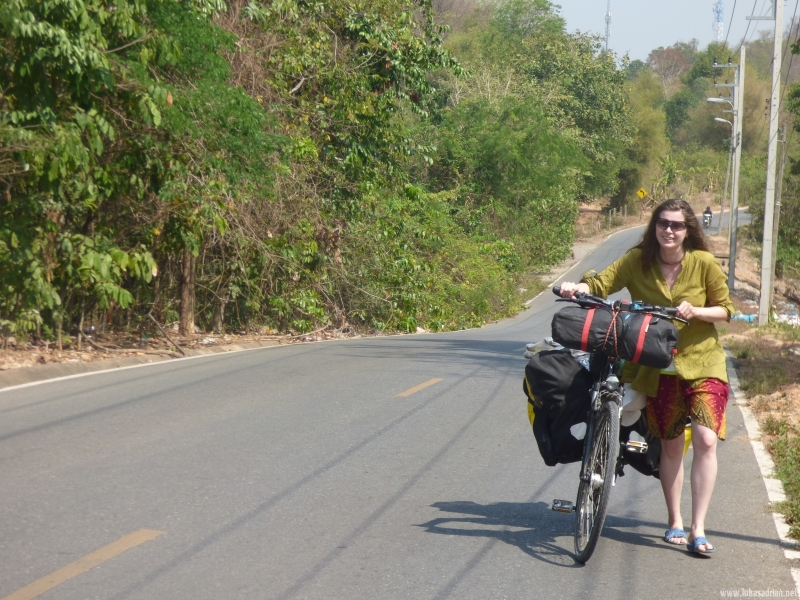 On the way we made dinner at a fireplace. I handed over the responsibility for the food to Natali, because I can't cook well and usually eat quite simply.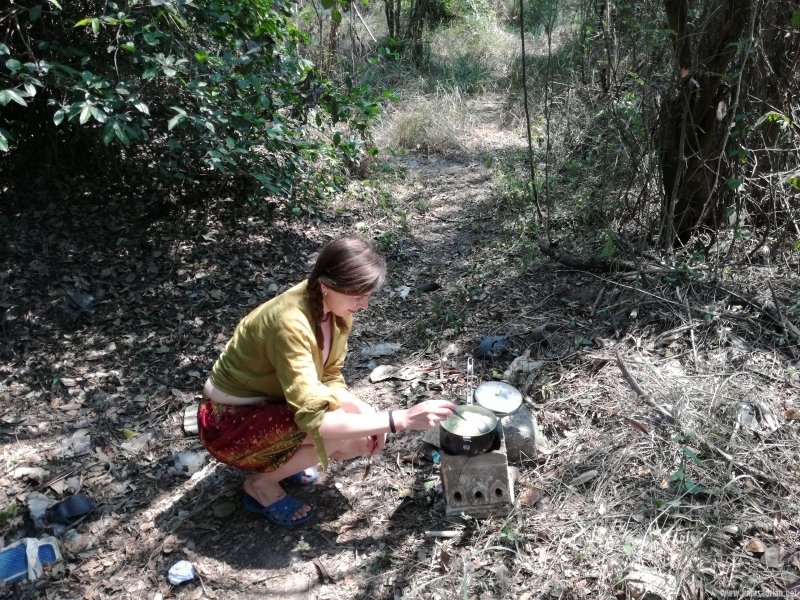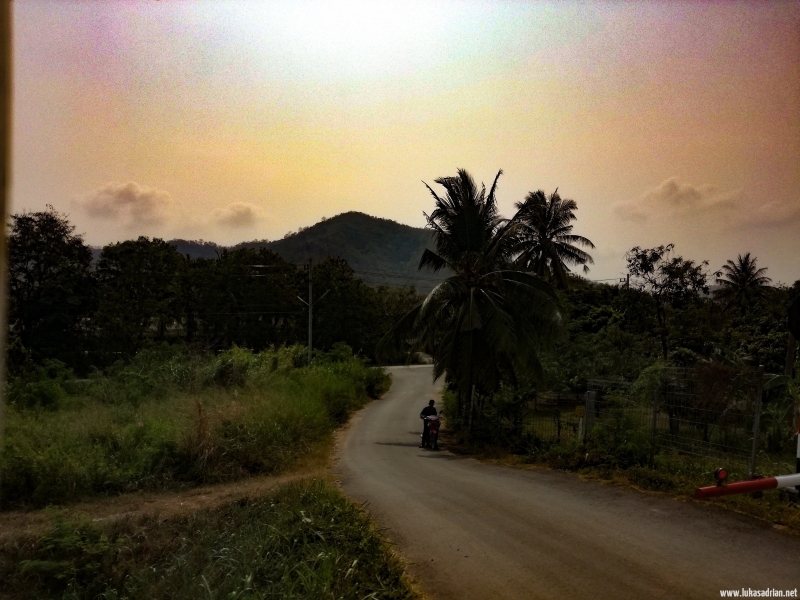 A cemetery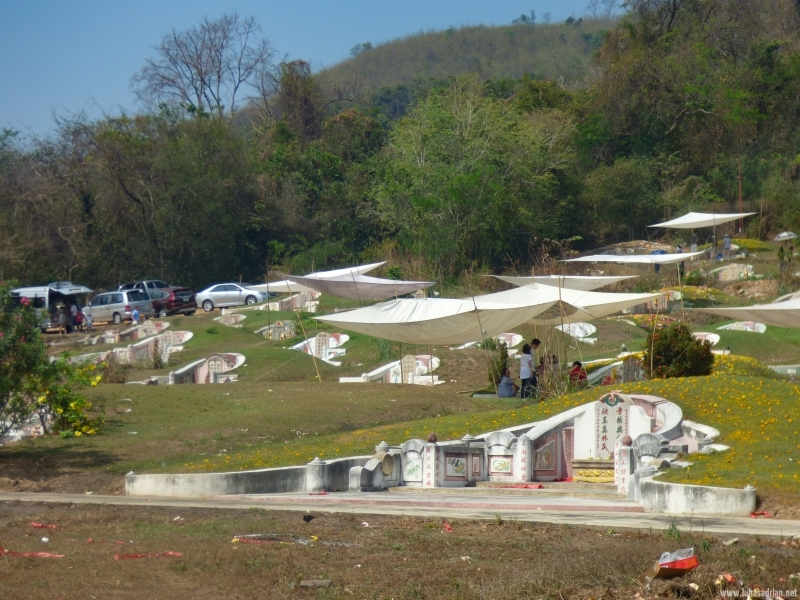 Again and again these Buddhas are standing at the roadside.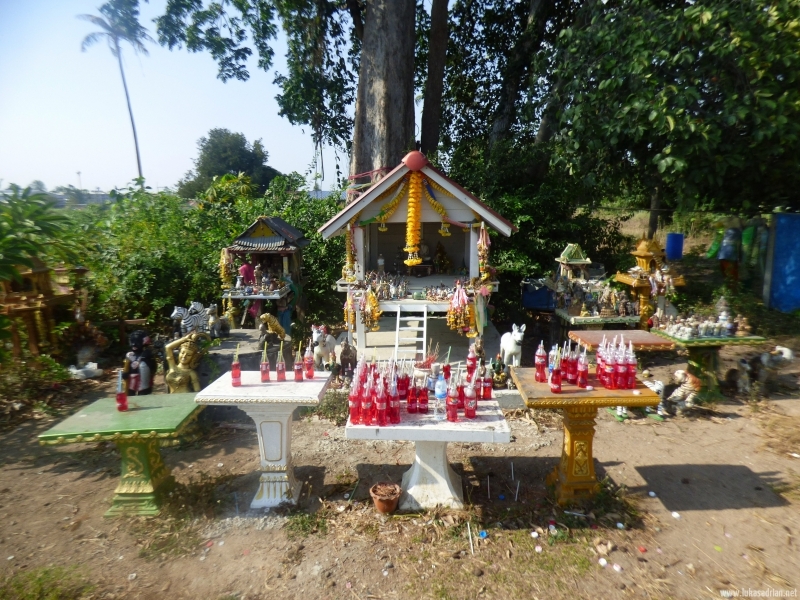 When we arrived the following day, we went straight to Decathlon to buy a gas stove, or at least we wanted to. There were none. Then Natali noticed that she had lost her passport. With a taxi we left 2 places and went to the hostel to sleep. The next day we would find out from the police how it will go on.
All photos to this post are here: https://lukasadrian.net/index.php/nggallery/alles/14—Thailand?page_id=2436&lang=en