In the hostel in Gradiška was only the Rick from the USA, who has already made several rides on the bike. My English, well, I know it will get better in the next weeks and months 🙂
I found it interesting that he travels with 10 kg of luggage, keeping everything to a minimum, while I have about 25 kg.
But everyone has different requirements, because these 25 kg are my home for the next months or even years. So why should I have to do without my bathrobe and pyjamas? Of course it was a joke, but I cook, camp wildly, I need more clothes, a computer (over 3 kg), etc… It's just my home for a long time.
However, the first impression was that BiH (Bosnia and Herzegovina) is poorer. But I was only in one city and can't say more about it.
In the evenings people were sitting in the bars, singing, having fun. I had dinner with Rick in a restaurant that reminded me very much of a communist time: The cook in a white coat, a lot of stuffed, cheap of course also, a little smoky.
The waiter was also funny when he first approached Rick: "Trump, very good! Later to me: "Lewandowski, very good!" and showed his thumb up again. When he went out he said to me: "Germany, very good" and surprisingly showed his thumbs up. He was nice and really took care of us and other guests.
In the hostel I saw for the first time a washbasin for children, directly at the toilet. For me to wash my hands and brush my teeth naturally too deep, but interesting in any case: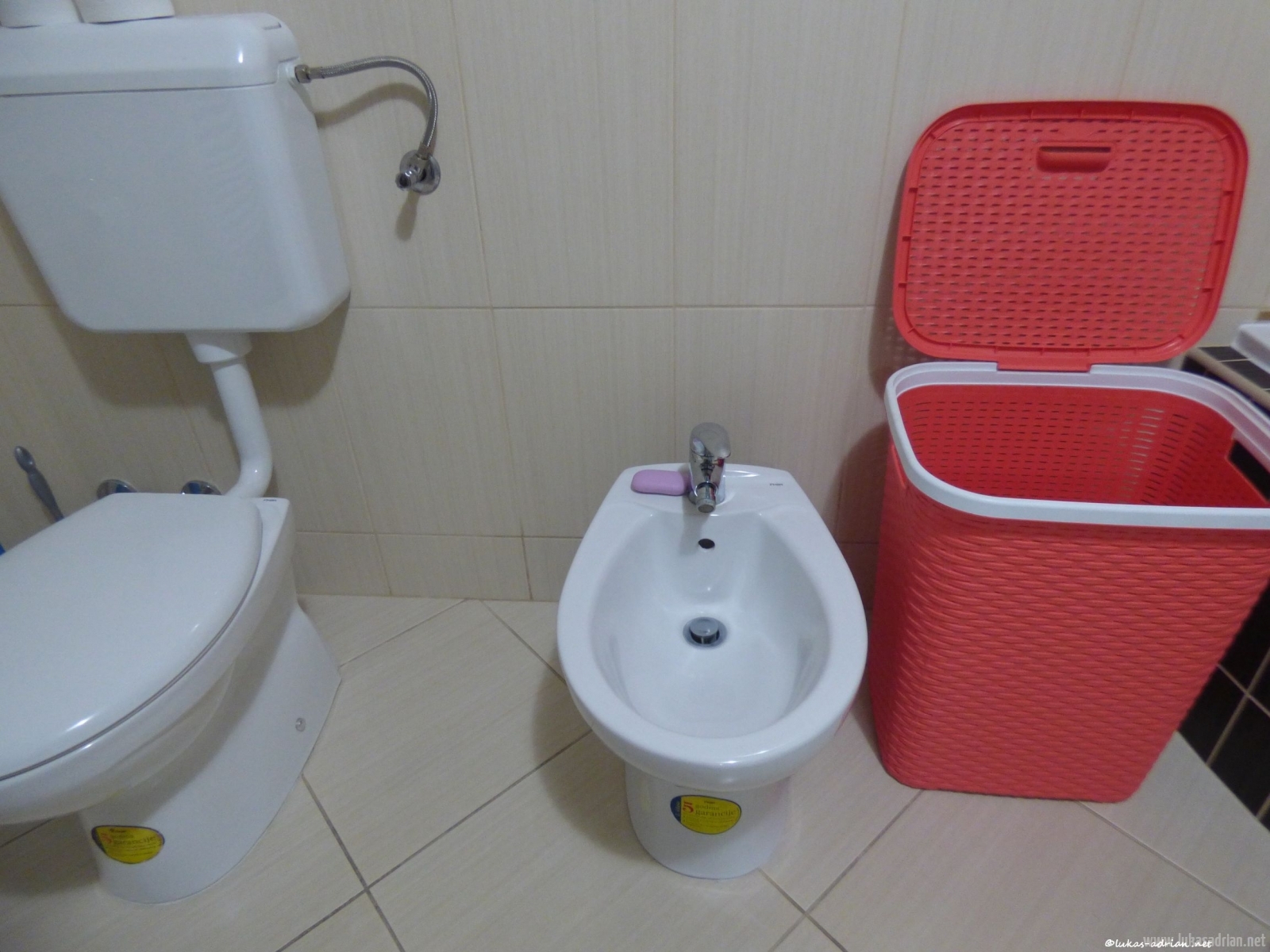 Rick drove further south in the morning (he saw more in Europe than me 😀 ) while I spent a day all alone in the 6-bed room. I went to sports shops in the city and also went grocery shopping. In the evening I went to a restaurant.
In the restaurant, an "eat" became "Ćevapi" or rather Ćevapčići. I thought I was supposed to get a card, and she said something about 10 minutes. Then she came with a plate Ćevapi.
Okay, it was super good, again. The problem was, I was hungry and I was really hungry. I paid the 5 KM (about 2,50 EUR) and went to another restaurant.
There was a map and a waiter who advised me. I ordered a beer and then chicken breast with a mushroom sauce. Again very tasty. I paid 10 KM (5 EUR).
The food here is really delicious, I think just like in the whole Balkans. I think there is little to be done wrong.
One big problem is: They put vinegar in the salad and break it. I can't stand vinegar, and the best place to put it is in the toilet. This disgusting juice, which then settles on the salad plate below, is it still drunk? That's one way to get rid of hunger.
I still found it great that there is WIFI free of charge in almost all restaurants.
The next day I should go back to Croatia, where I should sleep in a hostel in Slavonski Brod.
The way led me first to the border, where only 3 cars stood in front of me. Then on, again about this endless row of houses, only this time came more variety. All felt 20 km a very small park. The road was very flat, I had a light tailwind (WOW!). Still, I could hardly find places to pee.
Then finally after more than 90 km I arrived at the hostel around 4 pm. I went into the driveway, then around the corner again and outside only a granny was sitting on her chair with a headscarf. Nobody else. She had bad hearing and didn't understand me. She pointed to the phone number where I should call. So mobile out, unfortunately I could not connect to the network. In the hostel there was no landline, no WIFI. So out on the street, approached people (fortunately a nice lady spoke German) and already everything was done. 10 min. later came a woman, with whom I paid then approx. 11 EUR for an overnight stay. I was all alone in the whole hostel with Granny. WIFI was disconnected for whatever reason.
In the city I had WIFI (normal stop) and could communicate a little with home. I also went shopping.
In the morning I drove on, again partly through these rows of houses, but later turned south towards Šamac. Before the border I got rid of my remaining Kunats (Croatian currency) in a small shop. The pretty lady was helpful and we were still talking at the shop door. I packed the small stuff and then moved on waving. Back to the border of Bosnia and Herzegovina. I first talked to the official on the Croatian side and drove on.
On the stage side I talked to the officials again and there was a small traffic jam. But you can talk 🙂 Don't you worry about it.
I then drove through some Bosnian side roads showing some nice houses. But also through a stony road, where I panicked before a flat tire again.
Beautifully past a lake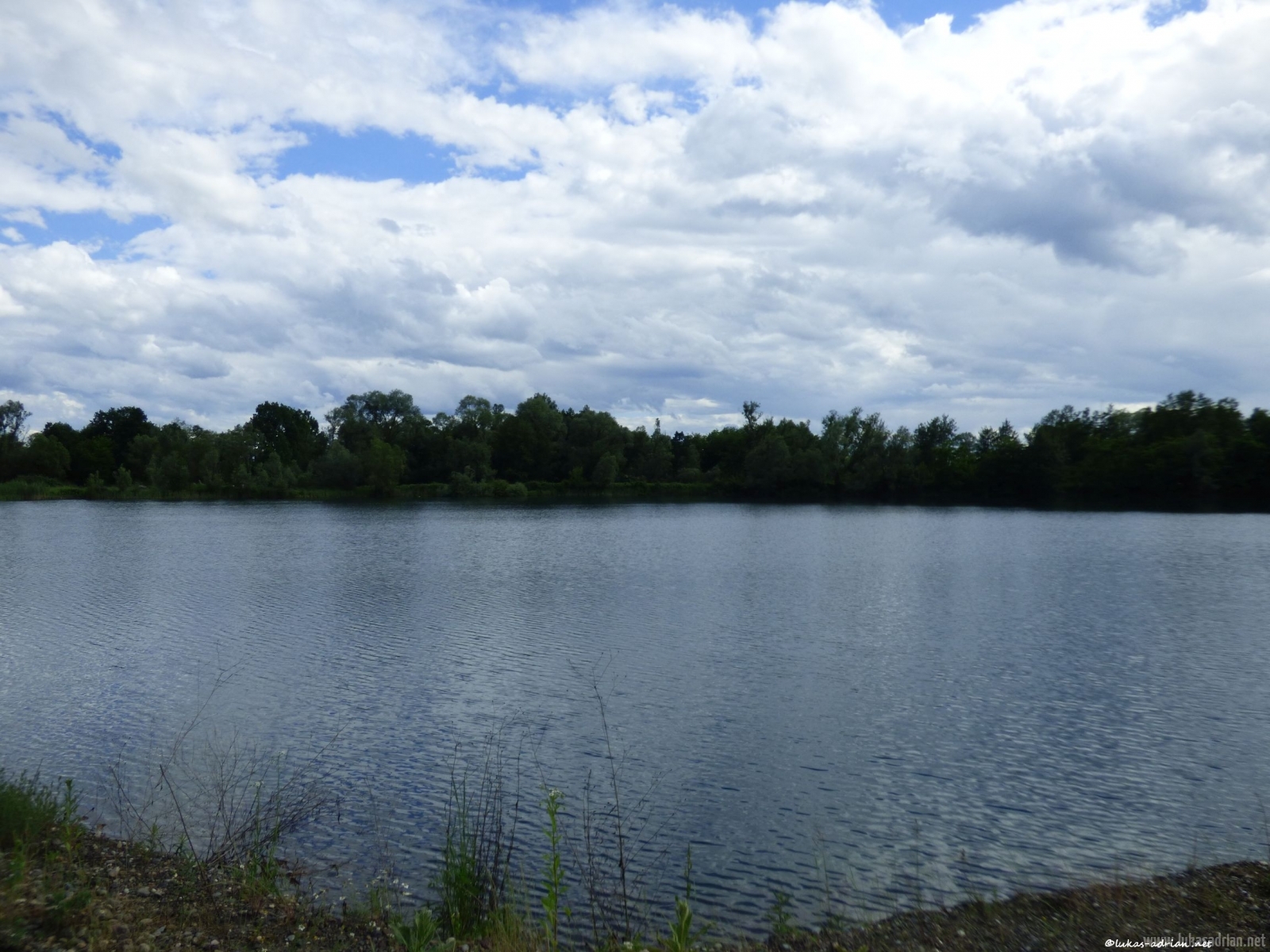 I saw on a pile of rubble two smaller dogs looking for something. I can't tell if they've been exposed. They both looked at me when I stopped. After that I drove on, it could be that they belong to someone, because the houses often have no fence. If they don't belong to anyone, they'd survive like this, and I can't take them.
Then finally I came on the main road towards Brčko. In the city first drove to the center, where there is WIFI to find the exact address of the Guest House. I went there, paid 24 EUR for 2 nights and had my own room. I had again over 90 km behind me. Unfortunately, my GPS is weird again. I'm thinking of getting another smartphone.
In the Guest House I was also allowed to use the washing machine and had a hot plate! What a luxury!
The same day I went out for dinner. For 10 KM (5 EUR) I got Ćevapi with ham and cheese, something to drink and 2 flatbreads. It was so good, again. I also liked the small restaurant very much. The music with its Arab influence was Balkan music. Also the presentation with the wooden chairs, the waiter humming to the music, everything was perfect.
I slept like a baby and the next day I searched some sports shops in the city for cheap sports clothes. Unfortunately only branded goods and boutiques. To spend 15 EUR for a pair of shorts, which may later end up dirty in the trash, is a pity. So I went grocery shopping, looked at the center. There were a lot of coffees etc., so as it is in the Zenrum. I decided not to go out for dinner and cooked at the guest house instead.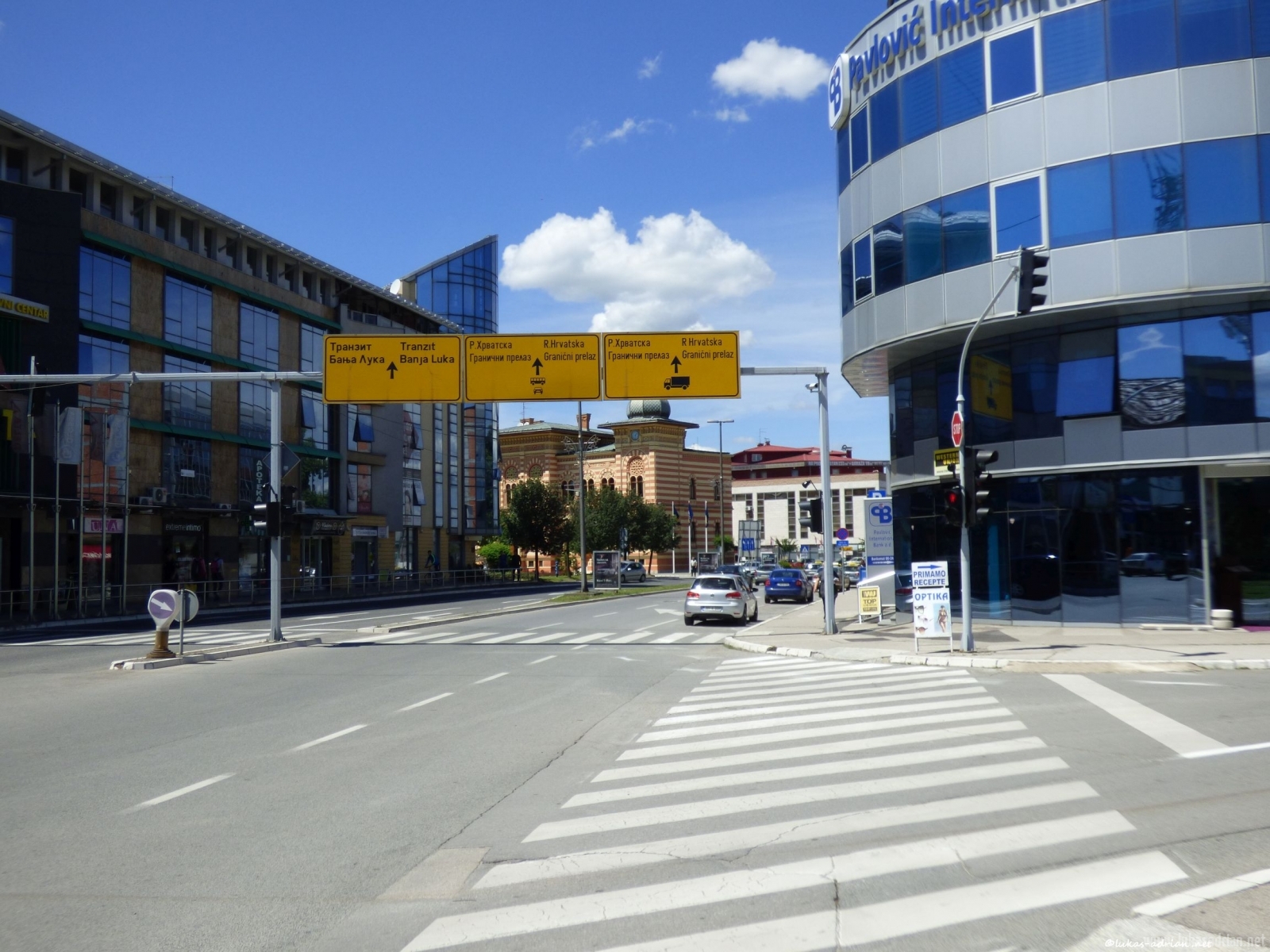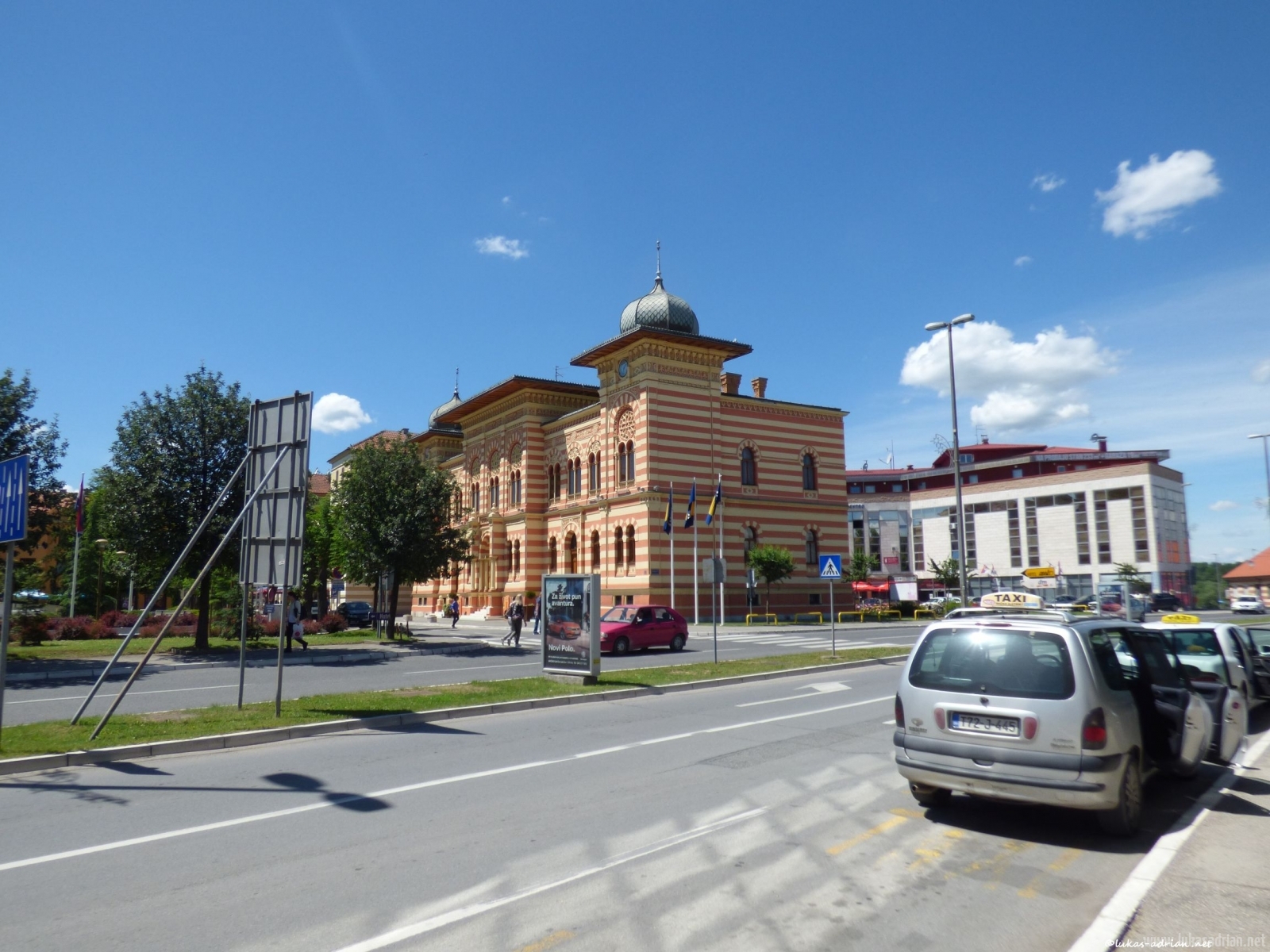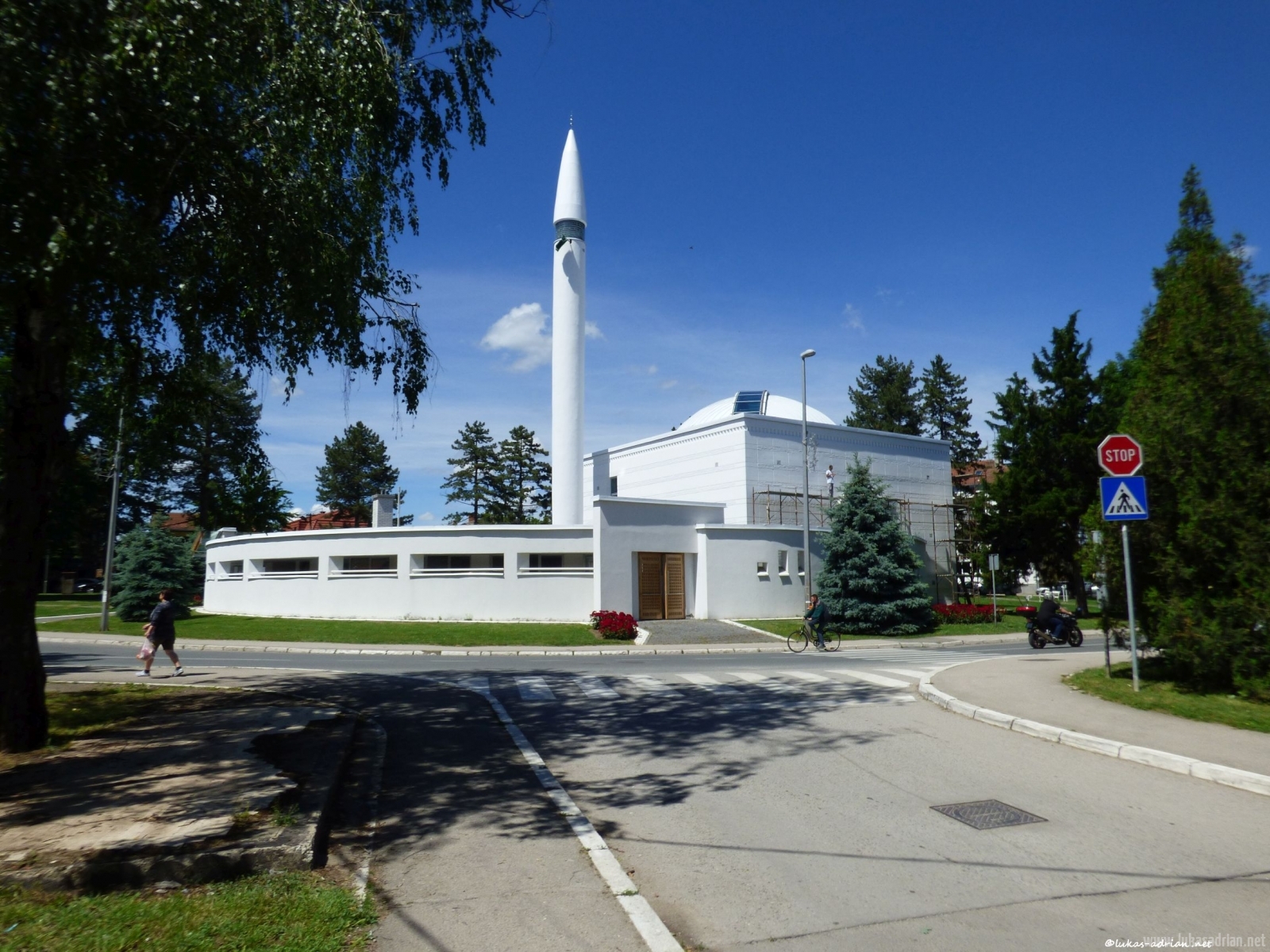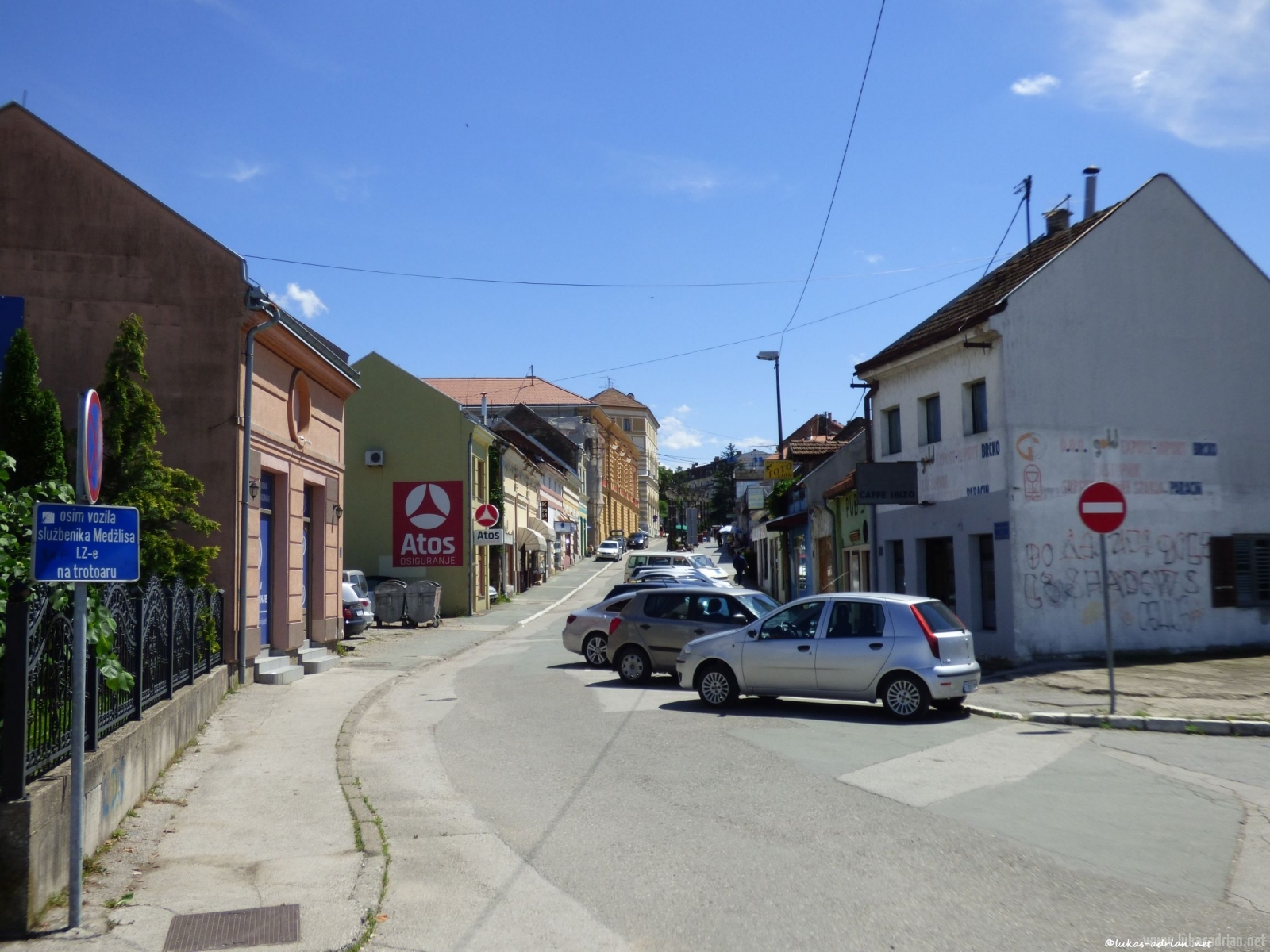 I find this city much more beautiful, it has more possibilities, but it is also more modern. But the more modern, the more it was destroyed. I don't know the exact story, though.
Another thing about Bosnia and Herzegovina: almost half of the people here are Muslims (Bosniaks), so that one hears the Muslim songs at certain times. I heard them for the first time in Gradiška, here in Brčko you can even hear several.
I find that fascinating and was happy to have heard something like that for the first time. A new culture, new religion and I look forward to the other countries.
In addition, many texts are in Latin, but also in Cyrillic script.
Bosnia and Herzegovina is also divided into three different groups: Bosniaks, Serbs and Croats.
I was invited by the guest house owner to the cafe (thanks for that!), where I could also learn something about life in BiH. It's just like in the other Balkan states, you fight your way through. For some it is easier, for others it is more difficult.
My next route led me about 50 km through BiH to Serbia. Not much really happened, except that I was invited by a German-speaking elderly gentleman to chat for an hour in a small village off the main road. He also gave me a Slimowic, I indulged in one. But it's probably normal in this region. Rejecting is rude.
The Lord is in Austria more often, so that he can also speak German. We continued on the main road, where the traffic, which was fortunately not too strong, annoyed me nevertheless.
The border came closer and a new country, Serbia was to come. Although this is only a border, there are still many regional differences, as in every country. A stamp later I was over there.