With Ali we first drove to a street with bicycle shops. In Tehran the shops are categorized like in Istanbul. That means, if you look for a lamp, you drive to a street with 40 lamp shops.
My rear wheel was quite worn and had to be replaced. The brake pads, which were quite small after 9500 km, were replaced by those from Bosnia-Herzegovina. Now I'm curious whether they can withstand more.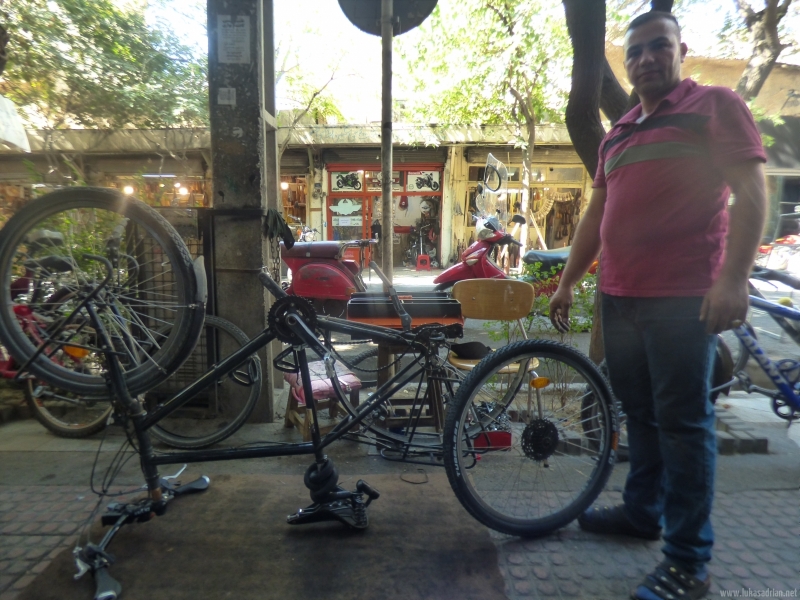 Some parts cannot be imported because of the high dollar, it is just too expensive. Also the tires are imported. Thus the choice of tires was limited.
Through the smog on the expressway we went to the third direction south. We bought food for the next day about 1 hour before sunset, because we would not meet any village for the next 80 km. It went now into the desert. Only after 80 km we should meet the first Caravanserai.
At dusk we wanted to find a place to camp in a village, when Ali and Michael, who were behind me, were approached by someone. The man offered us a place to sleep in some sports centre, they said. While Ali was discussing with the gentleman, another man joined us on the bicycle. He talked about sleeping with him in the garden. I liked it better there in the tent! But then another car came running, with some minister who also got involved in the discussion. At the end we should drive behind the minister. After he had phoned for 10 minutes, he led us to a park. There we were supposed to follow someone on the scooter who took us to a mosque. The man left and we followed someone else who took us to a bedroom. Of course every handover was accompanied by discussions. But mostly with questions about where we came from.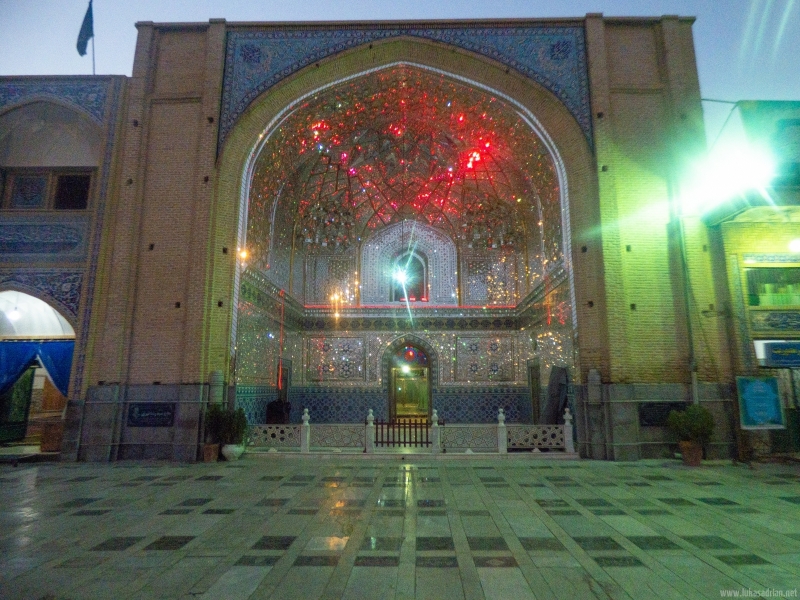 In the evening the gentleman who was on the bike came and brought us very tasty grapes and some vegetables.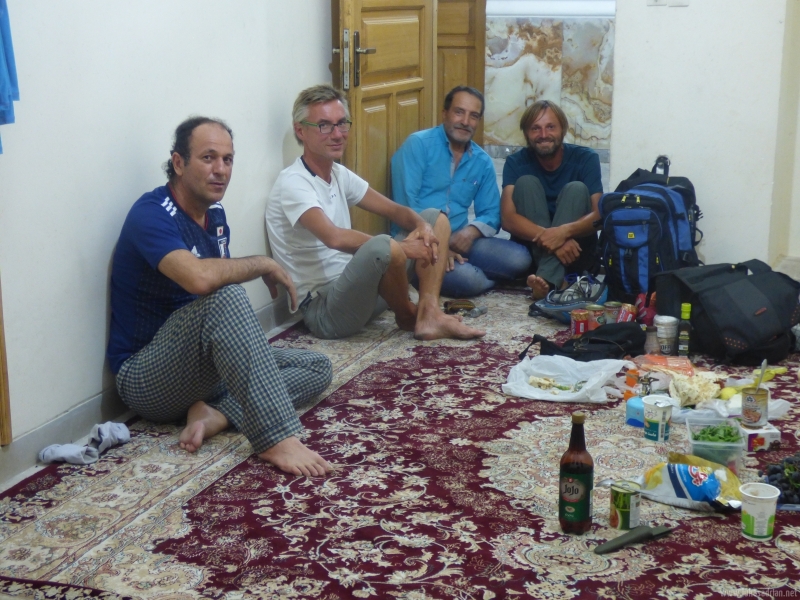 As so often, we both had no plan of what was discussed, where we would end up, etc. But that is normal in Iran. But that's normal in Iran. Even simple shopping can lead to a lot of effort, but you have no idea if you should wait, come back or go on 😀 Ali is also sometimes overtaxed.
In the morning we packed up with food and drinks and headed towards the desert. I could hardly wait to sleep outside under a beautiful starry sky.
About 10 km before entering Kavir National Park, a ranger stopped and said we needed some information or a permit, otherwise we wouldn't get in.
Fucking bureaucracy, I thought. Stamps or anything else they definitely want to see. I was disappointed and angry.
It went back a bit, then over the highway 50 km further to Garmsar, where we wanted to get everything on the following day and then take another road into the desert. But this is not shown on our telephones, we only have a map.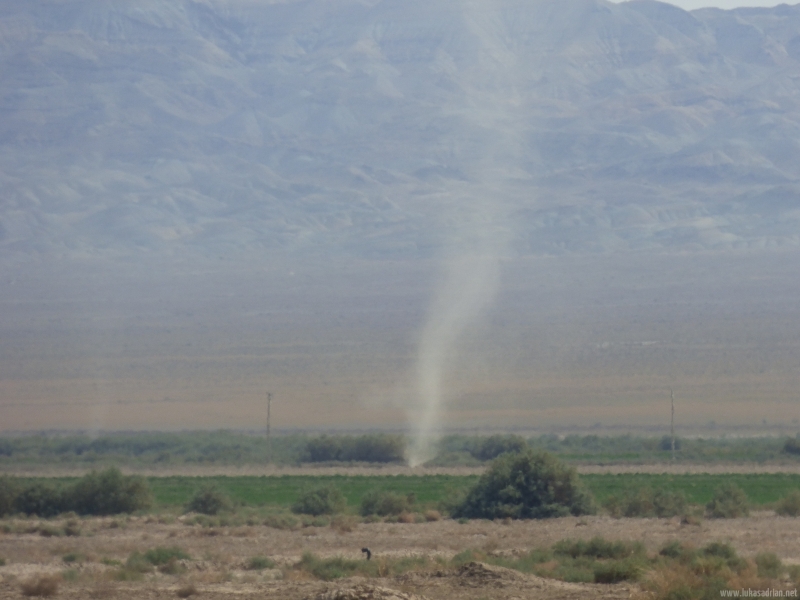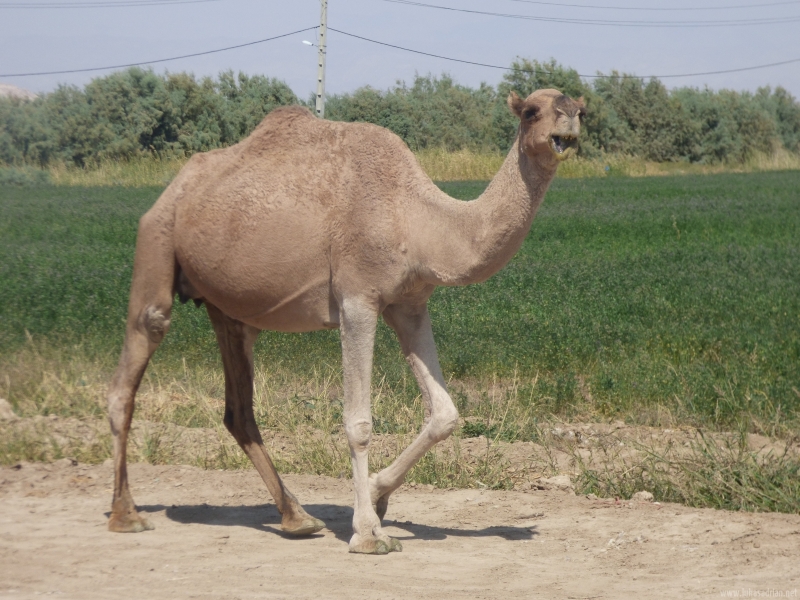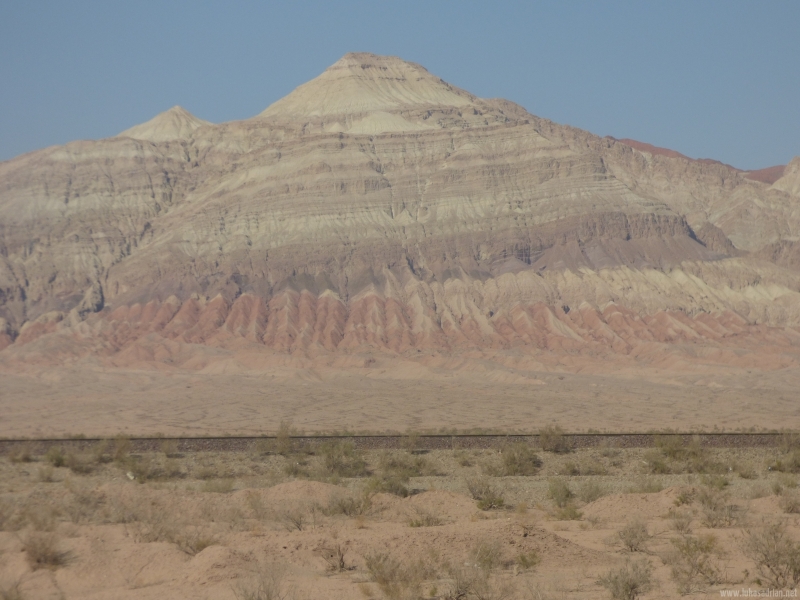 We drove to an office that was supposed to give us permission. There we were told that the park was closed and it was not possible.
Ali got a tip at the door. So we drove to the mayor's office, where we finally got a permit after many phone calls, but which had to be approved in another office for culture. There we got the permission with sometimes up to 7 people in the office, some photos and further copies. It was quite difficult because a new zebra species had been released in the park and people had other worries. Nevertheless there was Cay again and again.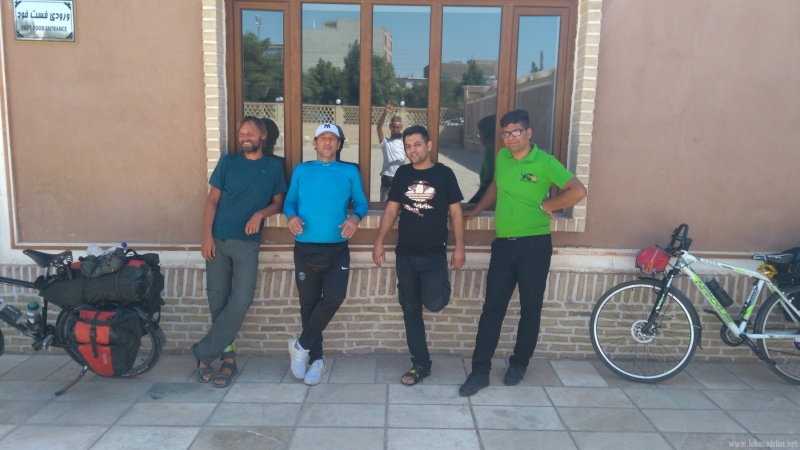 In the end, I still don't know why it was so awkward. But I think you don't really have to understand it.
The next day it should finally start. Unfortunately it was already too late to start on the same day. It was just 60 slow km.
In the morning we went into the desert (or rather steppe).
Shortly after the city we were stopped by 3 rangers and had to give permission. There were still photos of us and some Selfies with the rangers.
The road in the steppe was rocky, so that one jumped with 12 km/h ahead. The area is very flat and there are hardly any bushes to see. The ground consists of dried clay. It was a little windy, so that there were always tornados to be seen. It was also not hot, only 40 degrees in the sun. The wind just cooled down a bit. Therefore more steppe instead of desert.
Only in the steppe you can see how big the whole thing is. There is nothing except the few small bushes. On the horizon there are still a few mountains to see.
After about 50 km jumping, partly driving in the sand and a patched plate caused by a small glass splinter, we came to a ranger house, where we filled up our water. We paid admission and accommodation for 2 days. The overnight stay in the Caravanserai costs extra. But you can also sleep in a tent somewhere.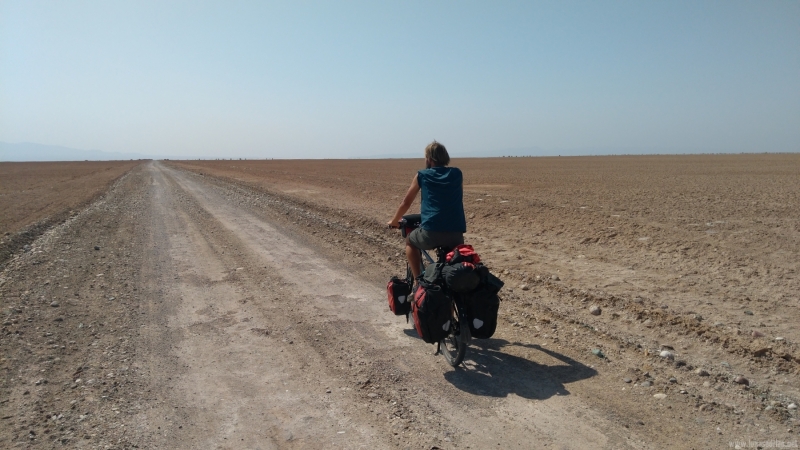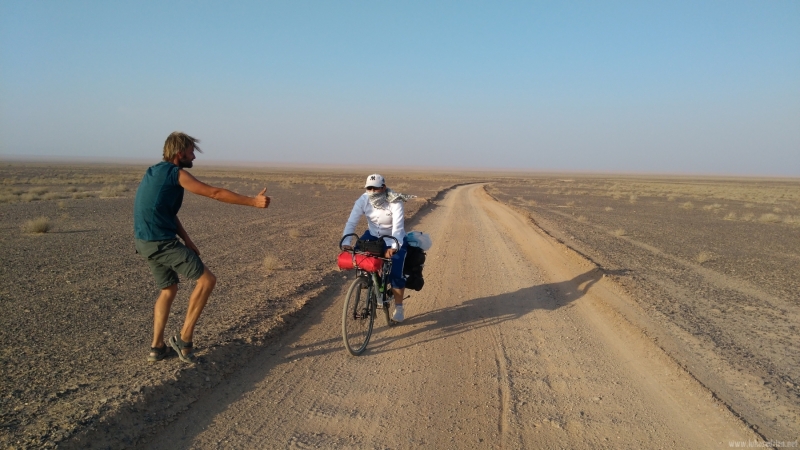 Over sandy ground we went another 15 km to Caravanserai. The area here has a little more small bushes and it is slightly mountainous. The higher mountains on the horizon came closer and closer.
Arrived at the destination, we were shown a supposedly dangerous snake after the first tea. It is probably not a meter long. Whether there are deadly snakes here, I doubt it, since I have often heard panic-mongering in Iran, no matter what it is about. So I remained suspicious of such statements.
Since there is no mobile network here, I could not look either.
I slept in a small room where I found a big dead spider under the bed. With her legs she should be about 10 cm tall. Probably her bite only hurts, not more and not less. Scorpions could theoretically also exist here.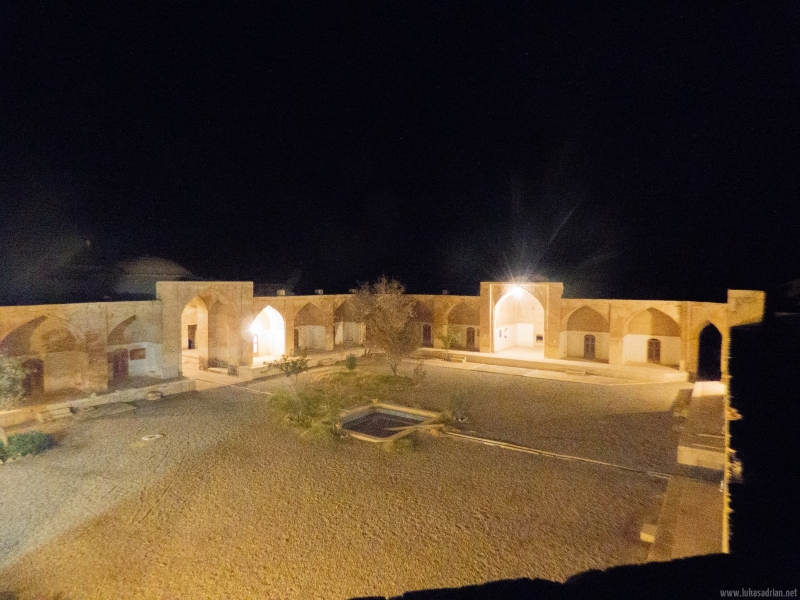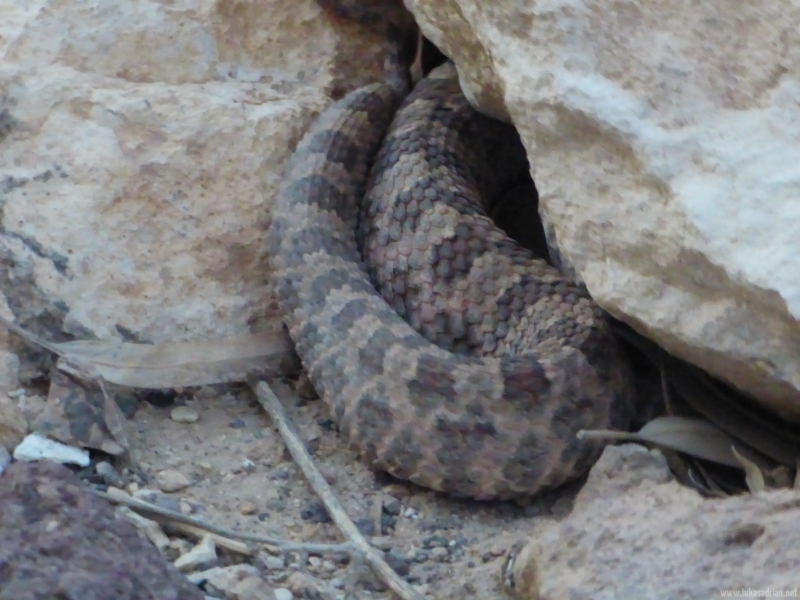 We stayed two days in the caravan factory. On the second day 20 people came to celebrate our birthday. They also kindly invited us. Without alcohol we sang, danced, there was a really great atmosphere. They were very nice.
Often I miss something like that and it makes me think again and again. Many great people around and with one, let go and just have fun.
Although I also often miss loneliness and enjoy every moment alone with my thoughts, I think that I am not the one who could be alone for a long time somewhere. Nevertheless it would also be an experience. But maybe it's just a habit to be together with people?
But I rather think that there are people who feel very comfortable on their own and others don't. Everyone has his strengths and weaknesses somewhere. Nevertheless, trying to get used to something you don't like inside would probably be the wrong way. Sooner or later I will still devote myself to loneliness to see how I will feel. Surely I will see many things differently and that brings new experiences.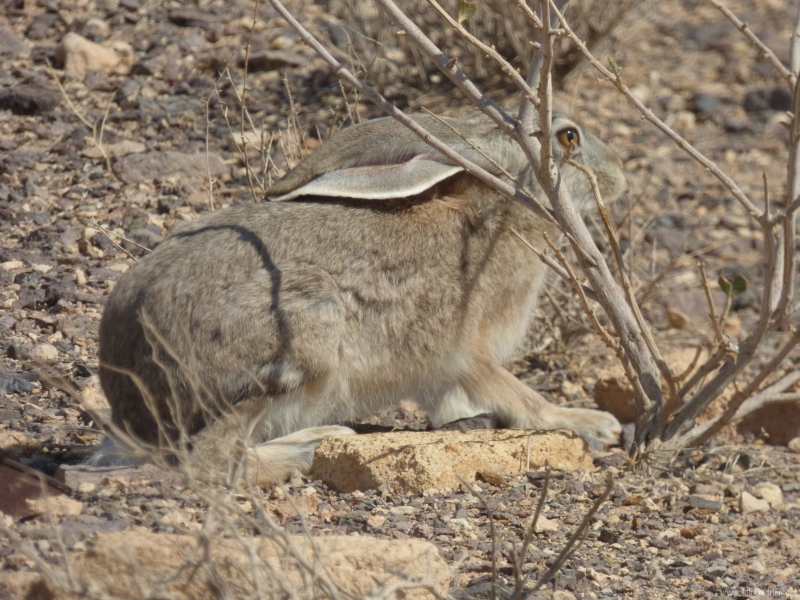 Instead of paying for one day as agreed, we should suddenly pay for 2 days. If we had suspected this, we would only have stayed one day. So, it would be best to make out everything at the beginning and pay directly. Unfortunately it was not cheap, but less than 10 dollars per night.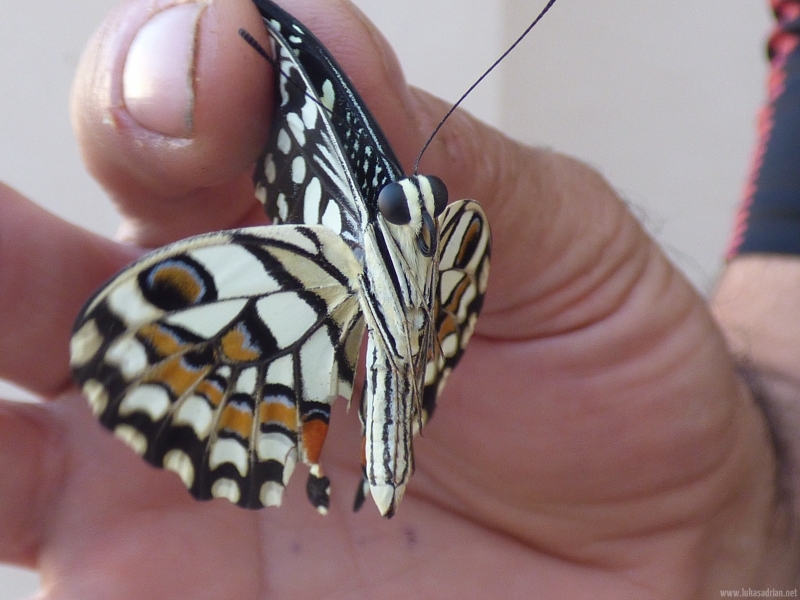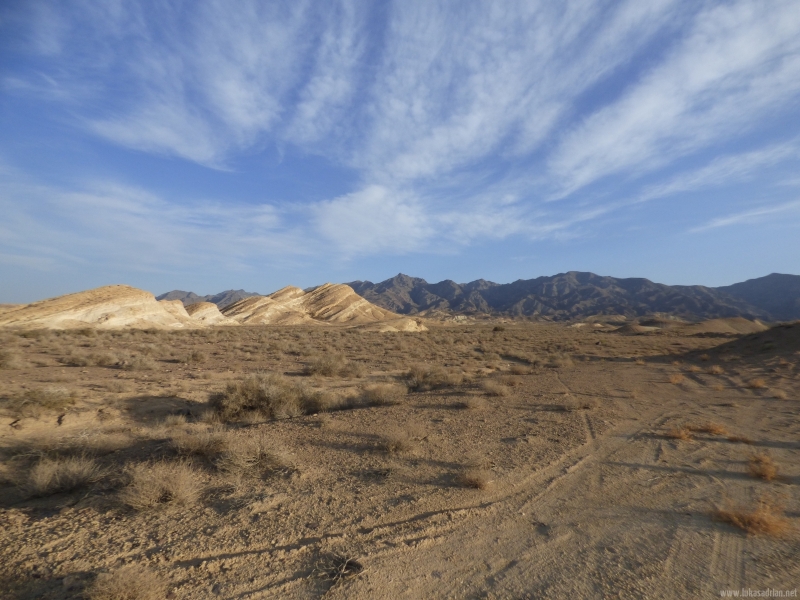 Packed with 6 liters of water and food, just enough for two days, we started again. The destination was an old, closed Caravanserai, where there was nothing to drink. There we wanted to camp.
Partly over stony, gravel and sandy ways we drove through different landscapes. I felt like a poodle and was very happy.
Then the first animal, which was unfortunately frightened by a jeep.
Sometimes the tyres sank a few centimetres, so that kicking was exhausting or you had to dismount completely. Fortunately it was within limits. In some places you could hardly see anything on the horizon, somehow a great sight.
Many thoughts went through my head, above all about loneliness or non-clusiveness and related "what if" questions.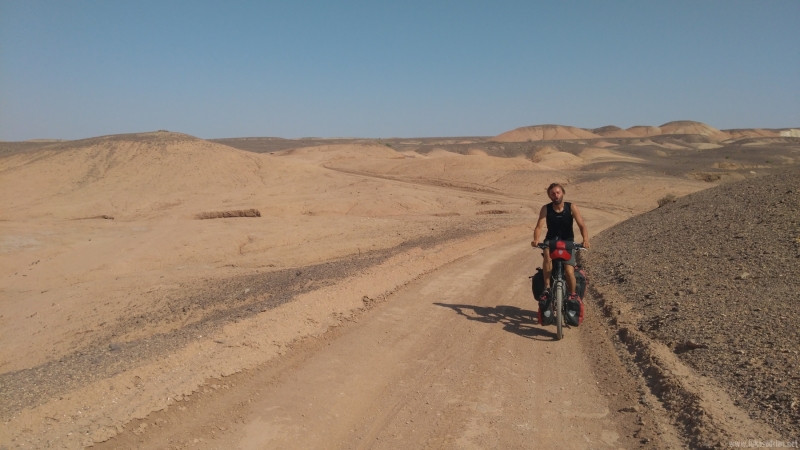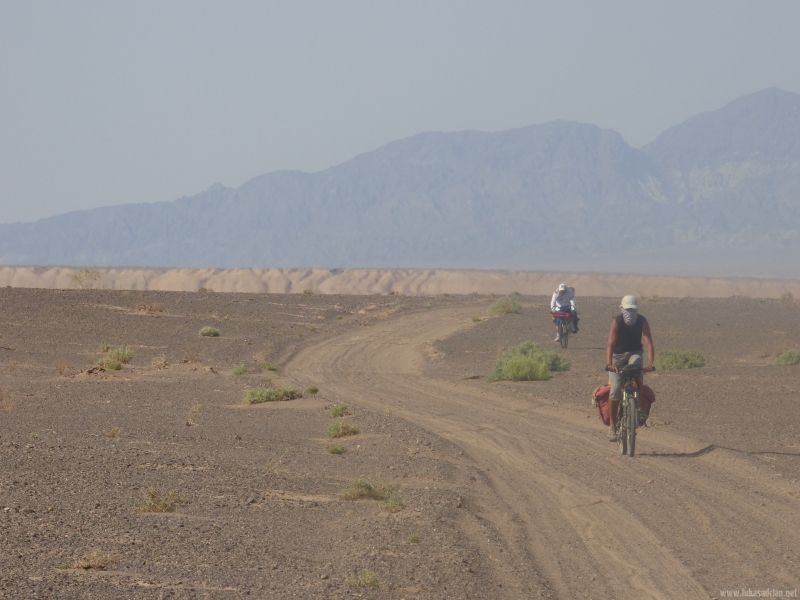 During the trip I noticed how my thirst was getting bigger and bigger. I said to myself, with 3 litres I manage the 60 km. At the old and closed Caravanserai, our destination, there was surprisingly a house where two rangers live. It's great that nobody told us that.
Since they had water, I drank as much as I could from them. I had made it with three litres, but I was still surprised that the thirst was so great. My wrapped ice bottle still had a lot of ice. I think this fridge would certainly have ice until morning.
Although the way was quite exhausting, I was hardly exhausted, only hungry and thirsty.
We warmed up our food with the rangers, drank properly, watched a fox, which the rangers sometimes call and then feed and went to sleep. I preferred to sleep in the tent rather than upstairs in the room. Not only that it was hot up there, there were also such big spiders 😀
No desire then there still on the floor to sleep. But there you can see what a city person I am.
It is really beautiful here.
Unfortunately the wind became so strong in the night that we were afraid for our tents, which were not tied. So it went up, only I went out to the small terrace where Ali slept in the slipstream.
In the morning it went on, about 50 km it should become. The surroundings changed slowly from gravel to sand. Fortunately it was a little cloudy and there was a cross wind, so we wouldn't need so much water. But the worst is the biting flies! From the very beginning they were a pain in the ass. You can hardly do anything, they are everywhere! Fortunately only a few courageous ones were on the way due to the wind.
The sand became deeper and deeper in some places, so that we could only push. It looked partly really, like in the Sahara. I was so happy. Was it what I had expected? I would have liked a little more sand desert with tents in the sand, but still I was satisfied. I will certainly have a few more possibilities in the future. Maybe I would have wished for a little more danger. But I can still manage that if I ride alone later.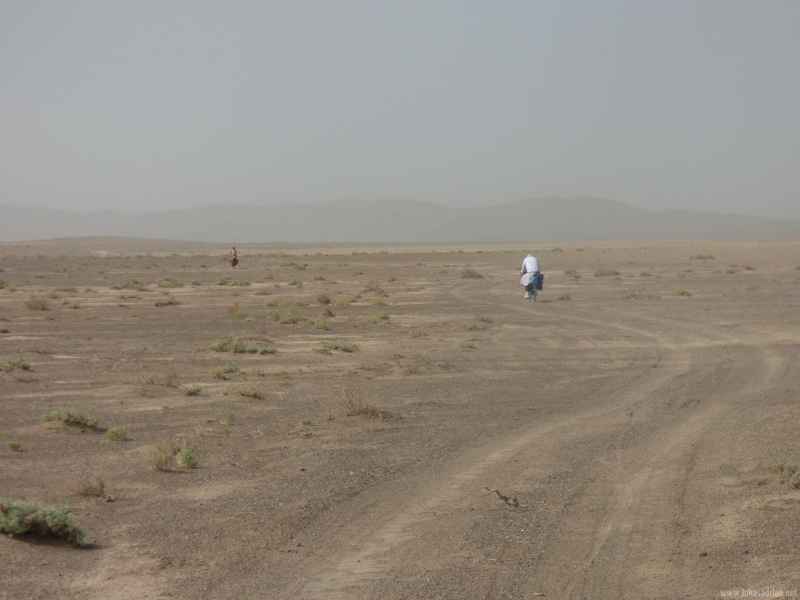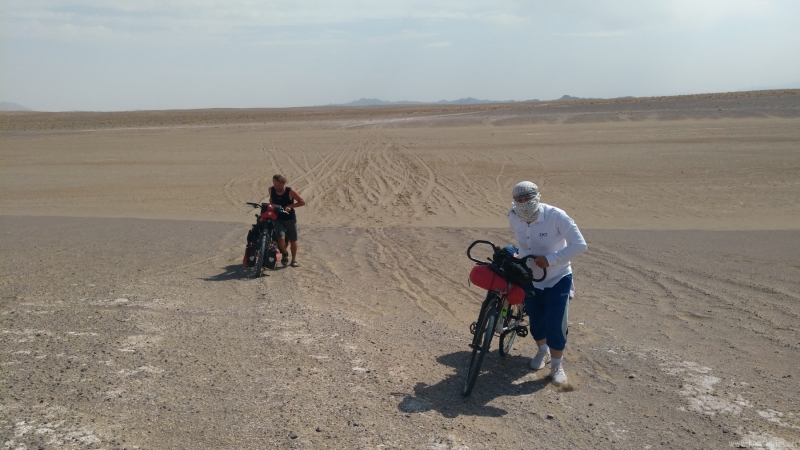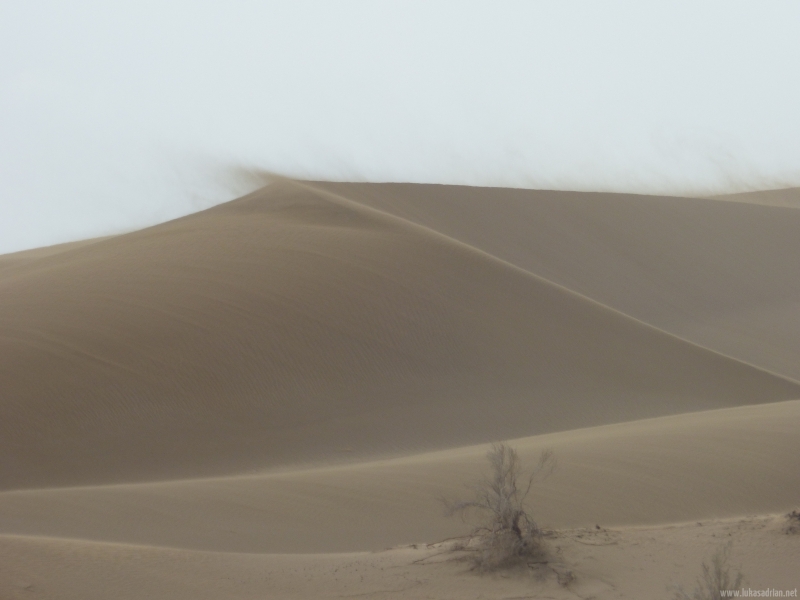 Garbage, no matter where. Even in the most beautiful places

We reached the Caravanserai where some people were left from a psychedelic electro party. A party in the desert, brilliant! We missed the party by one day. It's not my music, but it's better than nothing. There are also such people here. Tattoos, dreadlocks, without headscarf, everything there. In the city, however, that is then hidden beautifully.
The night was stormy and rainy and I slept in the tent instead of in the room. Then there was another thunderstorm, but luckily it just passed by. I panicked about my super cheap tent from China. But surprisingly it stayed dry and whole.
I could not sleep because of the wind 1 to 2 hours. In the morning I didn't feel like getting up, but Ali and Michael were already up and waiting for me. Always this pressure and stress 😀
The road was rather pebbly to sandy, we had to push now and then or drive beside the roadway. In addition the whole ways have transverse grooves, so that one comes rather jumping forward. How they develop is still a mystery to us.
Shortly before Aradan Va Bidgol, I had to extend my trousers so that my knees were covered again. I hate that! With much melancholy then the first city came. I wanted to go back again. Just wander through the desert for a few days. Of course, always have plenty of water 😀
Now the "Hello, how are you?" "Where are you come from?" "Ohhh, Aleman!" came again! I think I'm longing for a change again overall. I already had the same thing in Turkey, so beautiful everything was, it just repeated itself. Also again confirmations of my earlier realizations about myself. Somehow I hardly get to know new sides of myself, because in 12 years with long train journeys to work I had enough time for it. But it's good to know what's so bubbling in you 🙂
In the neighbouring town Nush Abad we visited a castle and an underground town. Tourists automatically pay more 😀
Bread is baked in Iran until the evening, because the Iranians eat fresh bread almost with every meal. Not like in Germany, where there are only rolls warmed up in the morning by the baker. But, other countries, other customs.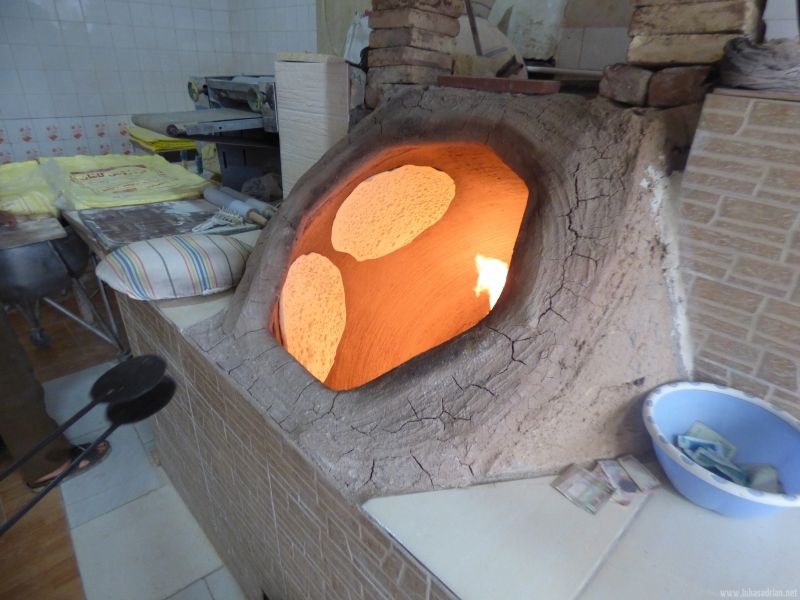 Ali got us a room for 50 Toman (currently about 3 dollars).
The next day we should go to Kashan, where our SIM cards should be activated again. Irancell blocked us because the phones were not activated on them.
I also notice here that the women are more veiled than in the north. A black robe is worn, where only the face is to be recognized. In the big cities it looks different again. Half veiled head, scarf worn almost as a neckerchief. I can't get used to hiding, but that's the way it is here.
Just by the way, many companies are closed on Wednesday because it's like Saturday in Europe. Friday is Sunday, when almost everything is closed. But a few small supermarkets are open, it is just not legally regulated as in Germany.
In Kashan we looked at a few places after we had reactivated our SIM cards at the fucking Irancell. My 3rd SIM card worked a few hours, later not at all. Internet volume was quickly used up because I was given a wrong package (wrong notification). Of course I pay every time and have hardly anything of it. As beautiful as Iran can be when it comes to money, my 500s fly faster than I can think.
We bought some more food and wanted to sleep in Kashan in the park. But as is the case in Iran, we were approached and were allowed to sleep directly in a big empty apartment, wonderful! Compensation thus, there one loses, here one wins.
Just by the way, there are many languages in Iran. So Ali cannot understand many things himself. But the basic language is Farsi, which has nothing to do with the province of Fars.
I couldn't sleep and thought a lot about the blog. If Irancell wanted to give me a new SIM card, I would refuse, because I already paid them enough. Besides, the whole thing is quite complex. Thus would be only times conclusion with the Blog. Later everything would be completed with photos, that would be also very expensive. But first wait. In the end, the very pretty saleswoman was able to make the thing work for me (it's a shame that she didn't speak English 😀 ). However, I have to change the SIM card again and again in the slot.
People who take care of the animals or harvest rice sleep in the tent.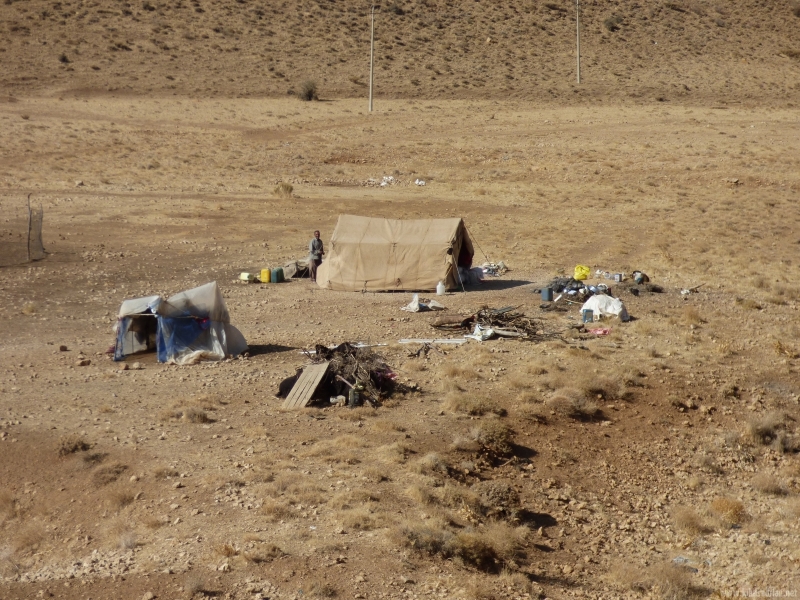 rice workers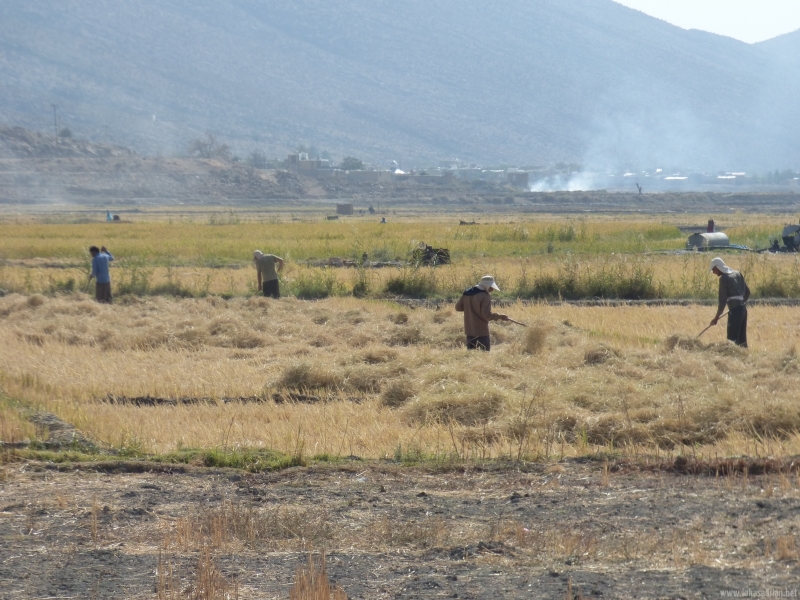 It went on, but first slowly uphill, where we went to sleep in a village at the end of the day in the park. The next day the last kilometres to Isfahan were beautiful! On the way we were moved into a house where a family has many antiques. Her young daughter had such a smile on her face that it was almost impossible to look away.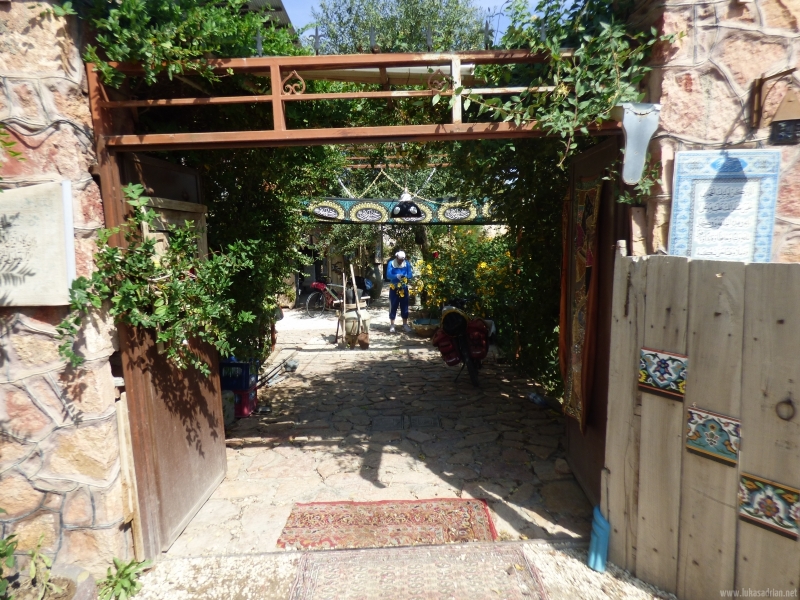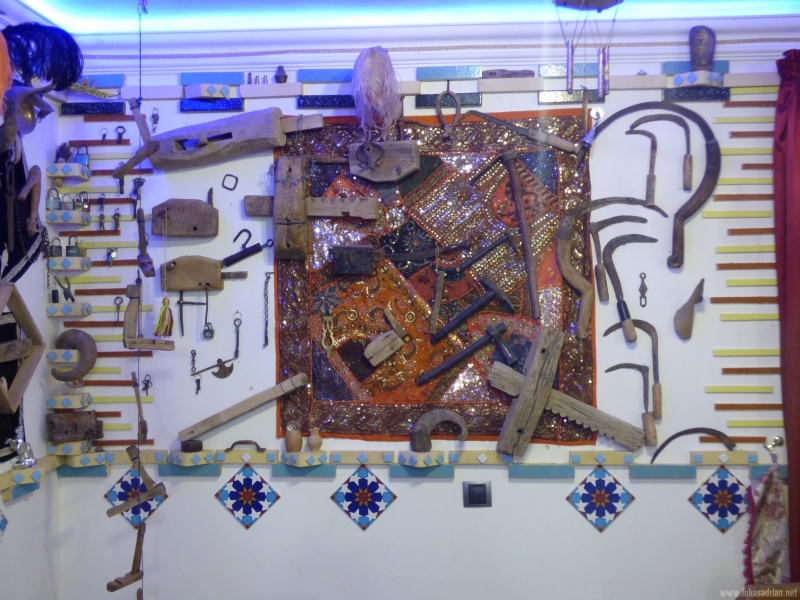 I hardly got my grin out of my face on the descent, but maybe it was because I was listening to music. Unfortunately that happens too rarely. Nevertheless I just felt great. The landscape also looked great, and there was finally less traffic.
Before Isfahan we slept once more in a park before we drove to the big city in the morning.
In Isfahan we looked for a hostel. But we noticed that we had had enough of the city sightseeings. Always the same somehow. This is also a problem when travelling, one has to take care that one has enough variety.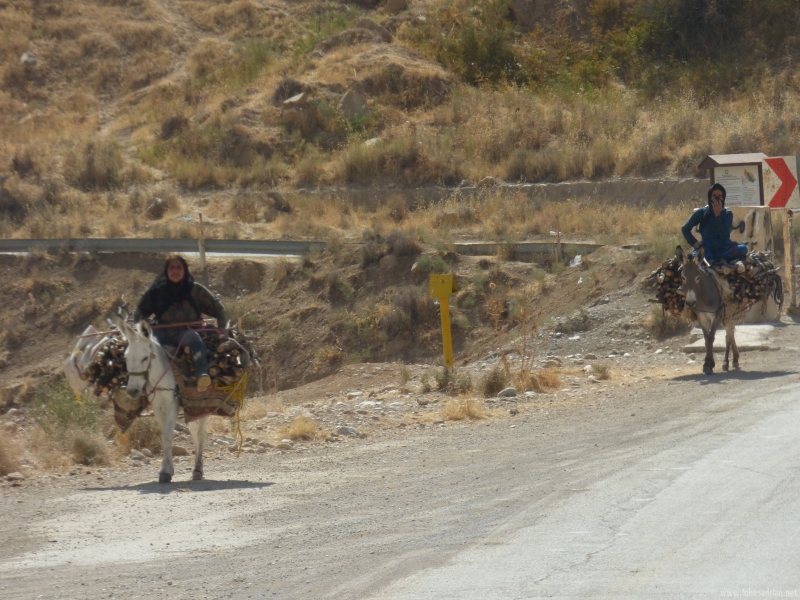 I notice that there are more women in black running around here, the face is easy to see. They are still very pretty, so you could fall in love every day 😀 Then they smile at you too! Be that as it may, I think the Islamic faith is stronger the further south you go.
We planned our tour through national parks to the south and celebrated my father's birthday with non-alcoholic beer and cake.
Here still something from Isfahan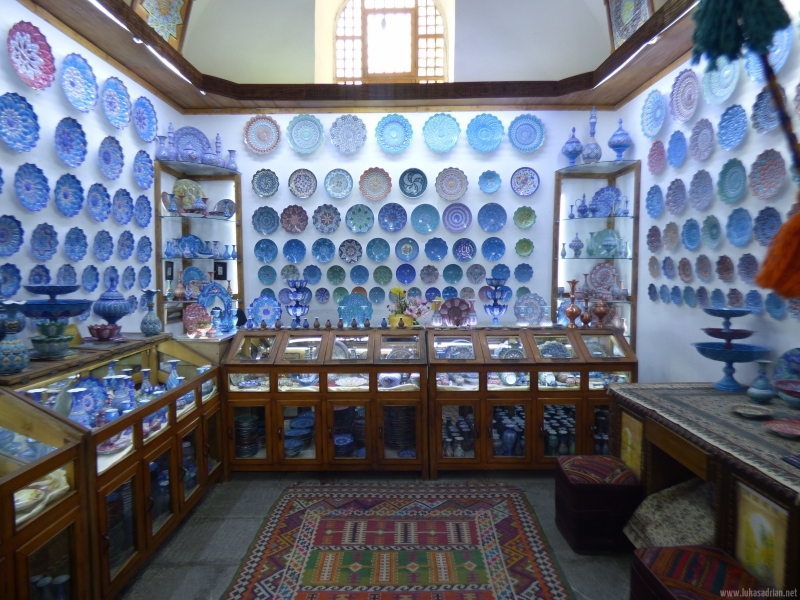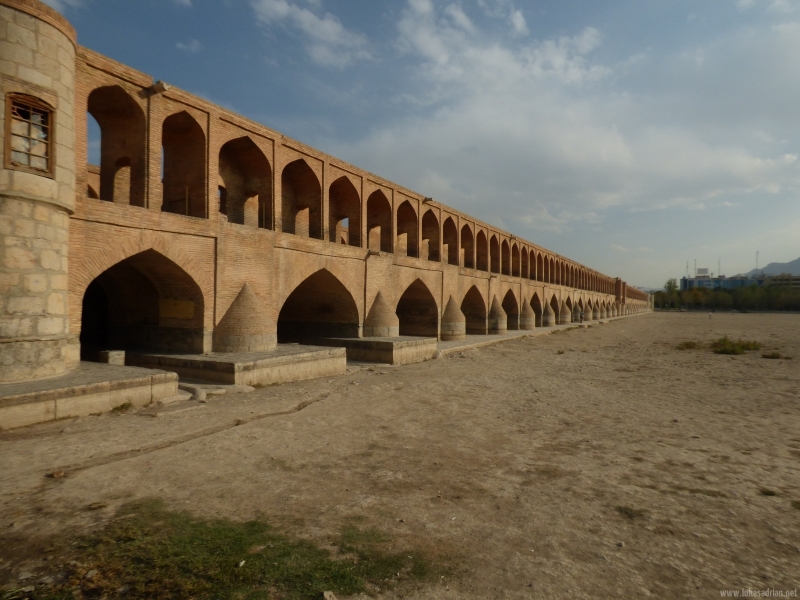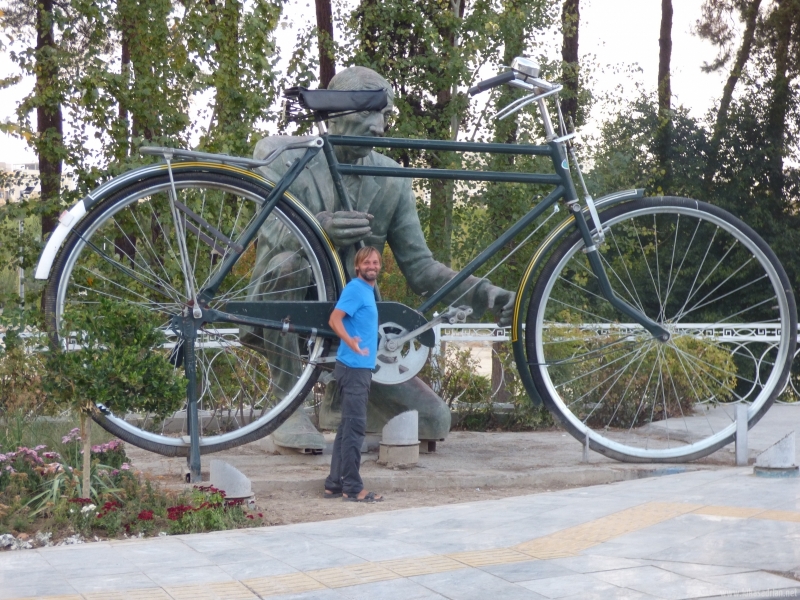 The next day in Zarinshar I got a crisis. I finally wanted to eat something good again, not just kebab. Unfortunately there was nothing but kebab and fast food. So I didn't want to eat anything. In the park where we wanted to camp a soup was offered in the kiosk. It was a blessing for me! I am slowly dreaming of Oman as far as food is concerned. There are really hardly any alternatives to the kebab, except for people at home.
Ali loves to cook and made us chops out of potatoes, as it is called here.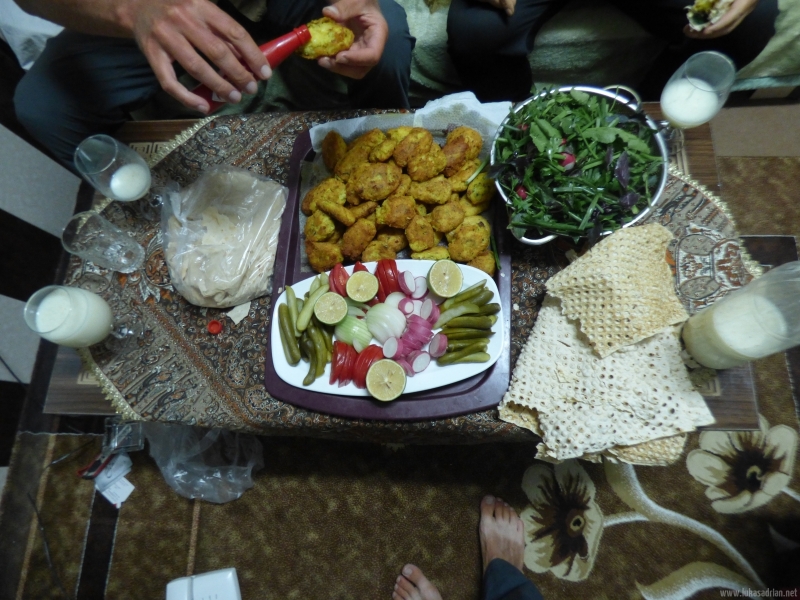 In the town of Boroujen, when we started looking for a room, a younger gentleman grabbed me by the arm and dragged me into an iced coffee, where we were directly given juice with ice. Of course everything was connected with laughter and fun. So we sat there. In the coffee it became fuller, there tourists, thus we stop, there were and 1 hour later we sat with the owner of the coffee in his garden house with the meal. There we also stayed overnight.
We sat to seven, ate properly, it was a beautiful, very funny but much too short evening.
On the next day we were invited to the Kaleh Pacheh, so Schaafskopf and Paw. This is also sometimes eaten for breakfast. Tongue and cheek are the best. That's part of getting to know the cultures. But I will certainly see this food again in a few months.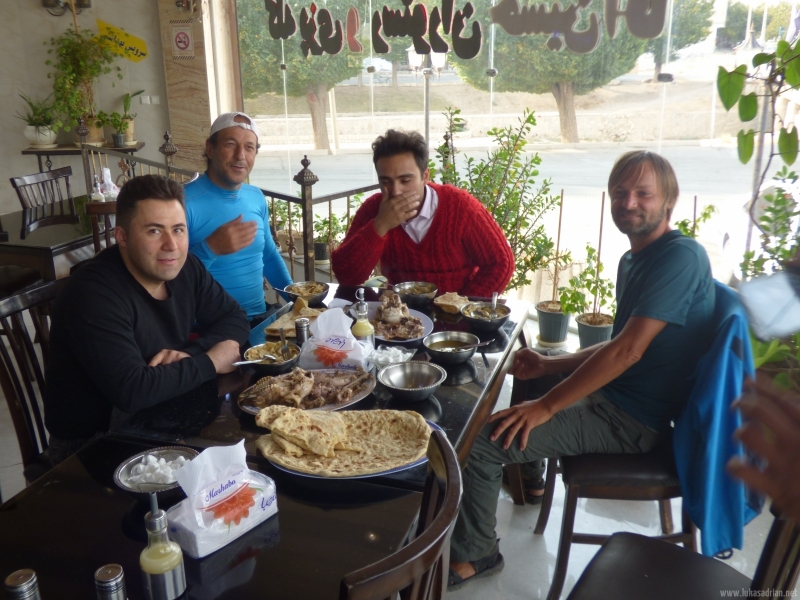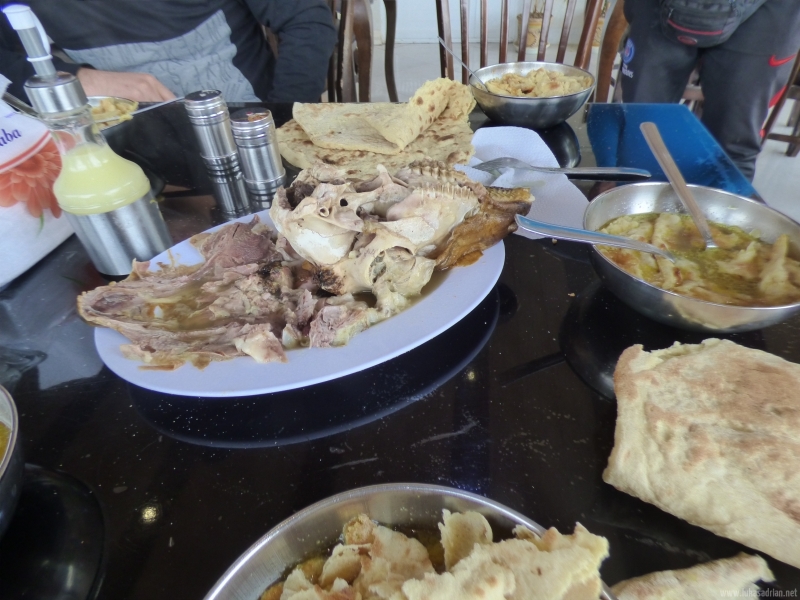 After many farewells we went on south with a heavy heart.
In the evening we were invited again. On the way to the house we were thrown with stones by children from far away. They are said to have gotten into trouble afterwards.
In a very modern large room, which as always has no tables and chairs, only carpet, we were fed very well. There were also friends. We went to bed tired about 22 o'clock. However, one sleeps on the carpet, only covered one is. Since I am too thin and like to sleep on my stomach, sometimes my ribs hurt.
The next day I withdrew a little on the beautiful paths with my music. I let many thoughts run. I am so grateful that I am able to make such a journey.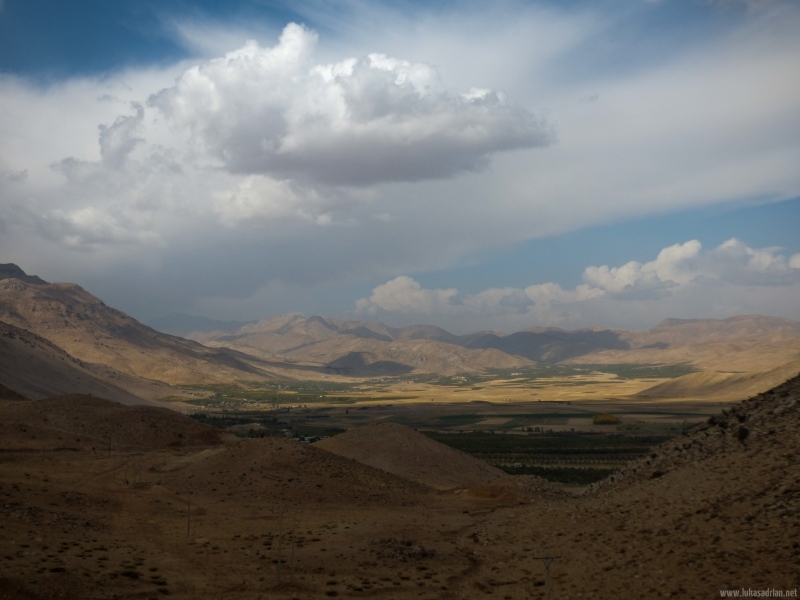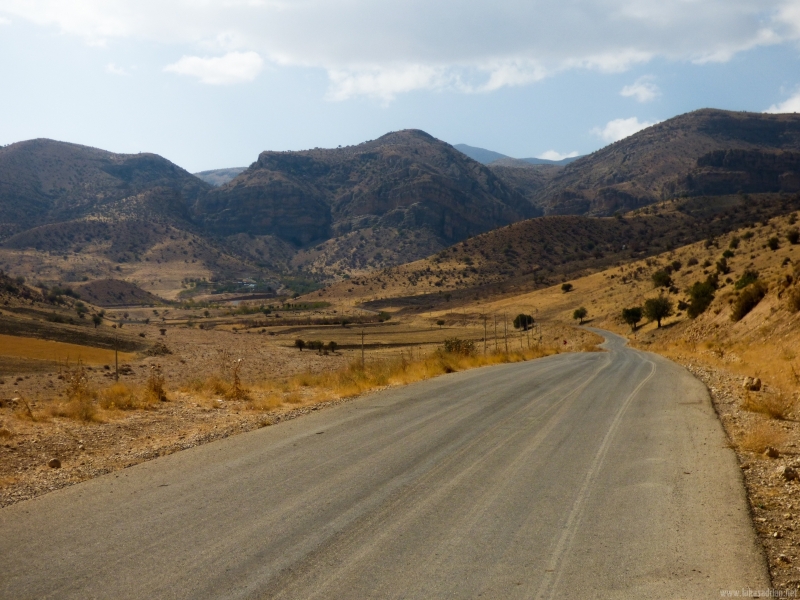 A village in the mountains

We visited the Margoon Falls where we shared a room for 50 Toman. On the way I withdrew a little, listened to the music, laughed and waved back to the people. I was in a really good mood. It went up to about 2600 m, I wasn't exhausted, my knees luckily didn't really hurt me. But I notice that I really missed the music. It simply builds up my mood extremely. Music is a part of me and has been since childhood. With this joy I also noticed that more people wave to you as if it were a magnet. But maybe I'm just imagining it.
Waterfalls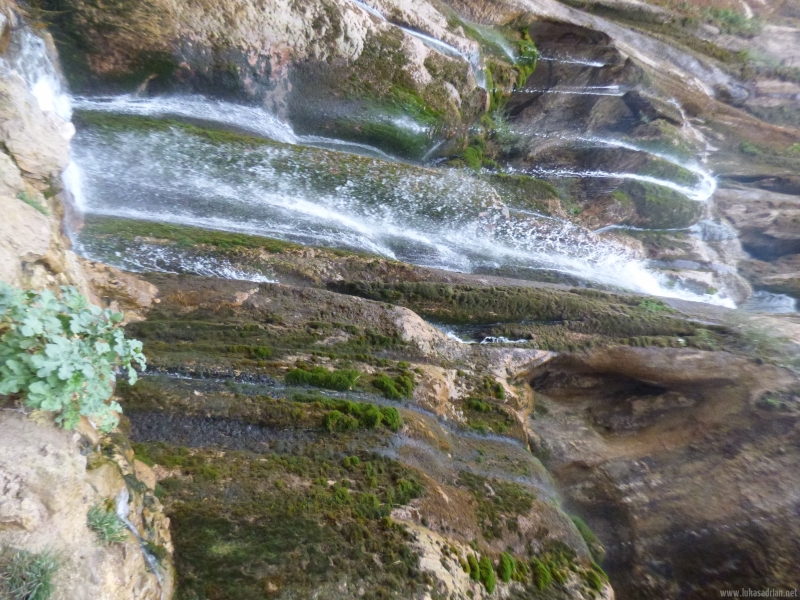 Schon mal jemand Reis gesehen?


A rice field is burned down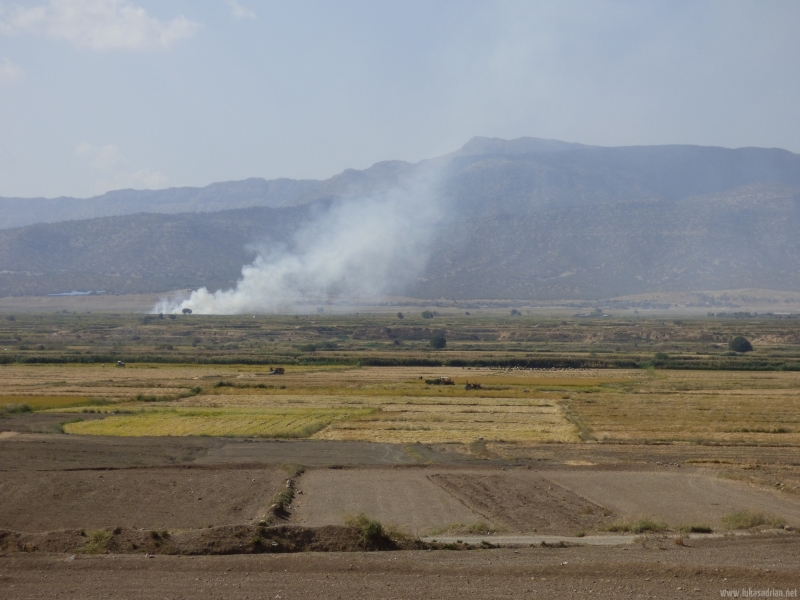 On the way some girls wanted some photos of us and a Cay was also still drunk.
Unfortunately one notices the autumn. It's simply cold when the sun is gone. Sometimes I think, fuck the sights and leave to the south. It also annoys me that the days are so short. I would wish to sit at the tent in the bright evening. But I have to be patient until next year.
Ali got us a room for a 500er.
After the waterfalls we drove the next day towards Lost Paradise! What a name!
Again and again we are addressed, but we have Ali and send the people to him 😀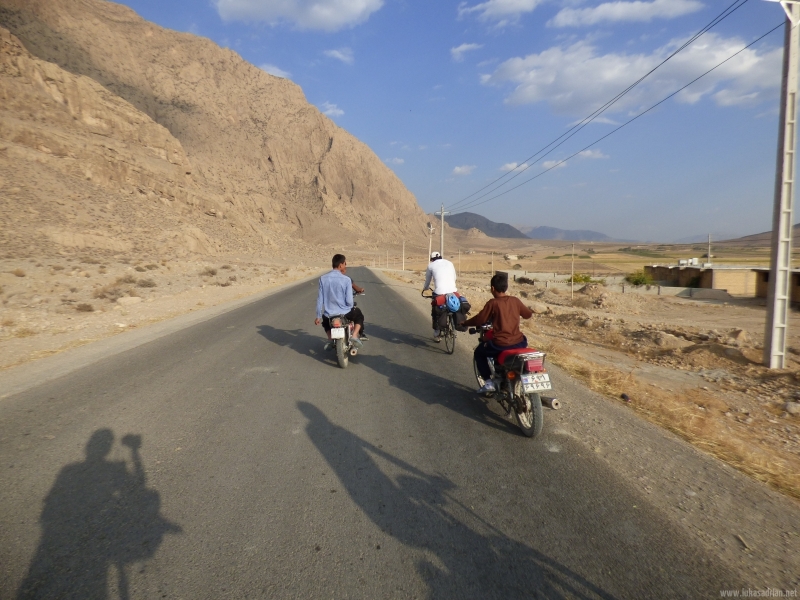 Lost Paradise is a park with small waterfalls and a village on the mountain. Personally I liked the park and the region above the waterfalls the best. I didn't take any pictures of it. The old village can be reached by a long walk.
The little ones are so talkative that you can even do business with them.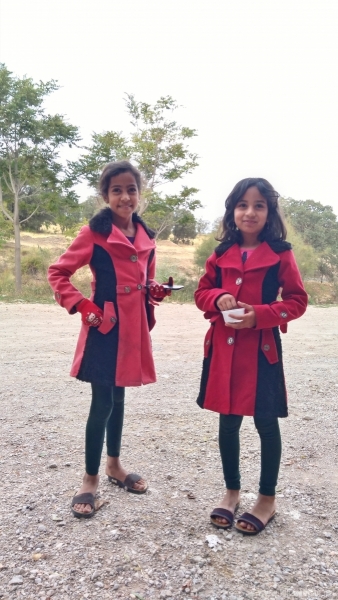 In the villages we are often surrounded by children.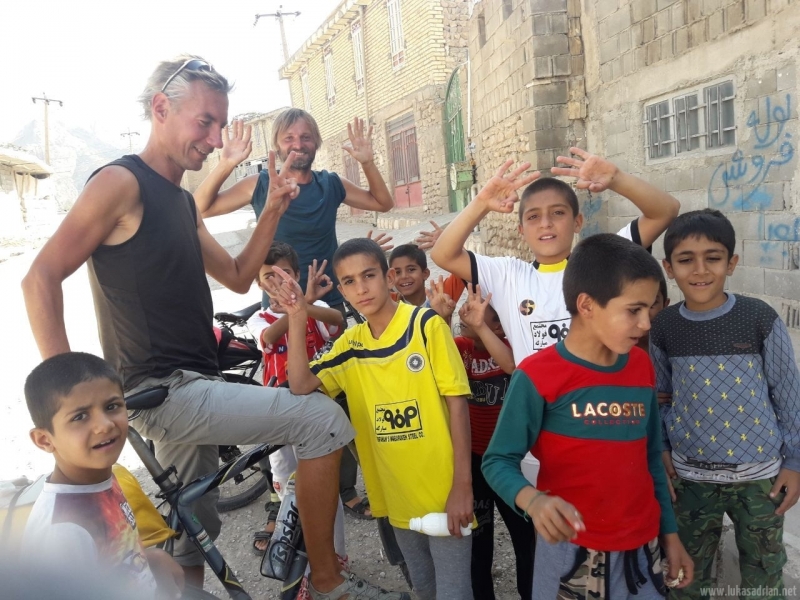 Or here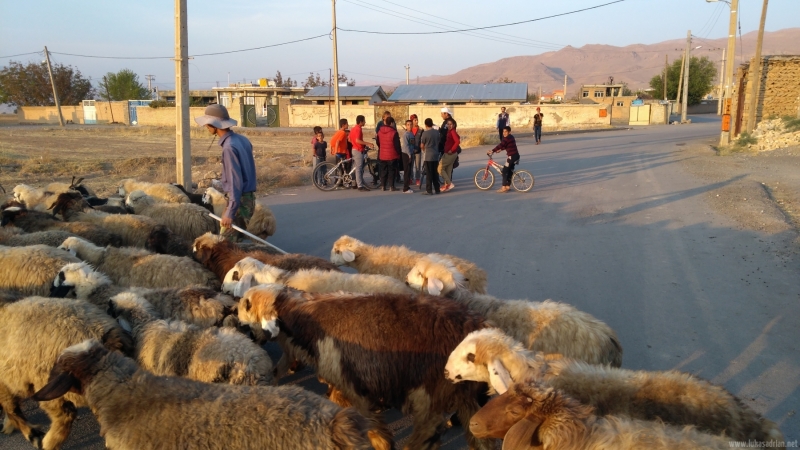 In the evening we tried to find a room without success. Until we were invited by a tourist guide. There was food and a nice get-together with him and his friends. What I didn't like, his sister played a housewife. Something was called into the kitchen, a few minutes later the tea was there. There was not even a farewell, although we drove on the next day nevertheless further. Could be either because of Islam or she simply had no desire. But women play here anyway predominantly the housewife. Islam is a pure male society.
Again and again in the villages, in the morning and in the evening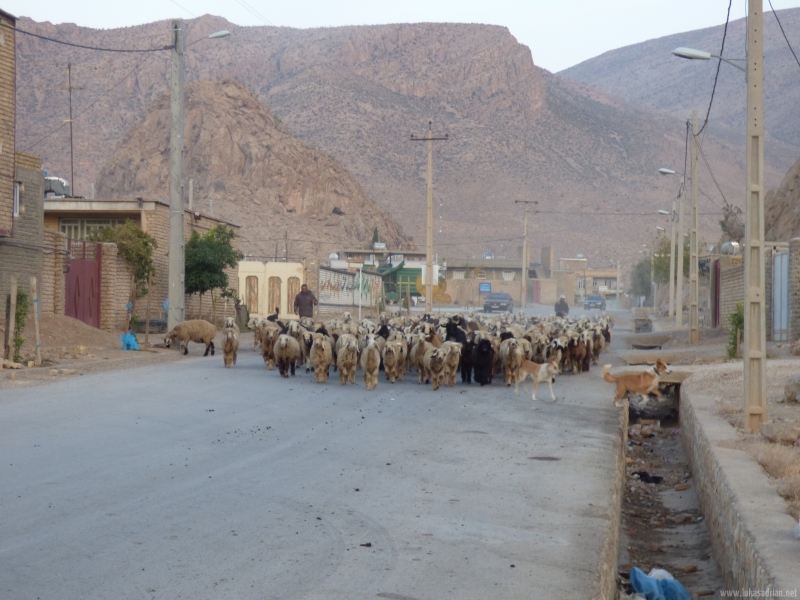 We drove on towards Shiraz and were stopped by a car. As a present there were simply too many tomatoes.
A few kilometres further on we met an older couple from France who are exploring Iran by car. We had quite a funny encounter and laughed a lot together. As a present we gave them a bag full of tomatoes 😀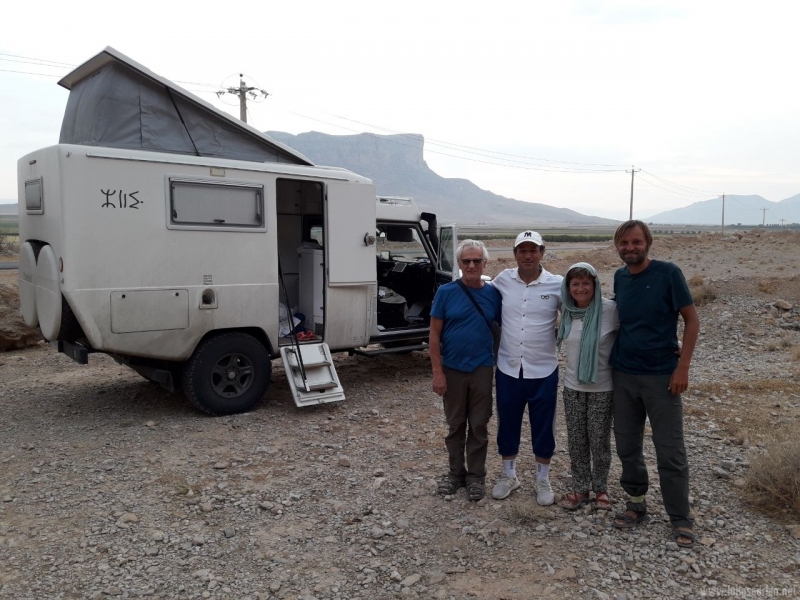 A few kilometres further on we were looking for a room. As so often, someone knows someone who might have a room. So it was also this time and we were just invited. The man and his probably sisters were there and many children. Ali was directly in his element to deal with the children. Unfortunately they did not understand us.
The woman was currently in hospital, something with her brain.
Of course there was food, someone had to come by to get to know us, as always.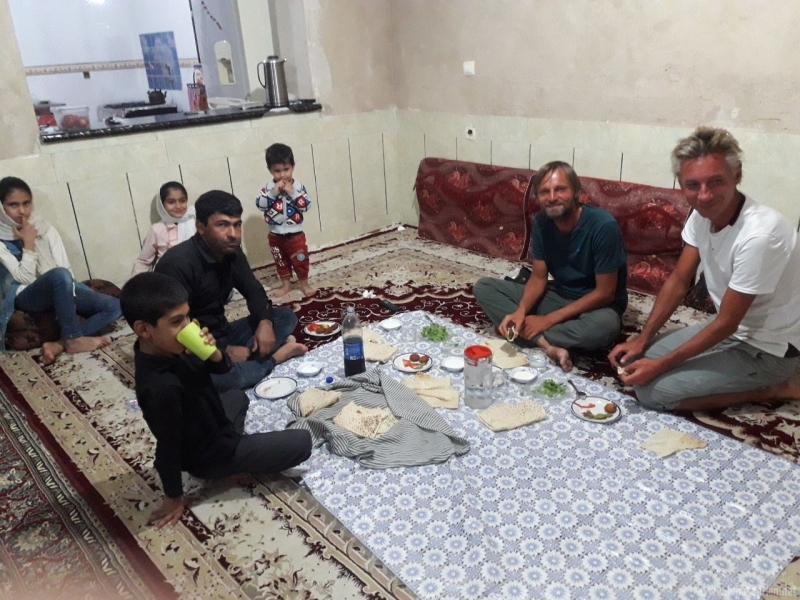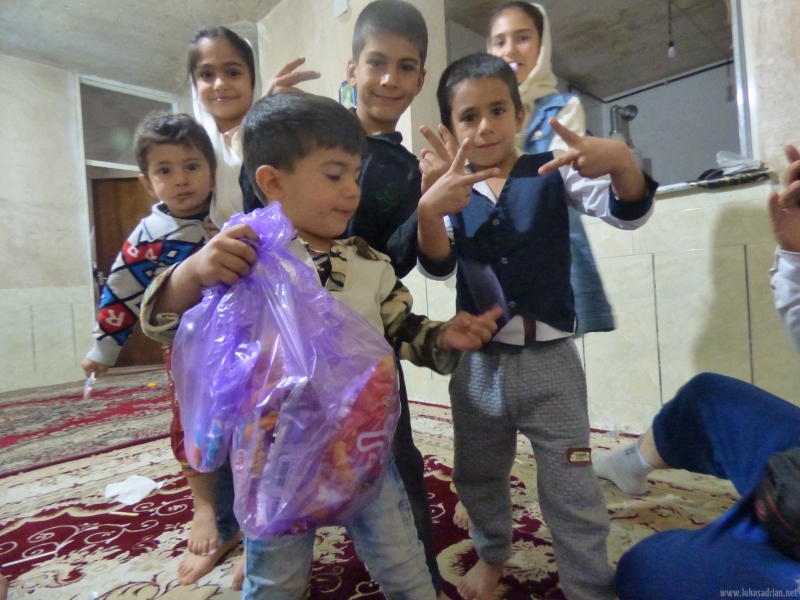 In the morning we were woken at six and asked to drive. Later Ali told me that the woman had passed away.
That hit me hard personally because he has three children. However, his family will definitely support him, and in Islam you can definitely rely on that.
Shiraz came closer, so did the traffic. Shortly before Shiraz we slept in a park. Sometimes you sit on a bench and don't have five minutes until you are approached.
Everyone recommended us Perspolis, it is located in front of Shiraz and is an old ruined city. Buses with tourists and admission, photos and groups of foreigners from probably the whole world. But I wasn't really knocked down by the complex. Maybe it was the tourism, maybe it was the complex itself, I don't know.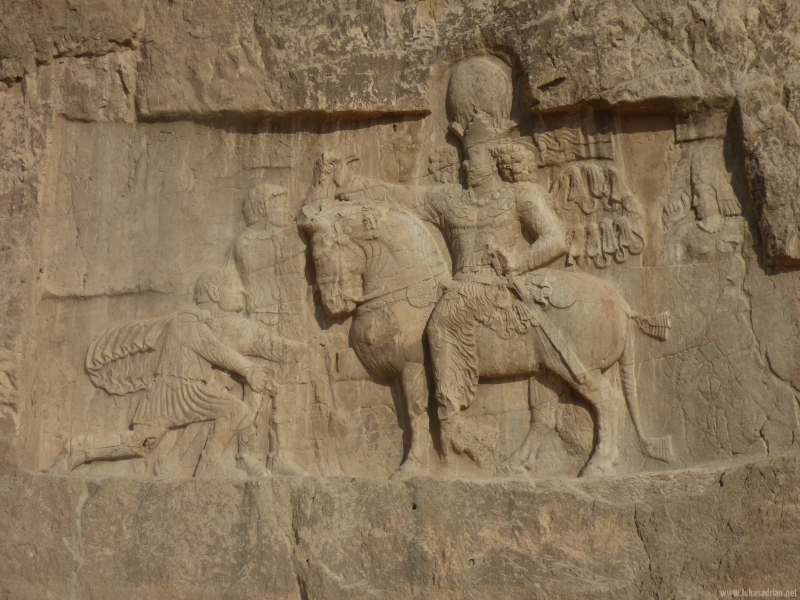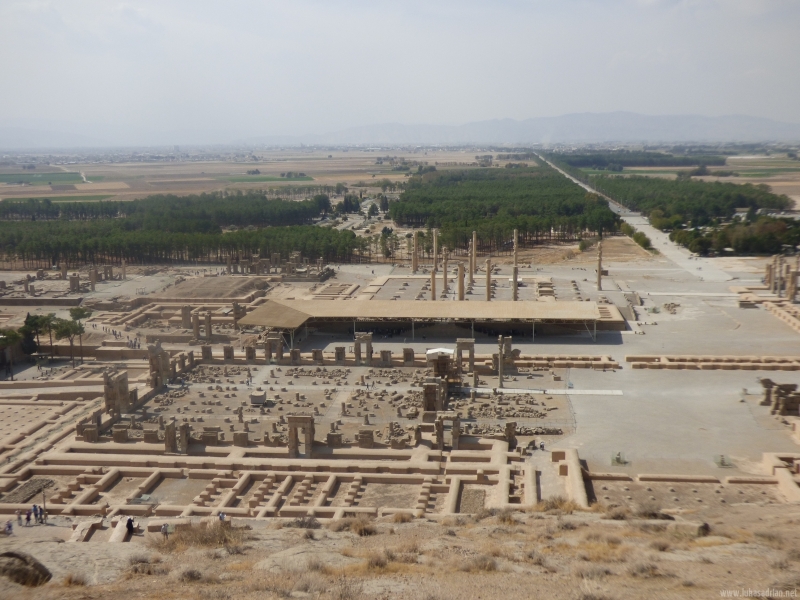 Ali at his favorite activity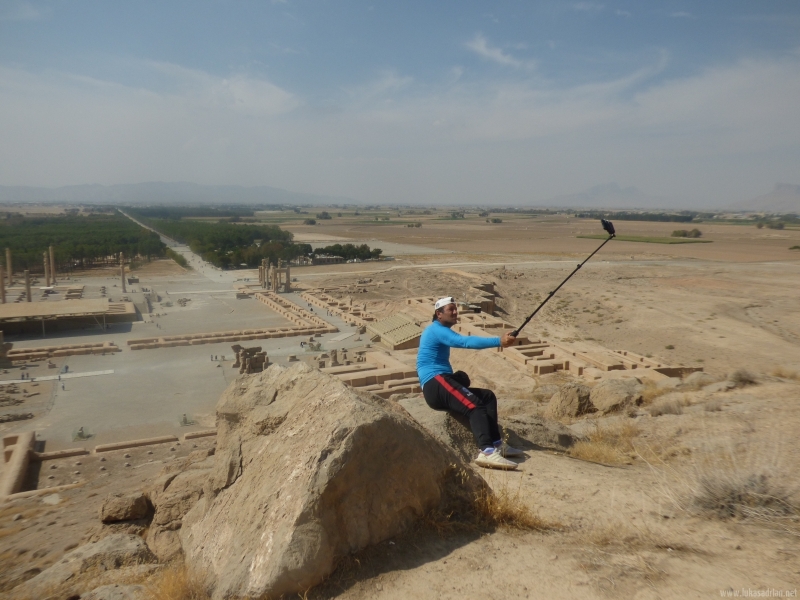 My breakfast, ash and hot bread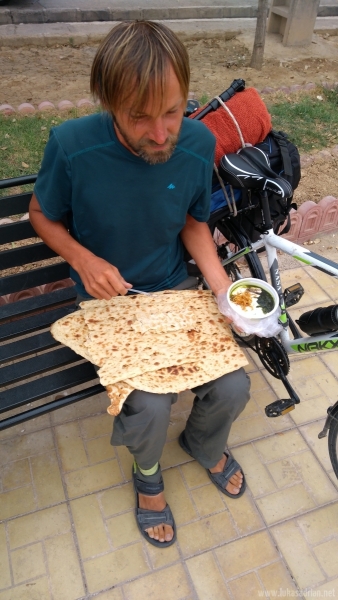 In Shiraz we looked for a cheap hostel and spent 2 nights there. Unfortunately we could not extend our visas by 30 days, because in this province only an extension of 7 days is possible. So we had no other choice but to leave our bikes behind, take the bus to Bandar Abbas for 9 hours, get our visas extended and drive back to Shiraz. From Shiraz in itself we saw little, because again everywhere were these tourists and entrances. I just felt uncomfortable there. Besides, I and certainly Michael are exhausted from the tourist places.
To Shiraz himself, everyone told us: go there, it's worth it! But I saw nothing special there. Grave of a poet, mosques etc, as in almost every other city.
Here is our only visited building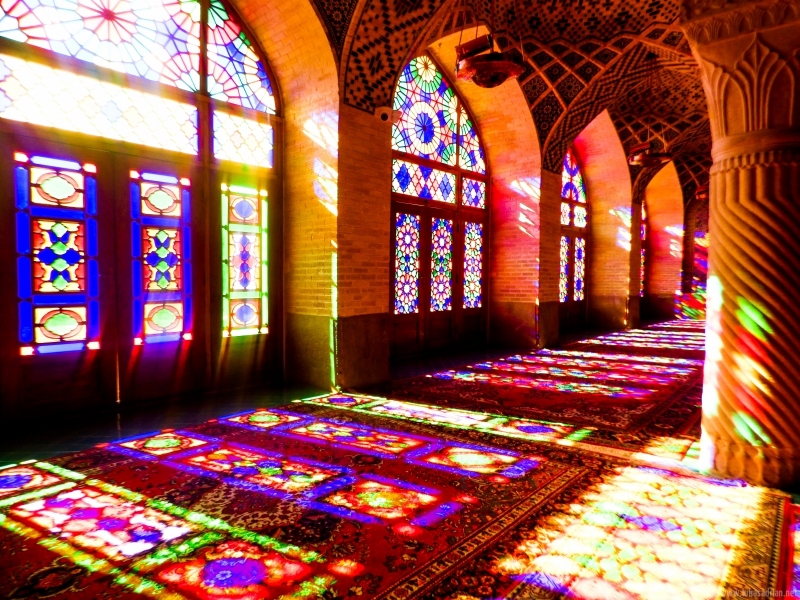 This photo was lucky because it usually looks like this

In Bandar Abbas 32 degrees, wow. Some of the women are more veiled here, but not all. Some have a mask over their nose and eyes. I hope I can take pictures of them later.
There is a lot of fish there. During the cleaning of the nets at the roadside one falls into the ditch at the sidewalk. After a while this smells pitiful. Some people are darker there, some remind me of Africa in style and type.
At the bus stop you are almost surrounded by many people: Taxi? Bus Shiraz? Bus Shiraz?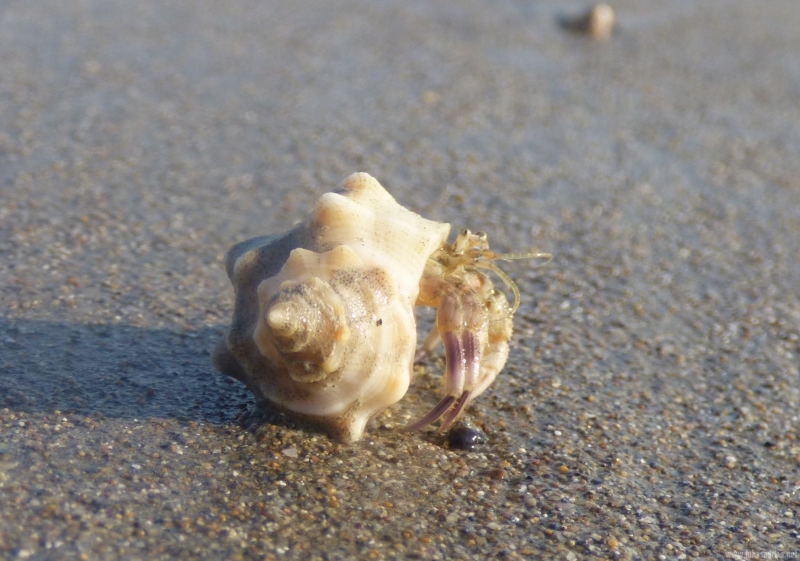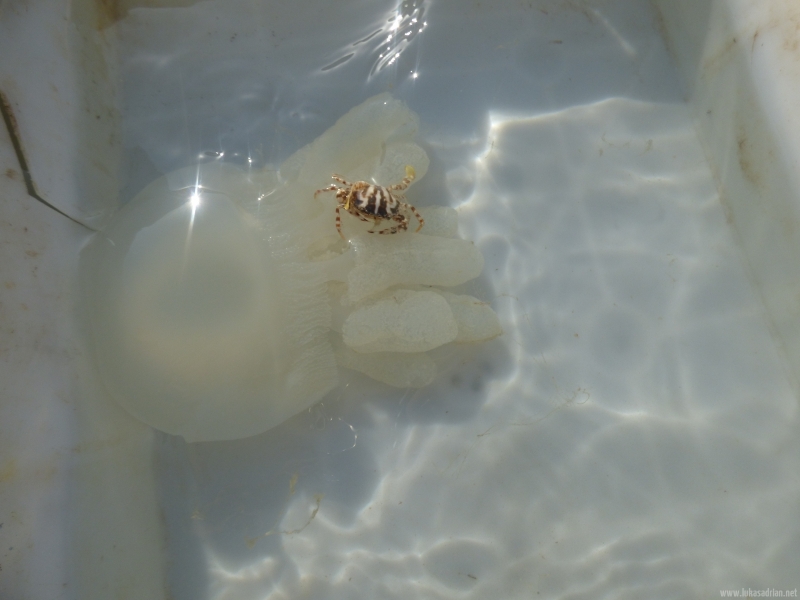 They didn't want to extend our visas because we still had 3 days of visas. Michael and I left the office angrily, because any objection was useless. I personally hate any kind of bureaucracy and something like that is also very tourist-friendly. When we were standing outside, we were called back to the office, visas were suddenly possible. Nevertheless, best on the last possible day to extend. It is also possible earlier, but it is just difficult.
Now we had visas, we swam and raved a little in the Persian Gulf and in the evening we went back 9 hours by bus.
More photos of the chapter: https://lukasadrian.net/index.php/nggallery/alles/12-1—Iran?page_id=2436&lang=en