Now it's Bulgaria's turn! For Bulgaria I had to pay 50 Cent entrance fee 🙂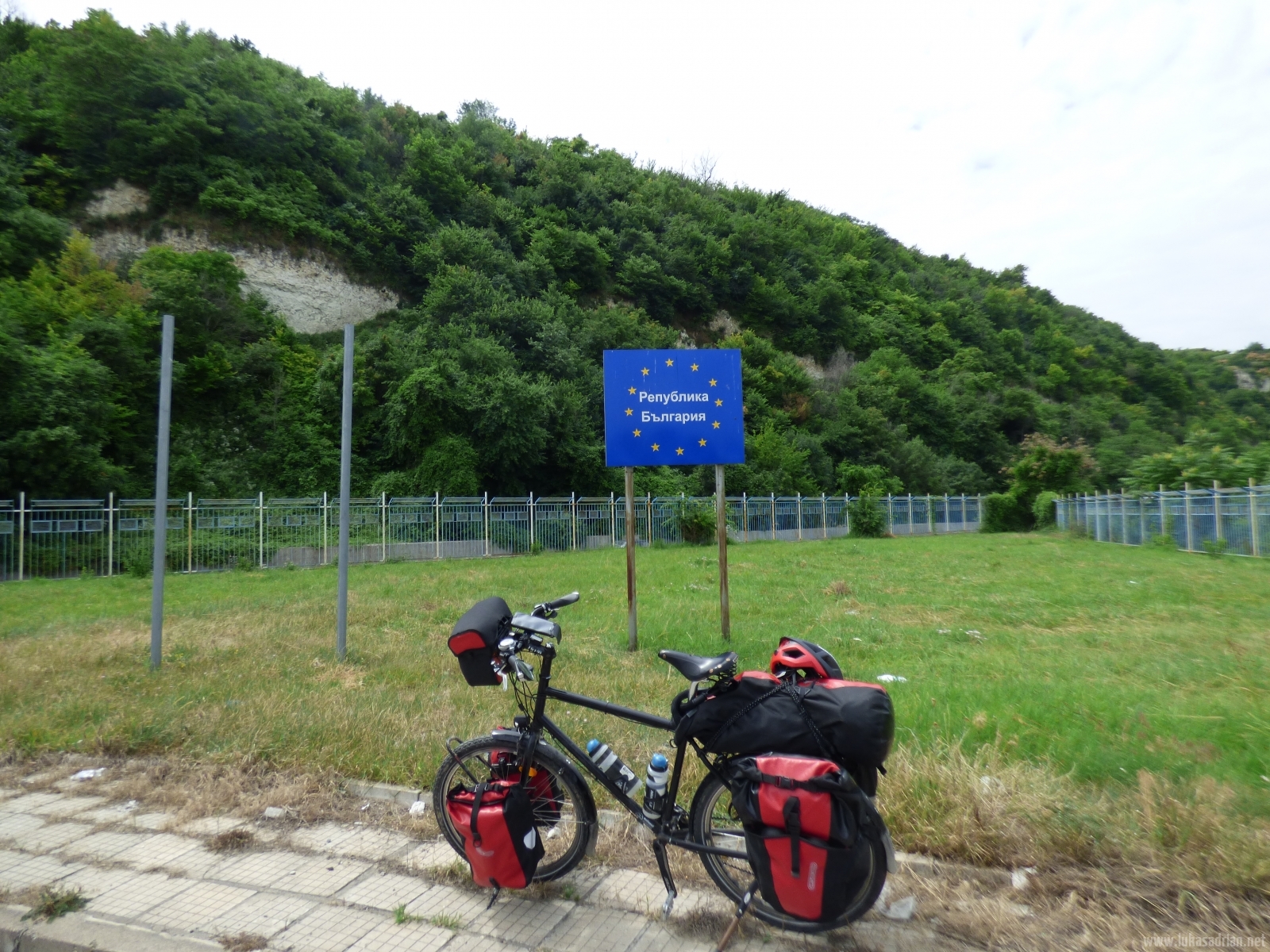 First I got a little money from the machine in the border town of Nikopol and could happily drive a few kilometres until my navigation device pulled me onto the first hiking trails.

Well, can you see the way here?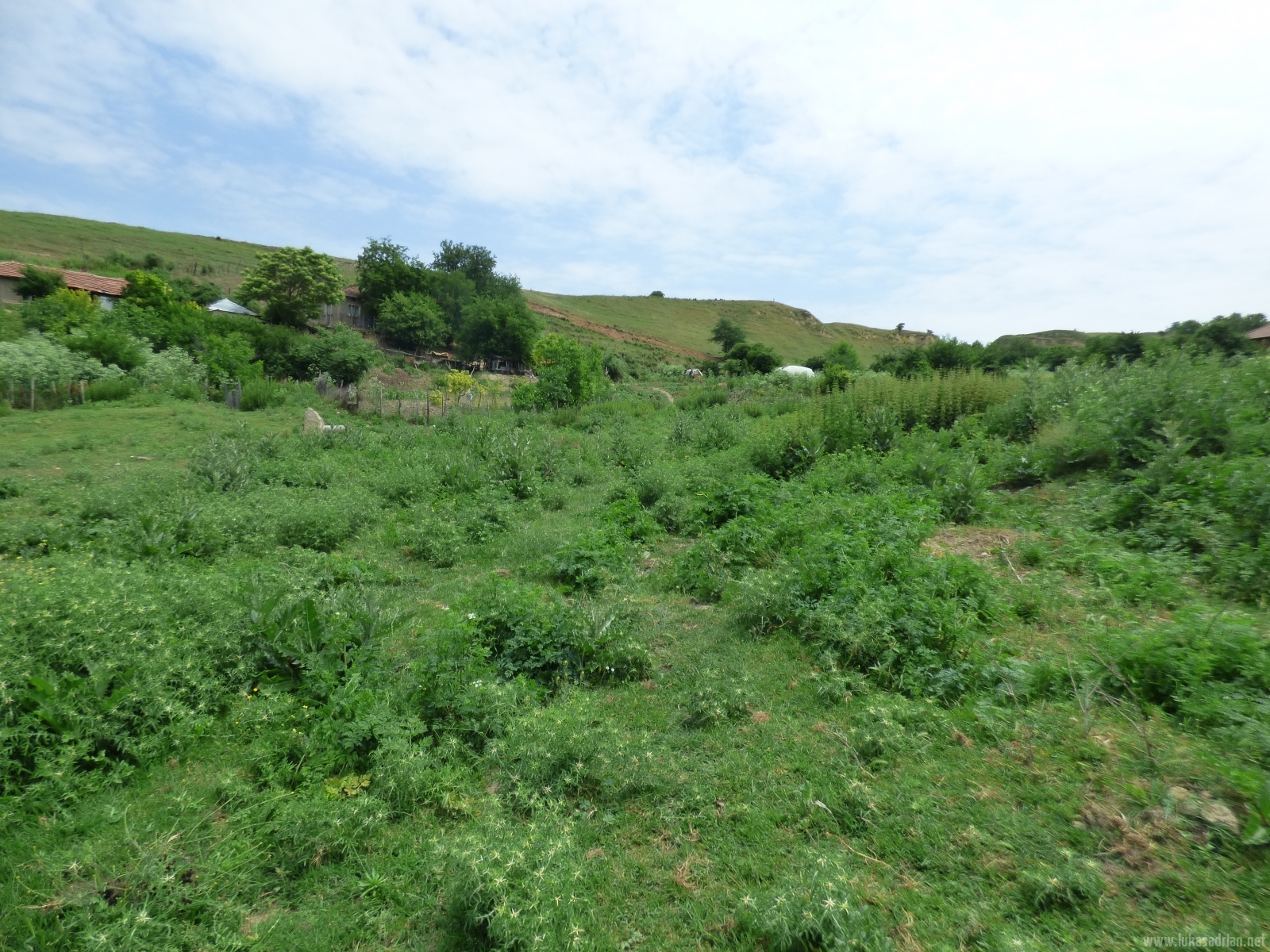 There I pushed my donkey over the country lanes, past cows and goats.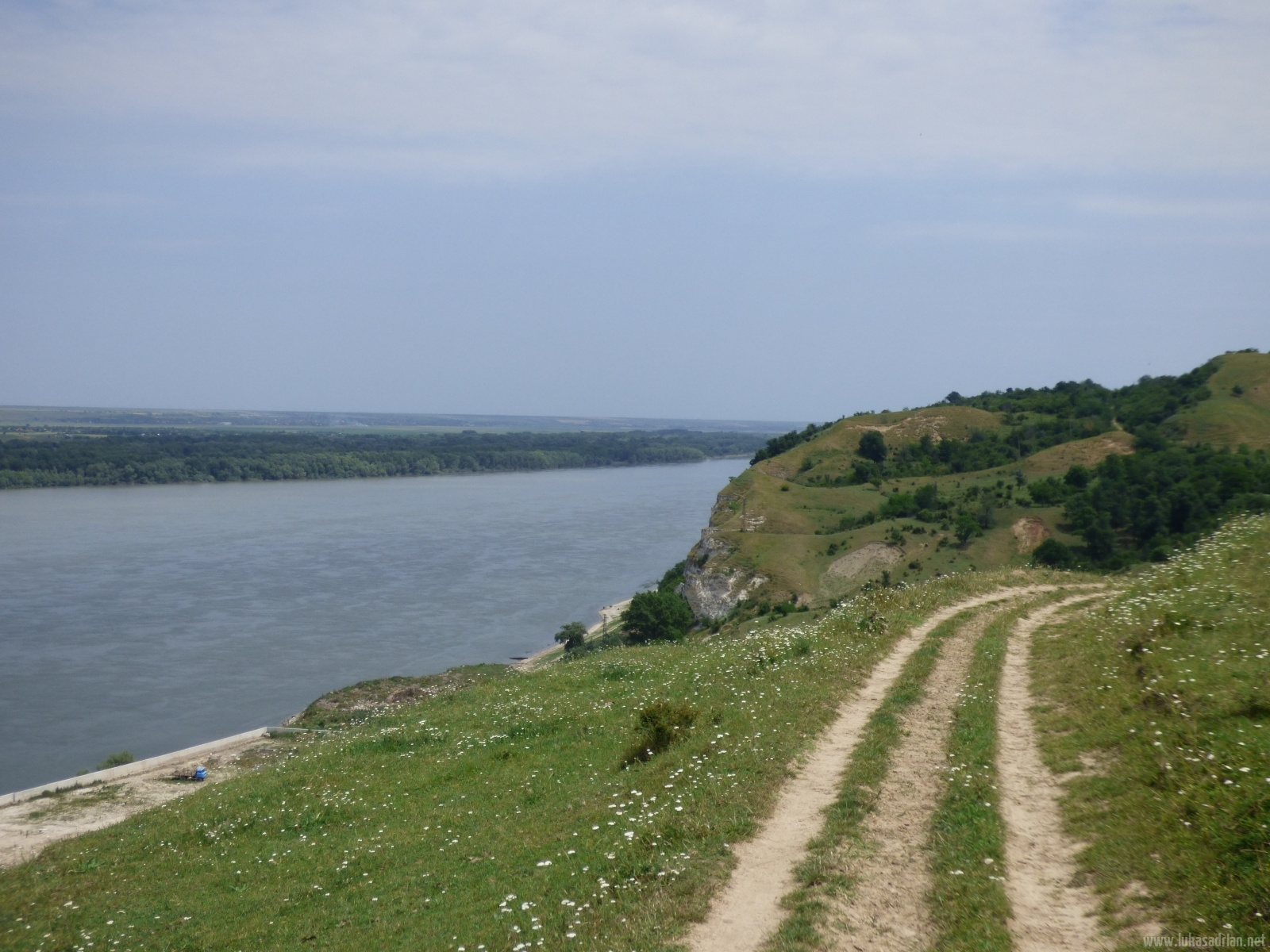 I also drove a few kilometres along overgrown paths

I saw three shepherds with whom I had to talk directly. They sat by the fire and enjoyed the silence. Of course I had to try their homemade raki, which is the best, because everything is natural and without chemicals. They gave me some cool water because mine was too warm anyway. Very nice people. They'd certainly like me to spend a few hours there.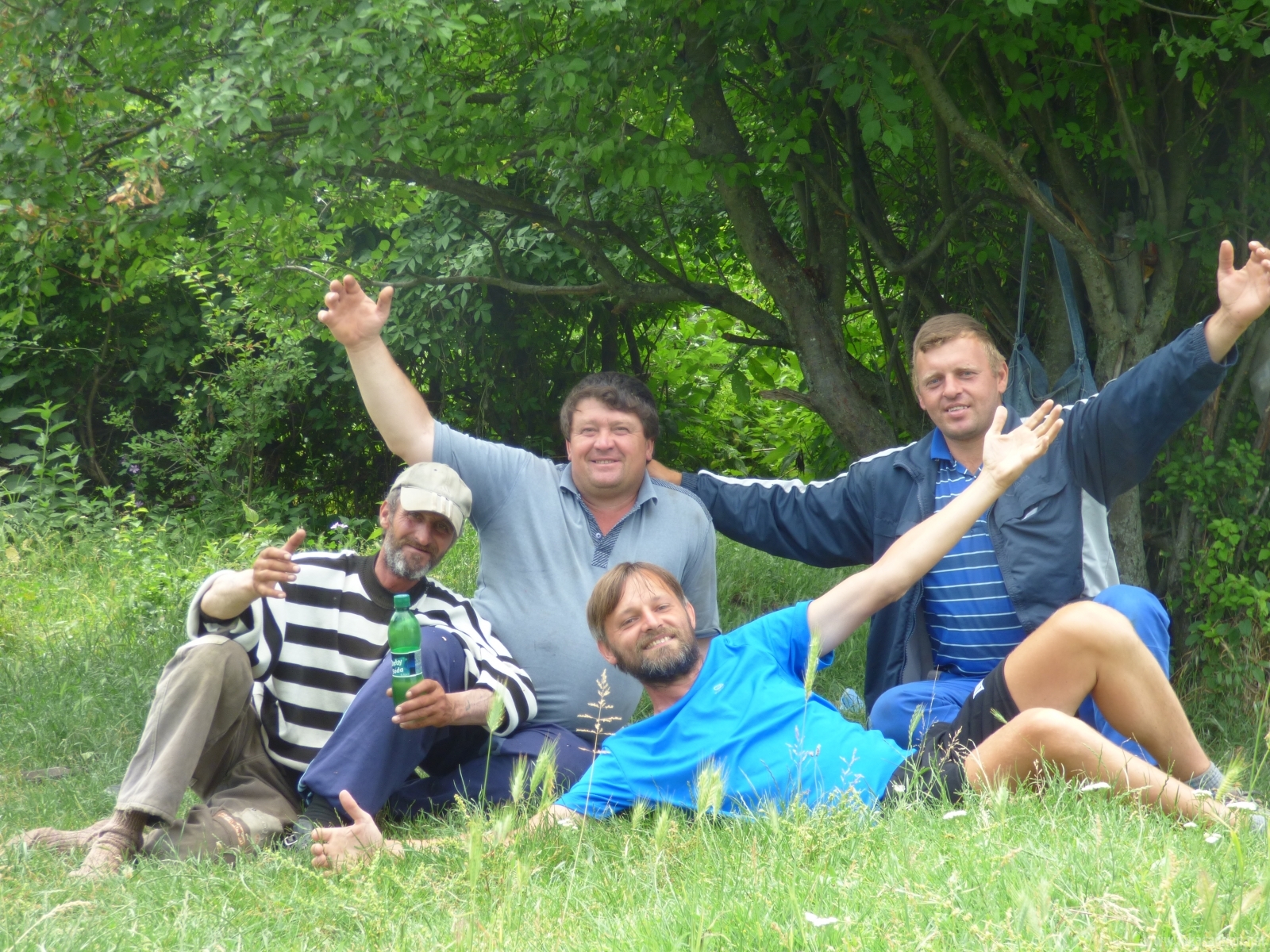 Out of the forest I drove in the first small village to a small bar, where I offered the older guests a little variety. I had a sweet drink and talked to them for about 30 minutes.
We finally continued on plate roads along the nuclear power plant. The area looked empty and deserted, but was still closed and the entrances occupied by guards. I didn't know that there was such a power plant and wanted to drive in there, but was directed directly to another place.
Then I saw my first living snake, I thought. But unfortunately she was dead, I don't know why.
It was about five feet long and as thick as my thumb.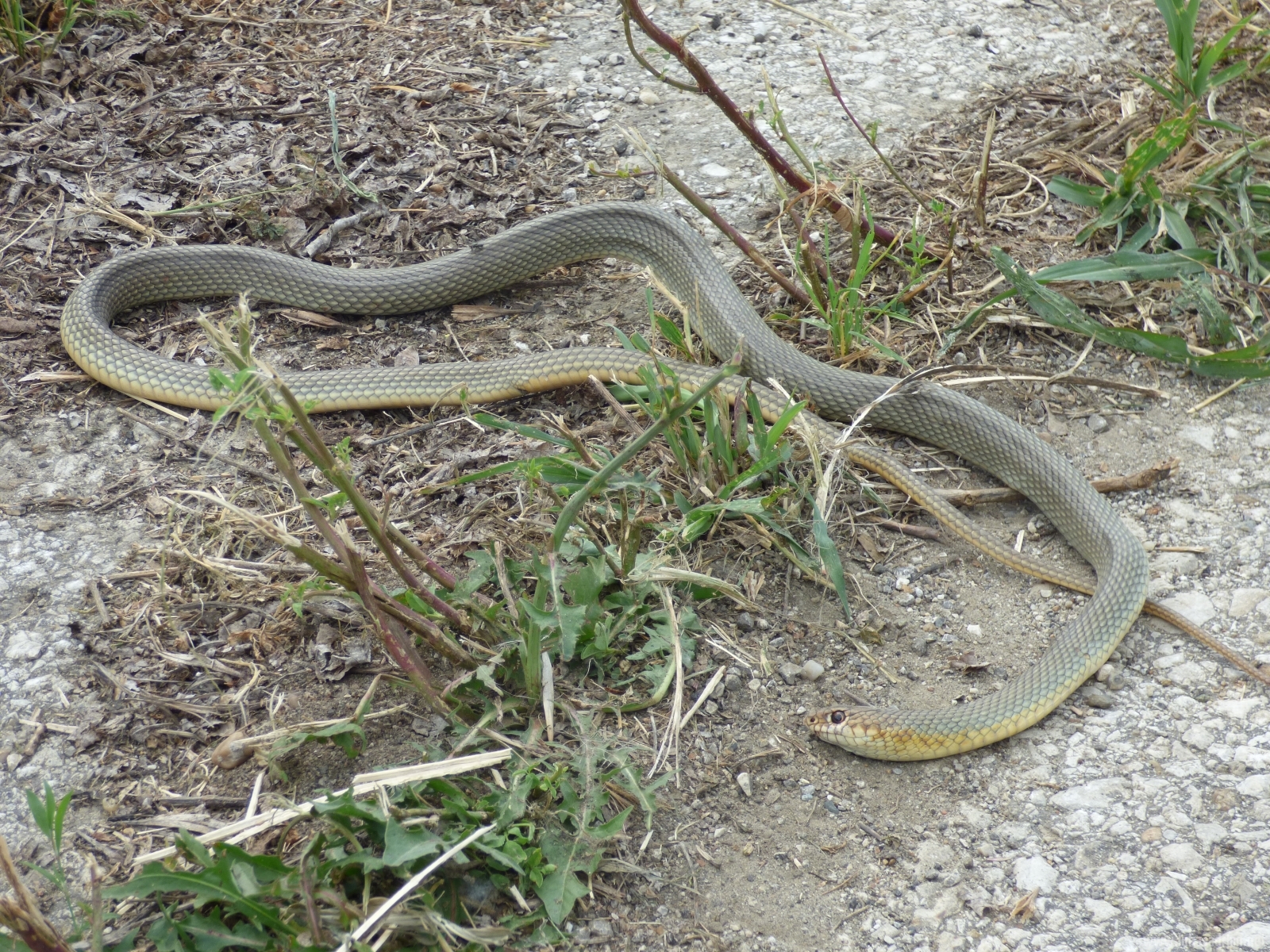 On the way I saw many such snakes, n/a whether some of them could be dangerous.
I could even get a small living one on the photo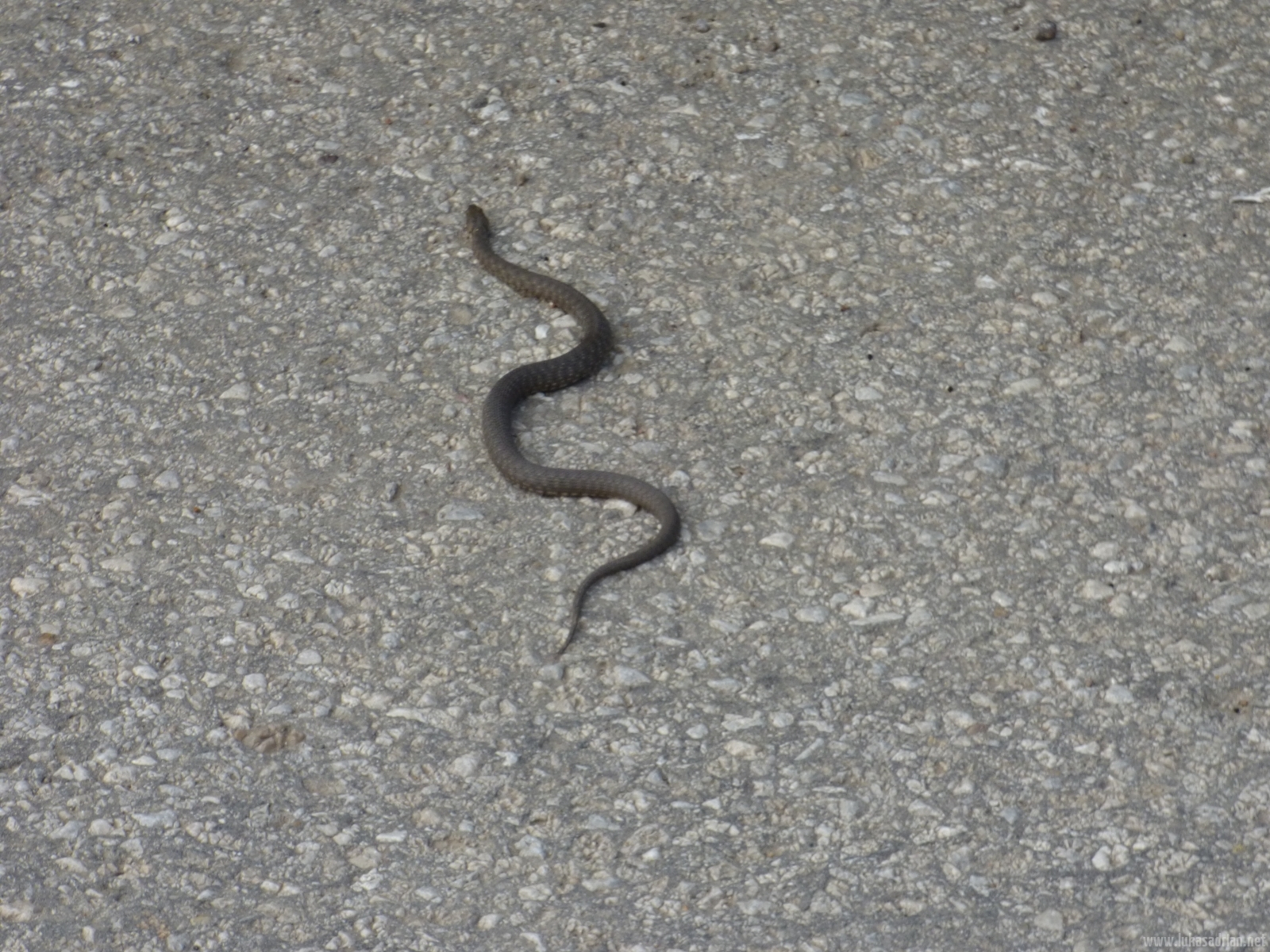 Dann fuhr ich noch an irgendwas historischem vorbei.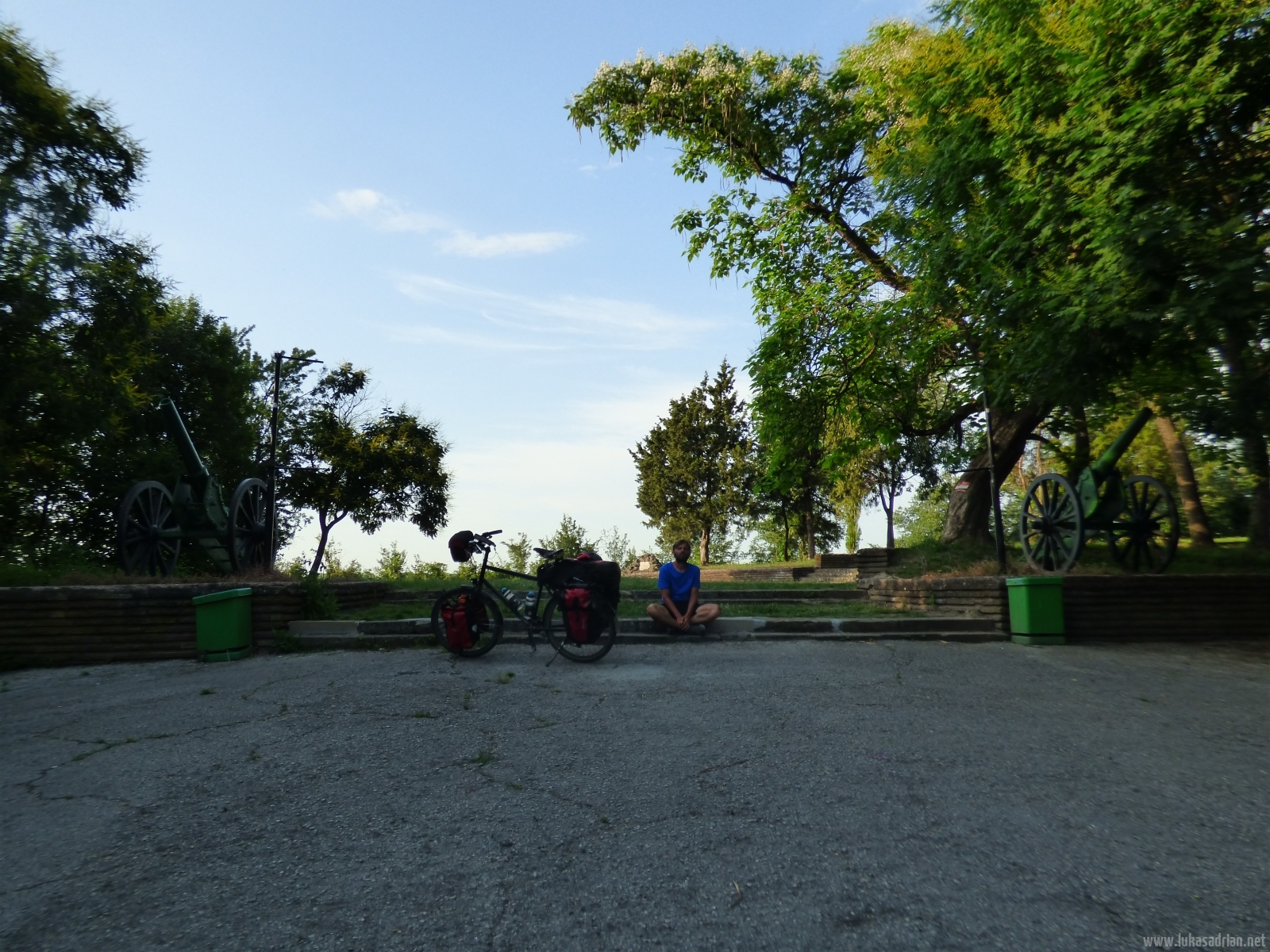 I went to Svishtov to get something to eat. My stomach was begging me for food. Behind the city I wanted to look around for a place to sleep.
I drove to a restaurant in the centre, where I caught the attention of two gentlemen. They were very interested in my trip and I could tell them a little bit. I ordered something to eat and when they wanted to go, one of them told me not to be angry, but he had just paid for my food. What can I say, such moments show me again and again that the world is not always as negative as some people think. Thank you very much! There are far more great people than bad and you shouldn't always pick out the bad!
Happily and with full energy I went on for another 15 km, where I found a quite good place to sleep in 120 m height.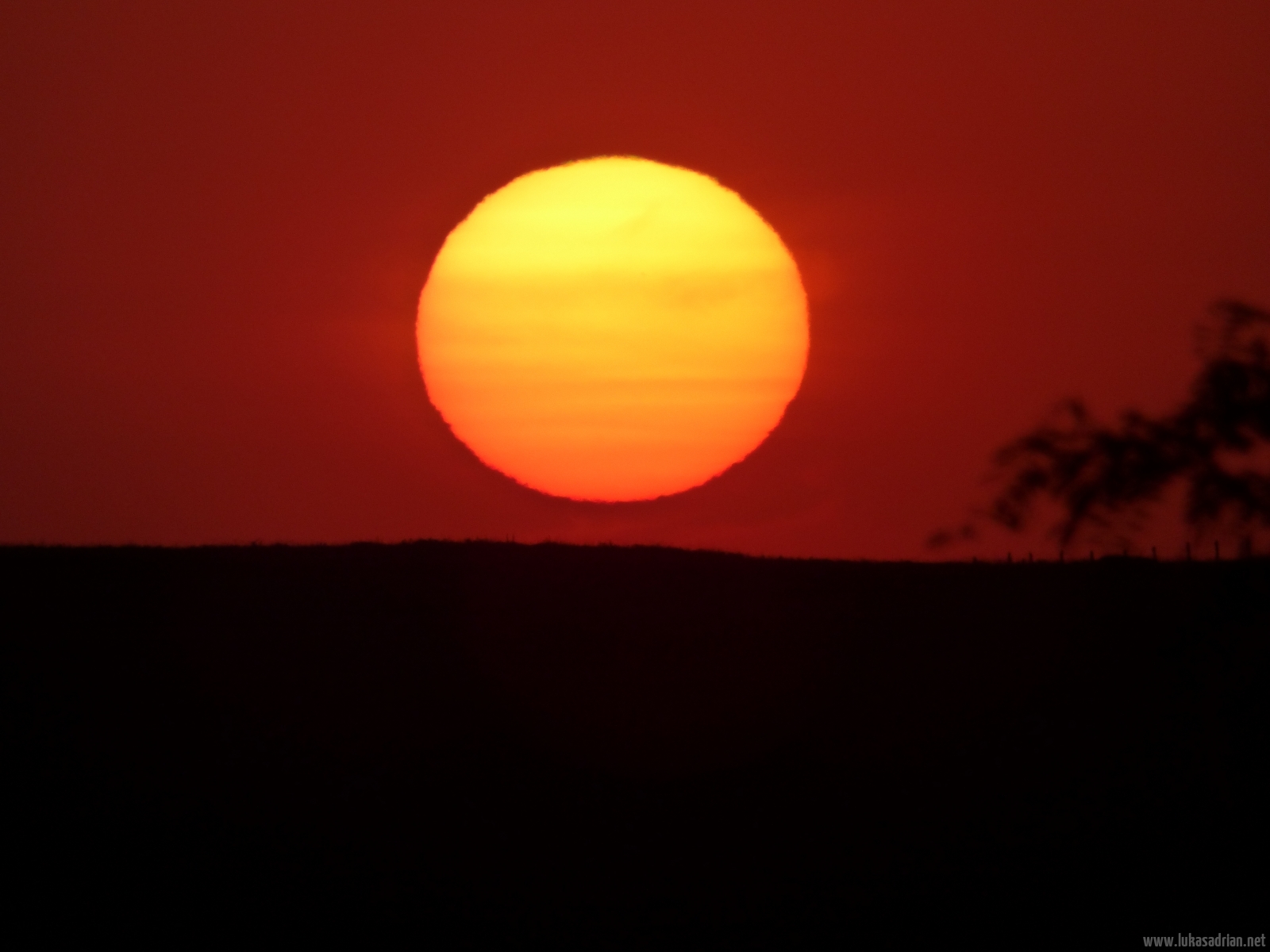 That night I heard for the first time either jackals or wolves howling, it sounded great. Later I learned that sometimes jackals walk through the villages and then all the dogs bark.
In the morning, around 9 o'clock, I went on the last 60 km towards Lom Cherkovna, where I wanted to go to Malka Polsza (more information in the text). First I went downstairs, then to the first village for shopping, where I had a good breakfast at the shop at a table. I also offered people some entertainment again.
Full, later also washed, a little bit nibbled, it went on.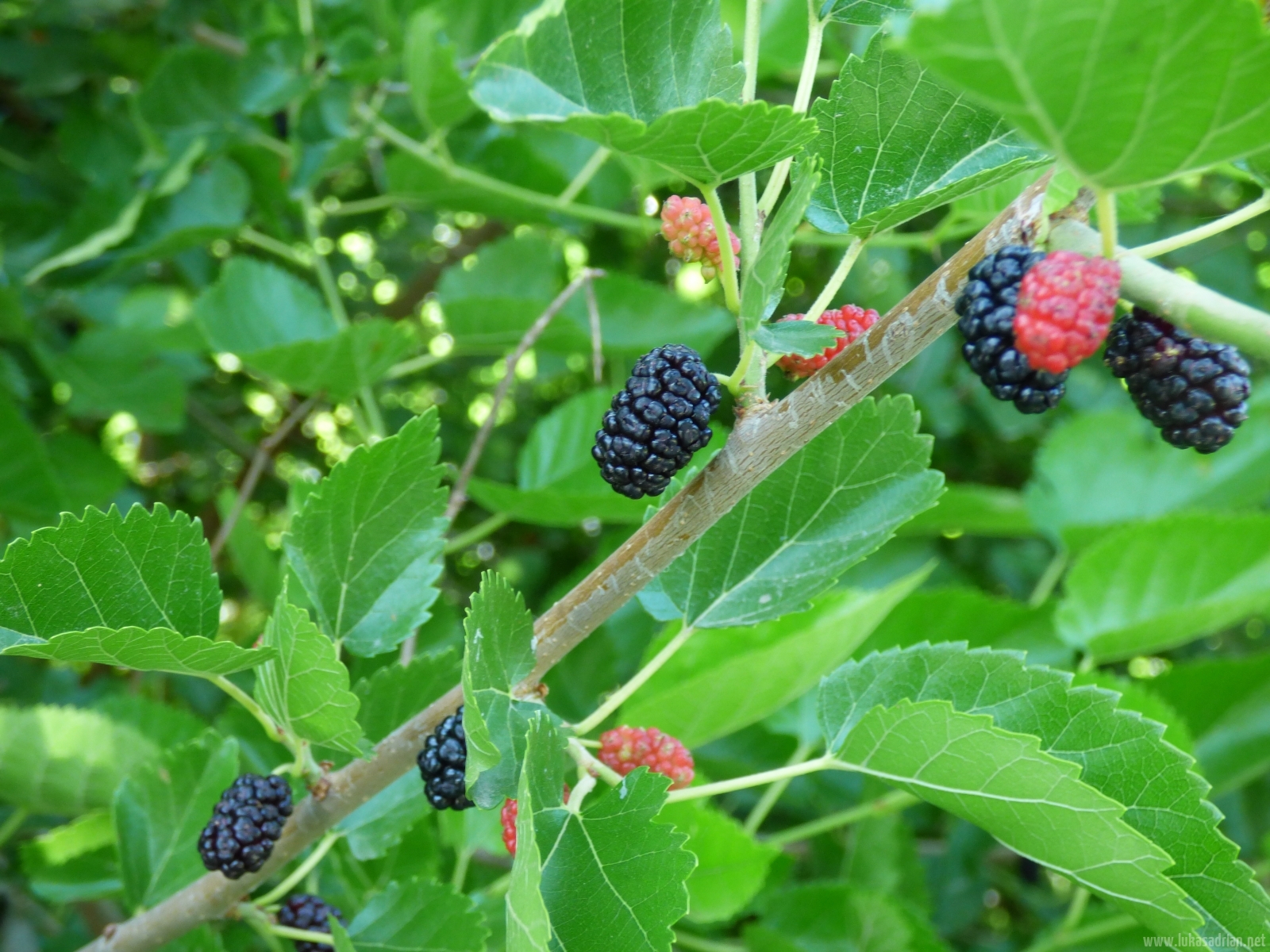 It went 3x up to over 100 m and down again, once even up to 350 m and at the end slowly another 100 m high. Still, time passed quickly and I was there around 4 pm.
Somehow I also found the Malka Polsza in Lom Cherkovna (some Poles settled here in the village and now call their place "Little Poland"), where we spent a great evening. My future travel partner arrived a day earlier.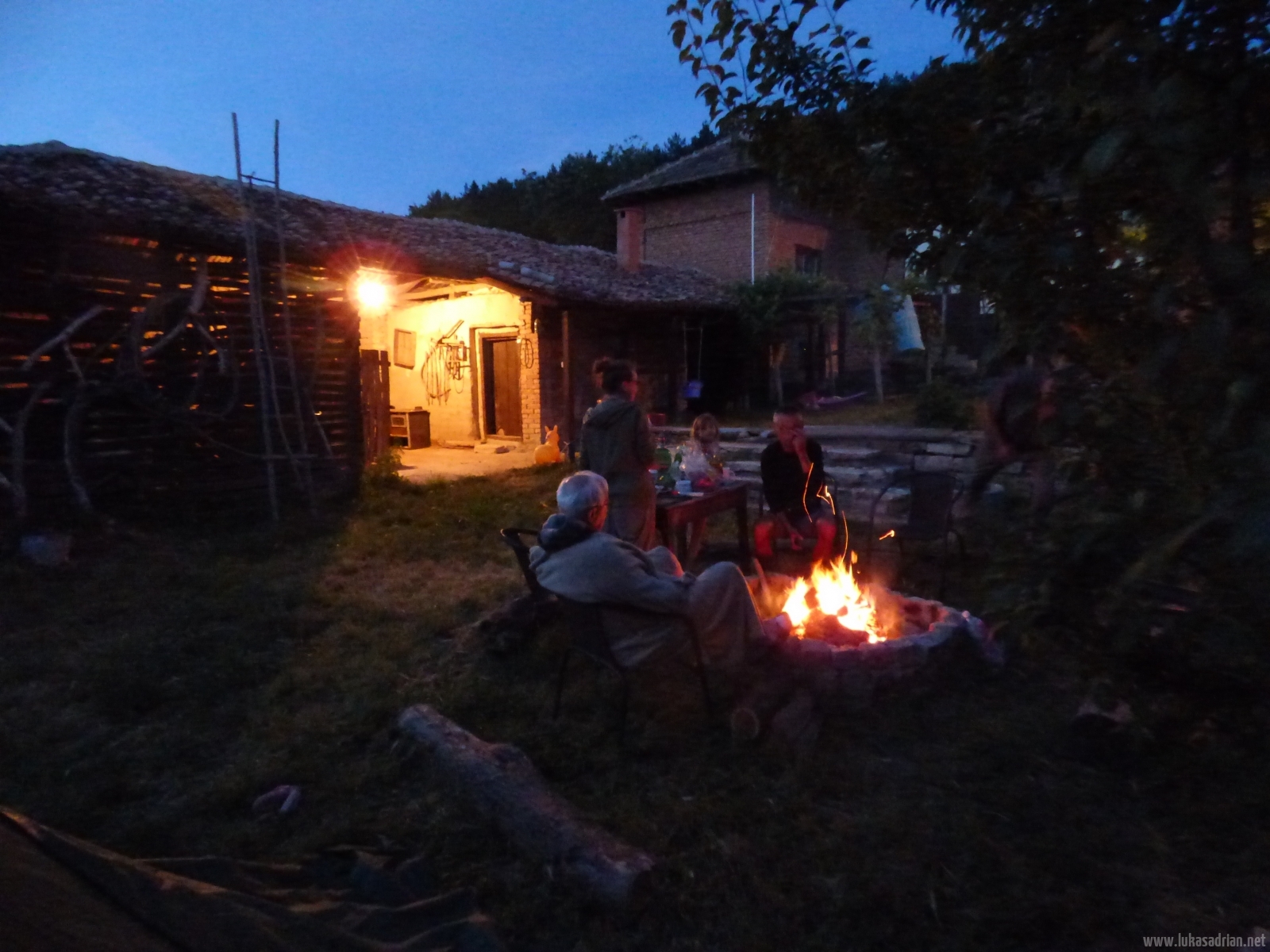 I don't think anyone can resist a breakfast like that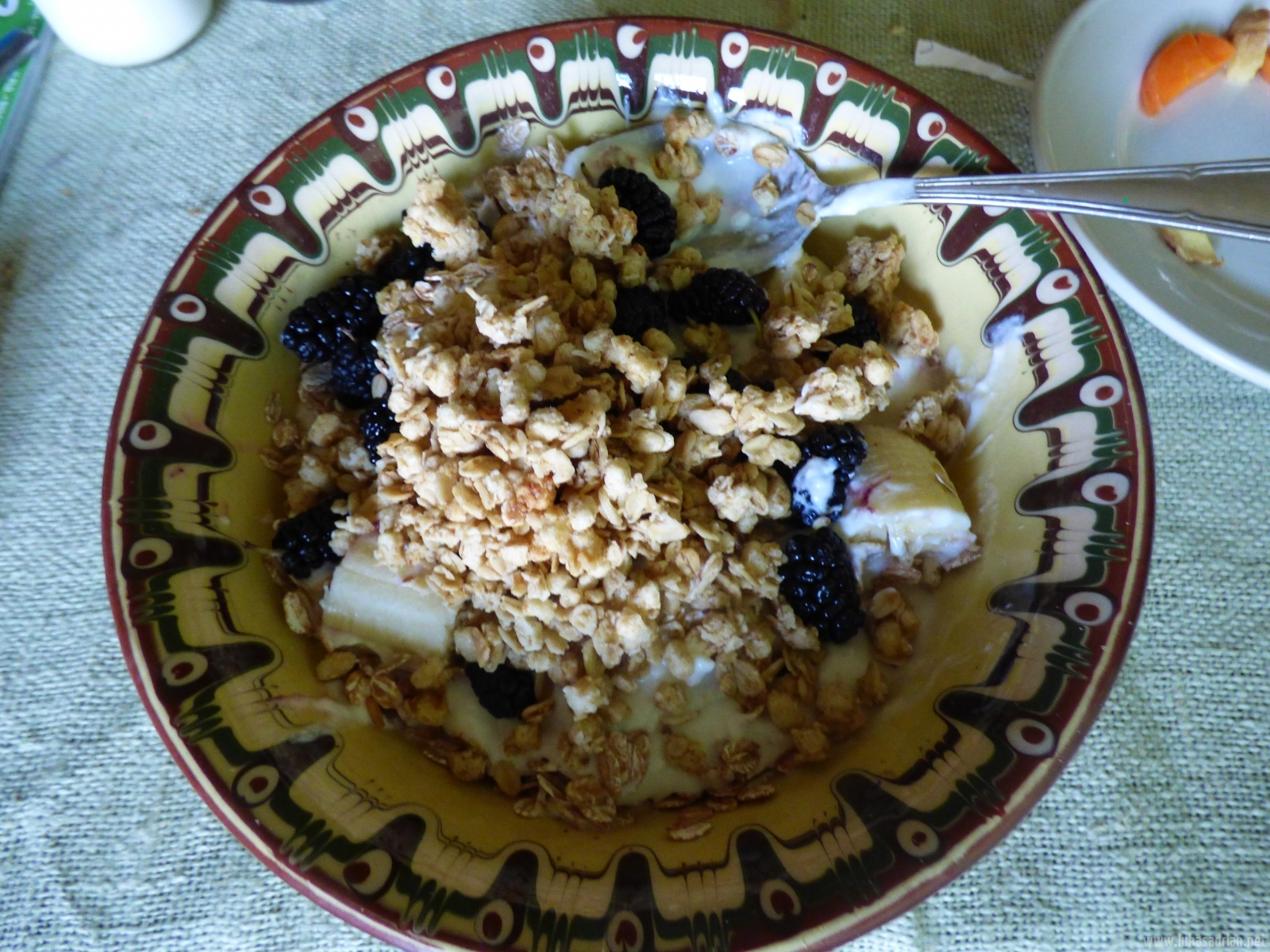 In total I stayed 5 days in Malka Polsza, camping here is free for travellers. We had a lot of fun, I let myself go too.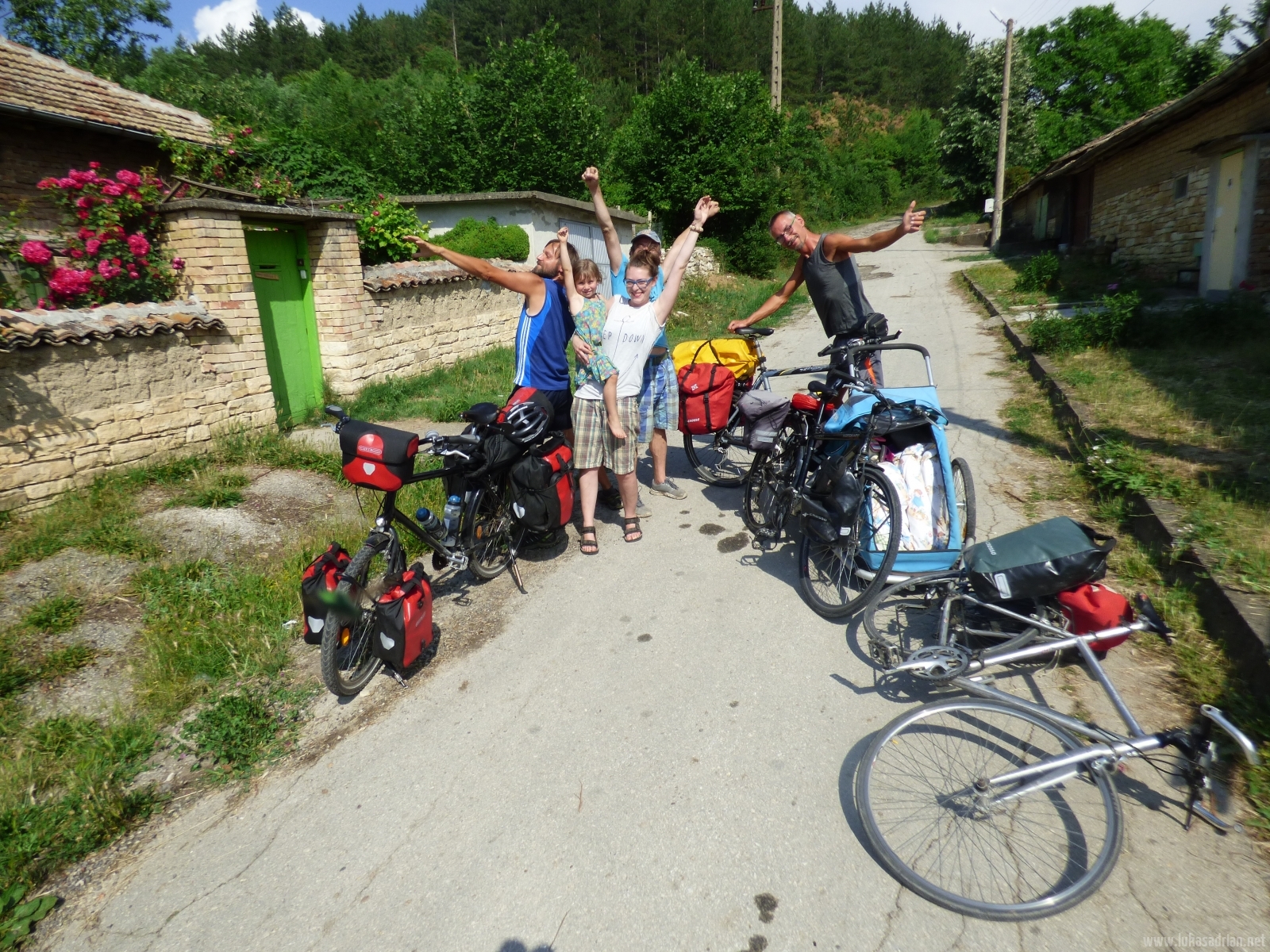 Finally we stayed overnight at the lake, where we started a fire. Making fires is so standard, I don't really need to mention it.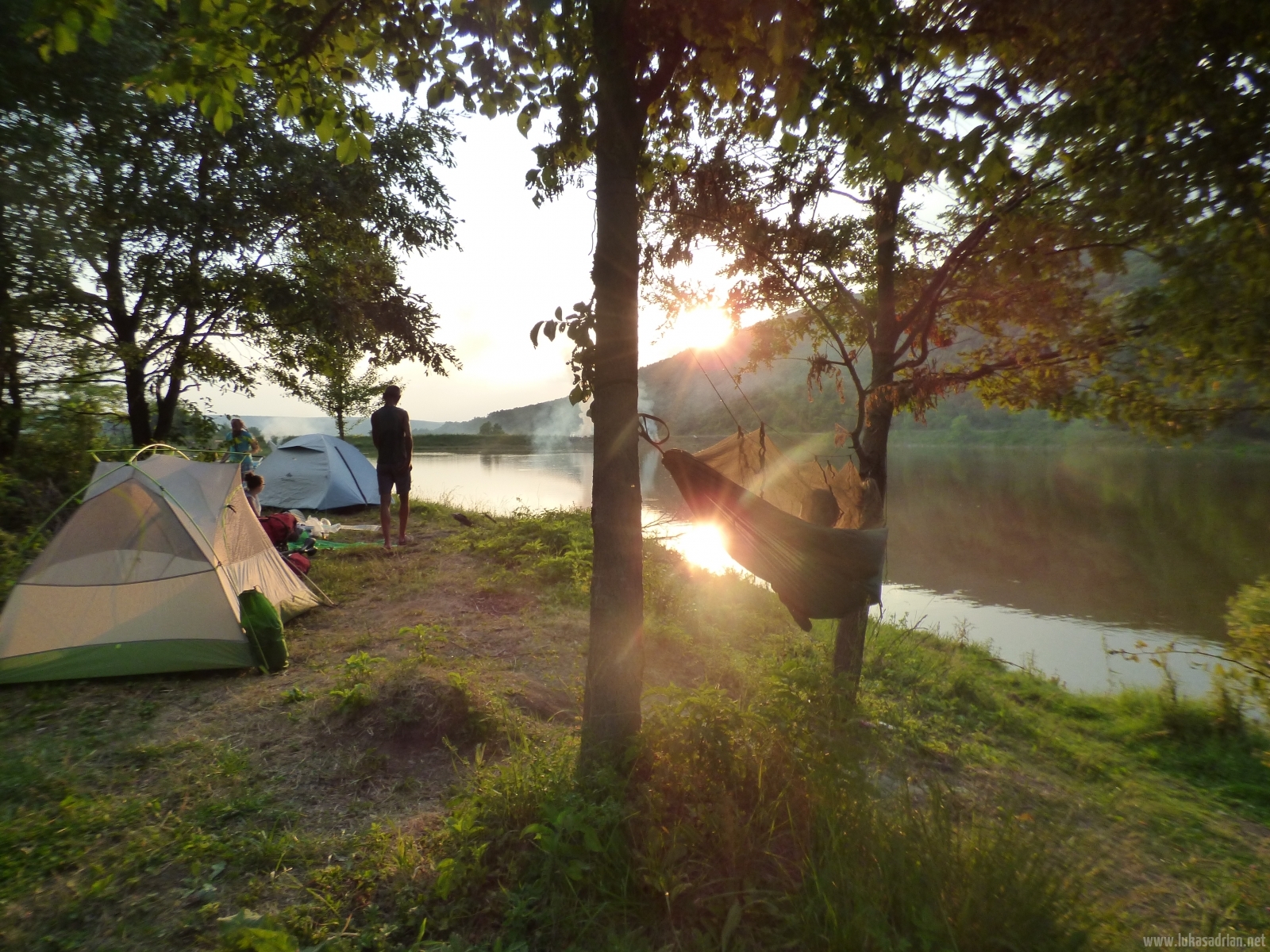 Somehow I miss the whole thing. I was also able to get to know village life better. No matter how warm people are, it's unbelievable. No matter how poor someone is, the person just gives you something and it's from the heart.
We did end up doing very well, with good food, beer and raki, outside, what more could you ask for?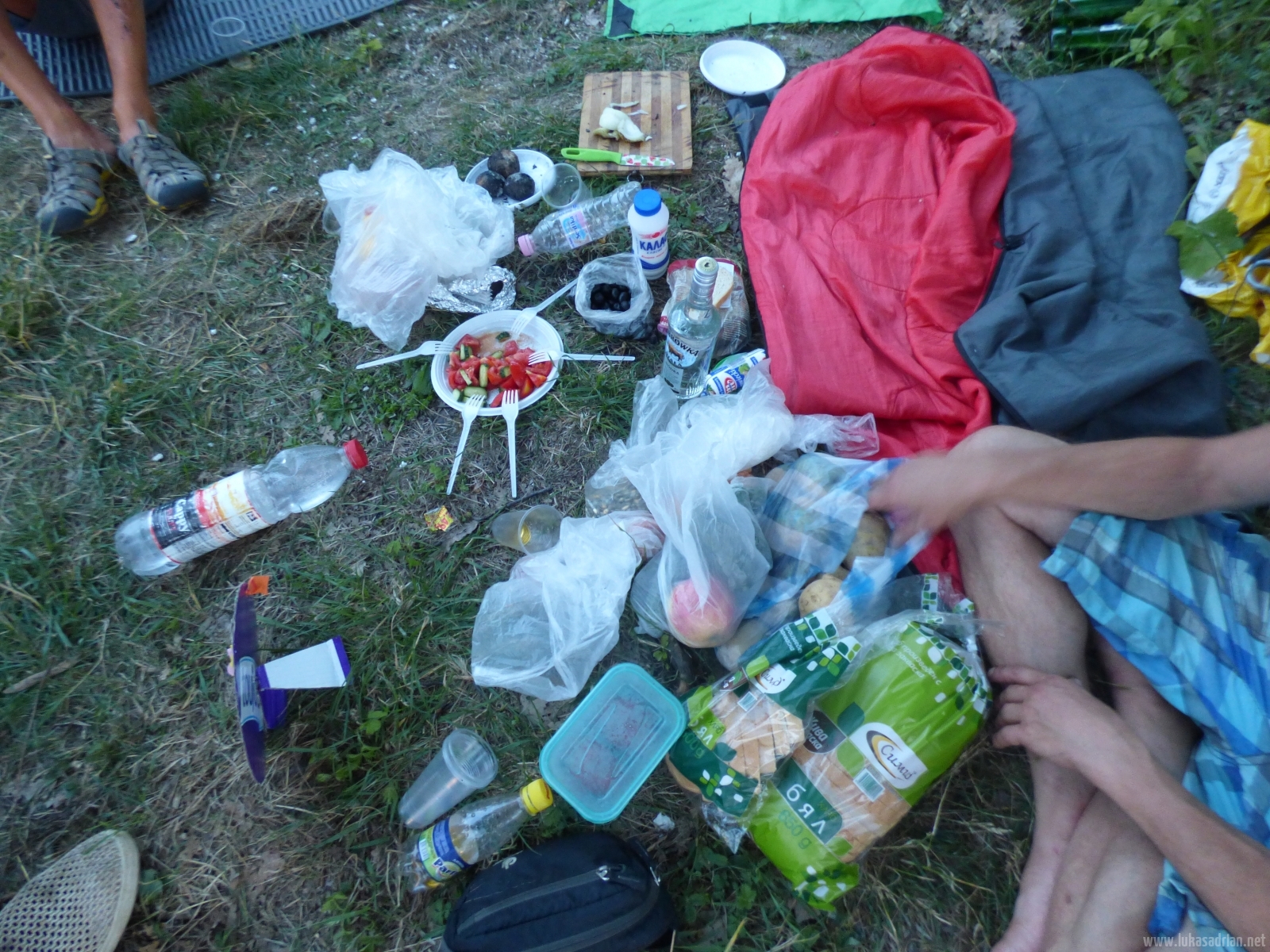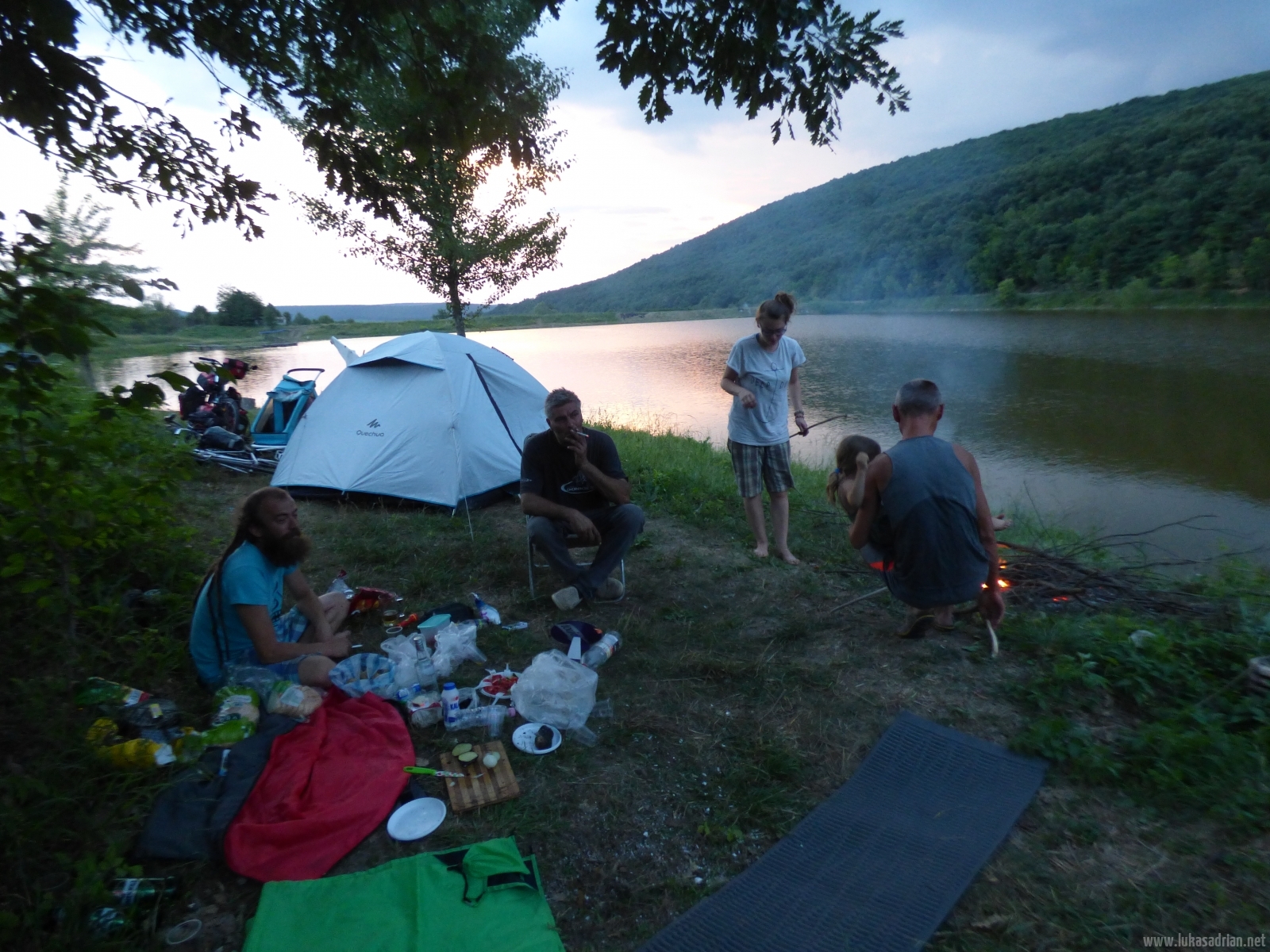 On the one hand it was difficult to say goodbye, on the other hand my legs itched and I wanted to go on. Now I drove on with Michael, my new travel partner from Poland.
Many thanks to you! Travelers can also camp there for free, it is worth a visit!
https://malkapolsza.wordpress.com/
It is now a new experience for me not to drive alone anymore. Let's see how this develops.
Michael has much less luggage than me and a lighter bike. He also has more experience and is fitter than I am, so he had to wait for me now and then.
First we drove to Veliko Tarnovo, a beautiful city with a great old town and a big castle, which you can visit for 6 Lewa (3 EUR).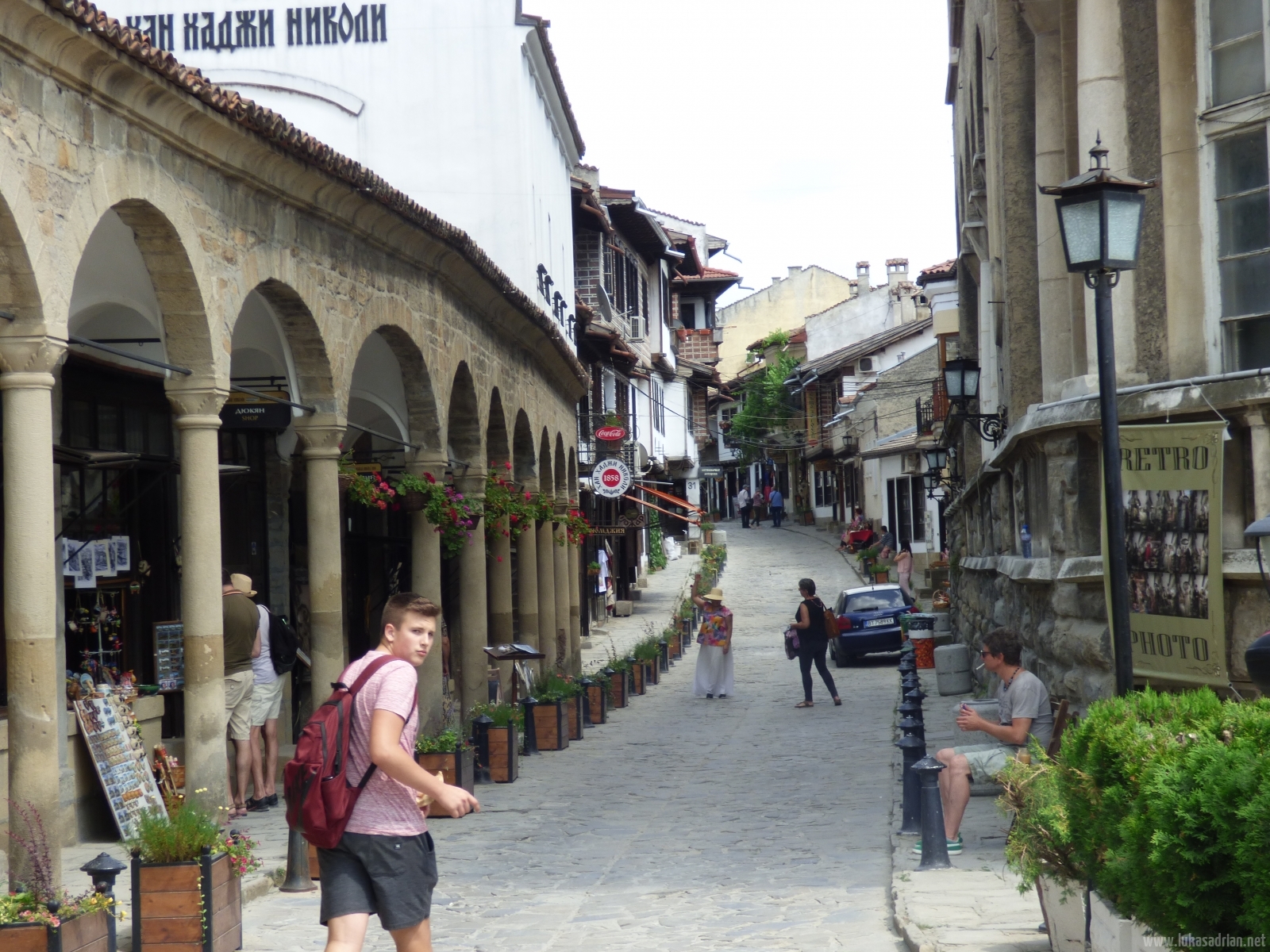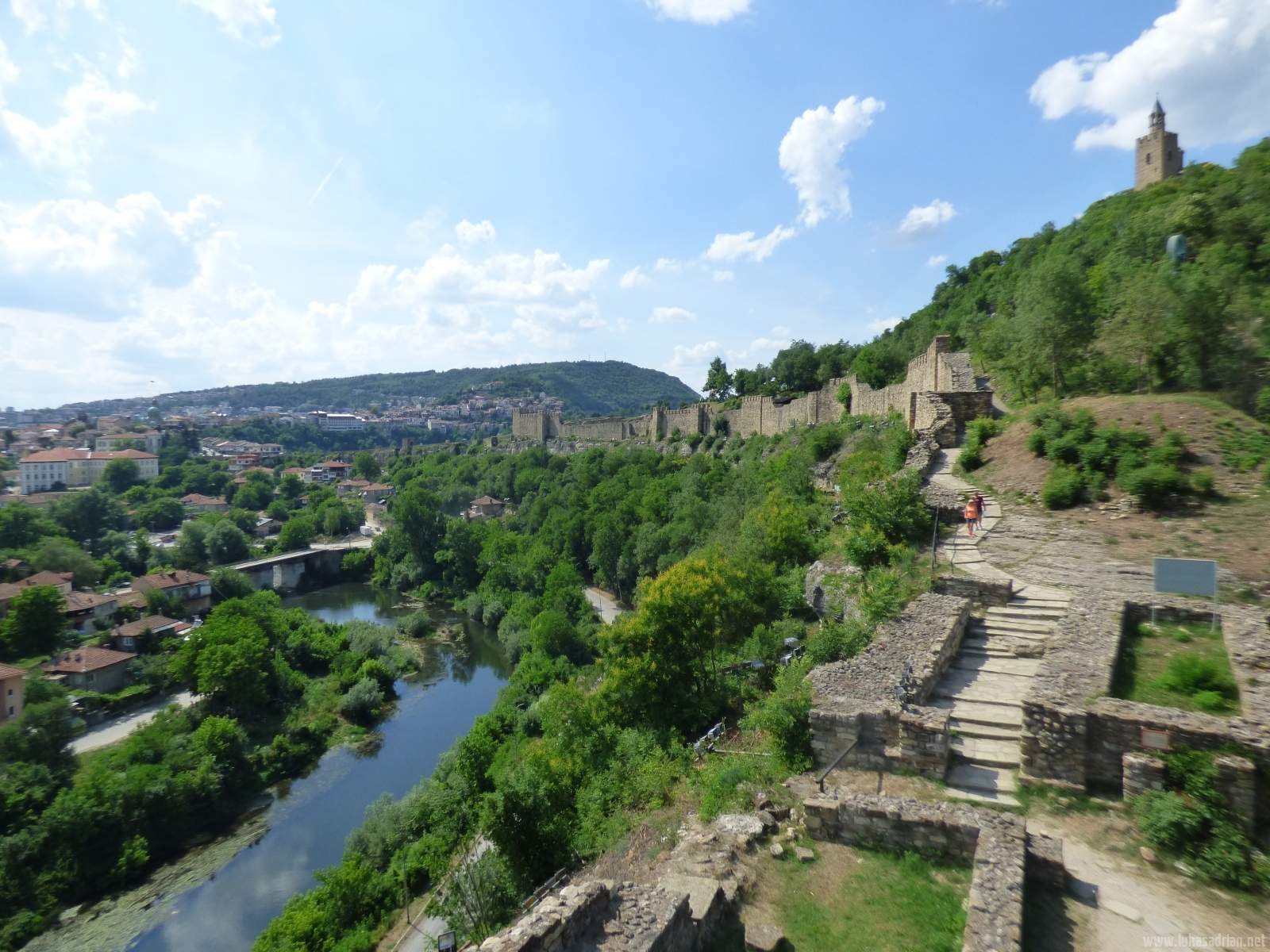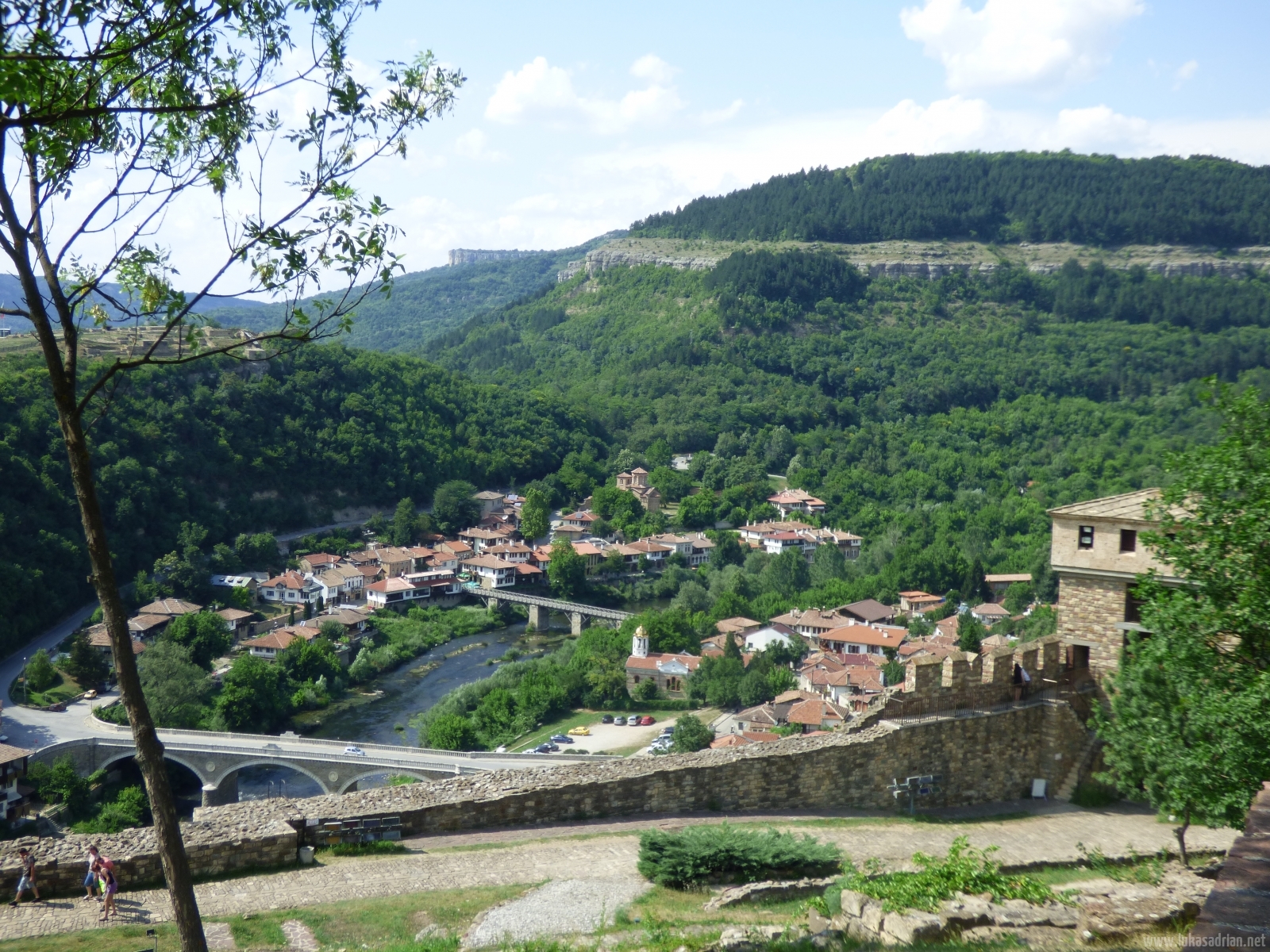 In the evening we chose a loamy meadow for the tents and went to sleep. Unfortunately, driving on clay was impossible, everything so sticky. So we had to push.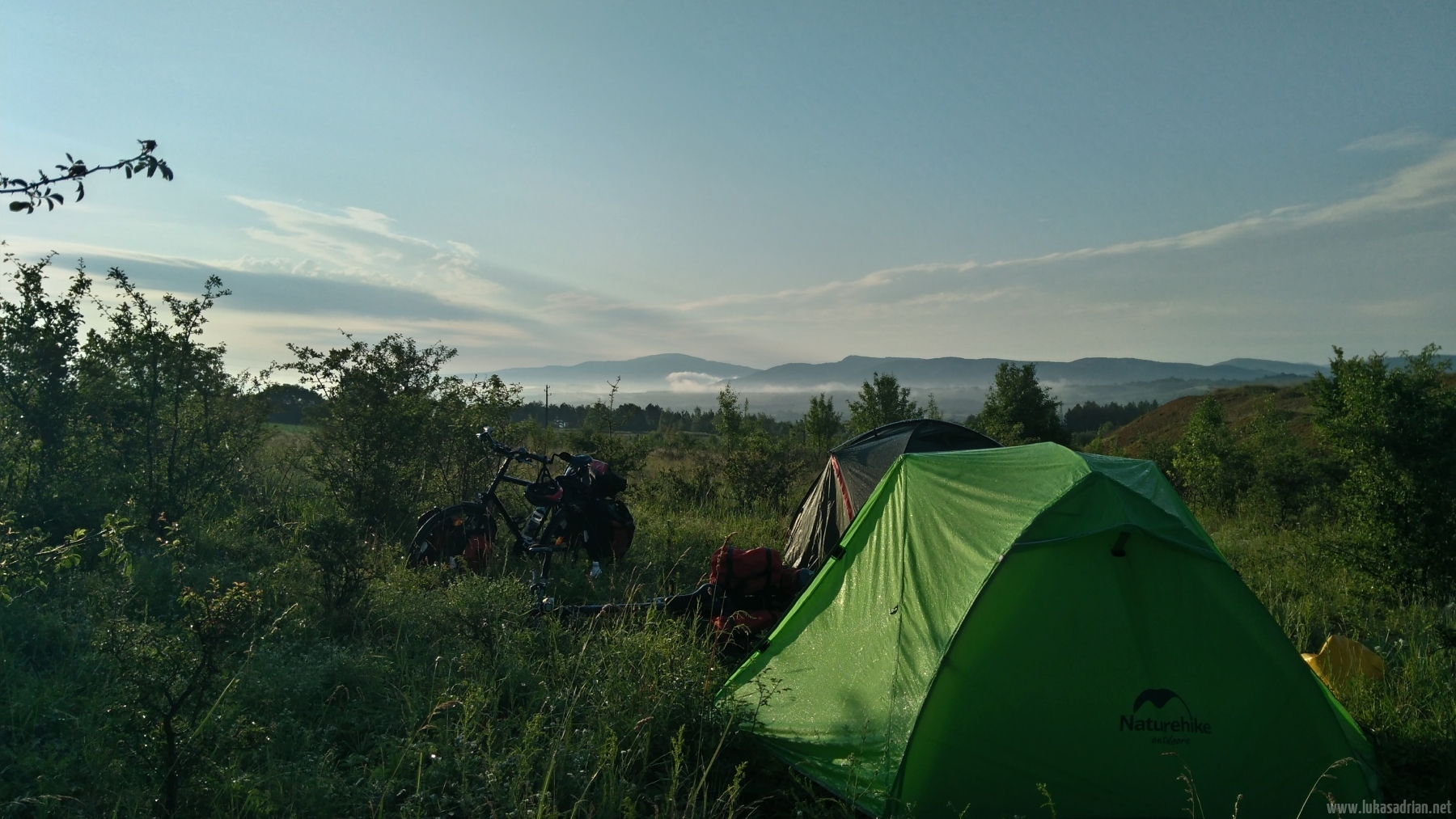 The next day we washed at the drinking water tap and drove down a busy road. It was horrible and we wondered if the track was the right one.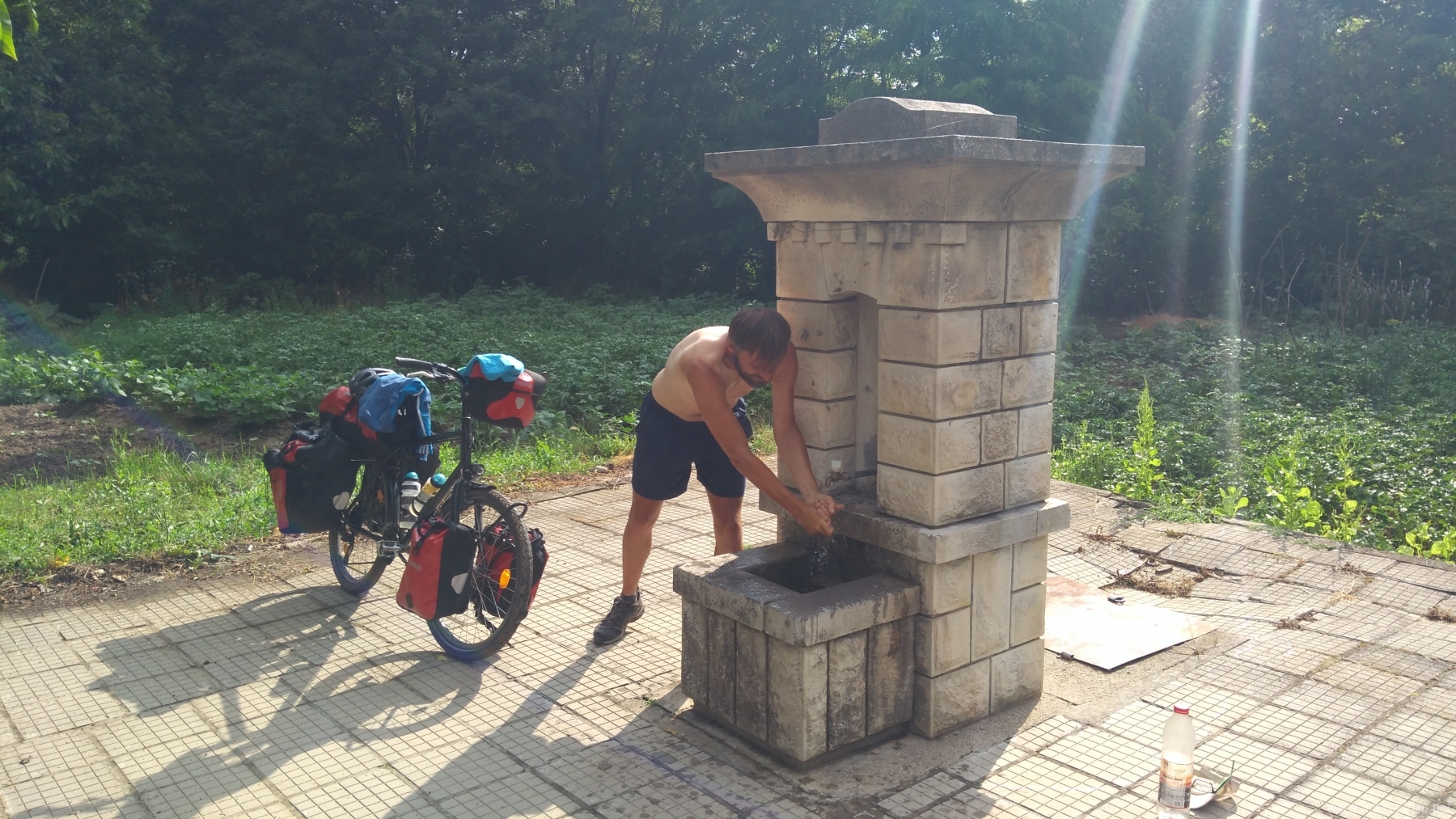 During a short rest we said to ourselves that we separate briefly, since Michael wanted to look at something at 1400m and I would like rather faster to the sea. We made out a meeting point in Greece and I went back on the highway to push my bike up. Michael went another way.
Finally arrived at about 700m, I cooled myself grinning at the tap and drove down the road partly screaming and cheering happily. This whole trip is really good for me and I'm just looking forward to every moment. Sometimes I wave to people or juble on downhill rides.
The view in the whole area is beautiful, green high mountains, no matter where you look.
I saved another beetle that was thicker than my thumb from the road.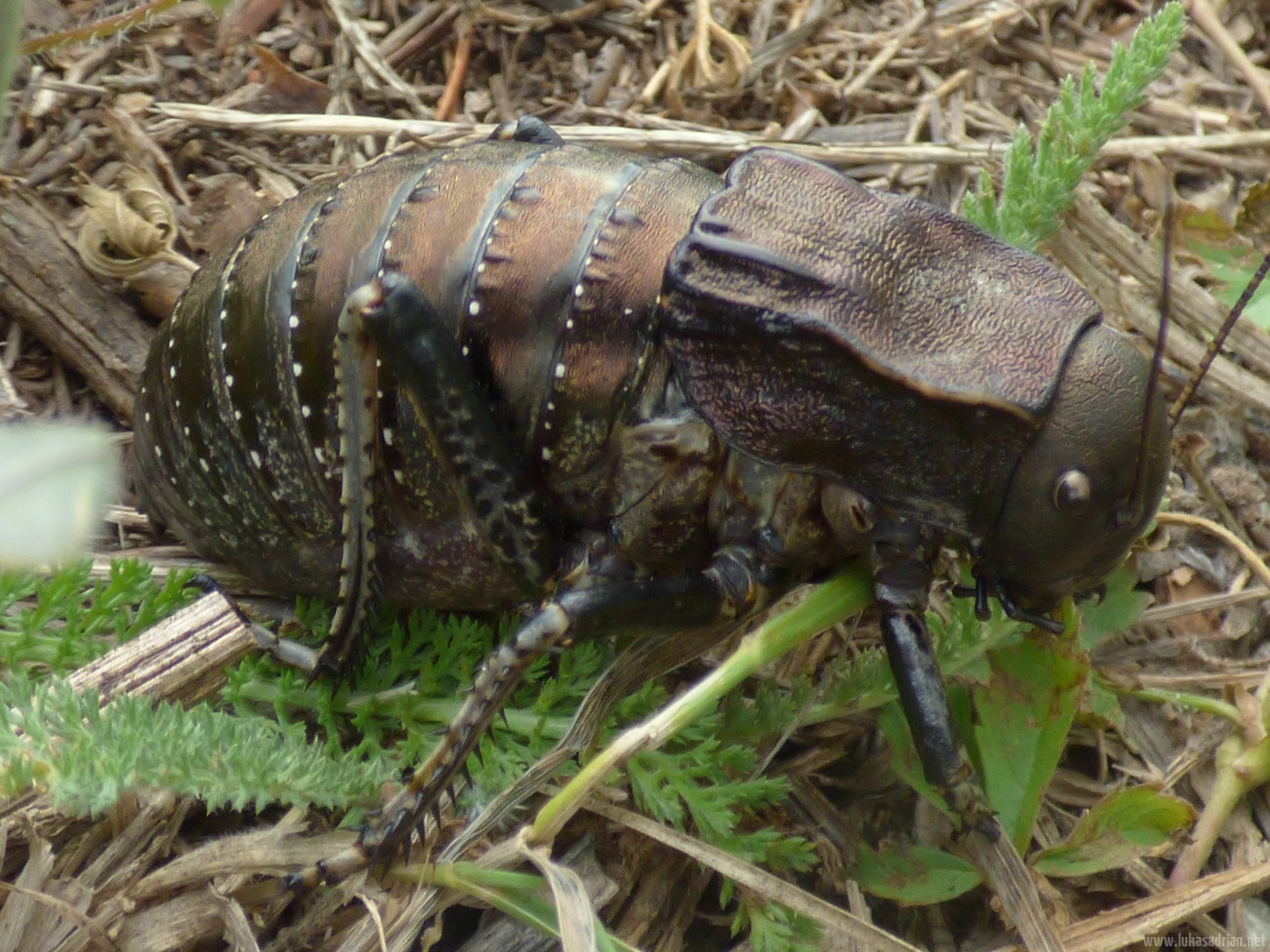 I partly pushed up the bike on footpaths and finally reached Stara Zagora, where I wanted to stay for 2 days to see the city. Unfortunately only hotels and because I would rather spend the money in a far away country, I drove 8 km to a hostel, where I paid 26 Lewa (13 EUR) for an overnight stay and I ate my 2nd meal in one day in a restaurant. How much you can eat is amazing. I ate french fries with sheep's cheese, among other things, nothing unusual and nicely greasy here.
I still noticed that on the fences of the houses very often a photo with texts hangs. These are the deceased who are honoured in certain periods.
I really like the Balkans, this relaxed way, hardly any stress and hectic. In the village you meet at the bar and discuss with your friends who rents the mower, if someone has a job for a few hours, etc., all kinds of things. If something is not done, no problem, tomorrow is also a day. Besides, this warmth is incredible. People who don't have much money spend just because they enjoy it. I wondered, can these people have a career? I think so, but her own career.
Today I stood briefly at a sign, only briefly, when a car stopped directly and the man wanted to help me.
There are also small shops in the villages. There are often tables and chairs at the shops. So when someone goes to buy bread, the person first sits down, drinks a coffee, talks to the others, smokes a cigarette and then moves on. I've seen that a lot. Whenever I sat in a place like this, it only took me a few minutes to hear them start talking about me. A brave man asked me a few moments later where I came from. People just talk to each other. Oh, what a wonderful thing!
My last destination in Bulgaria was Swilengrad, where I spent 2 days in a nice guest house.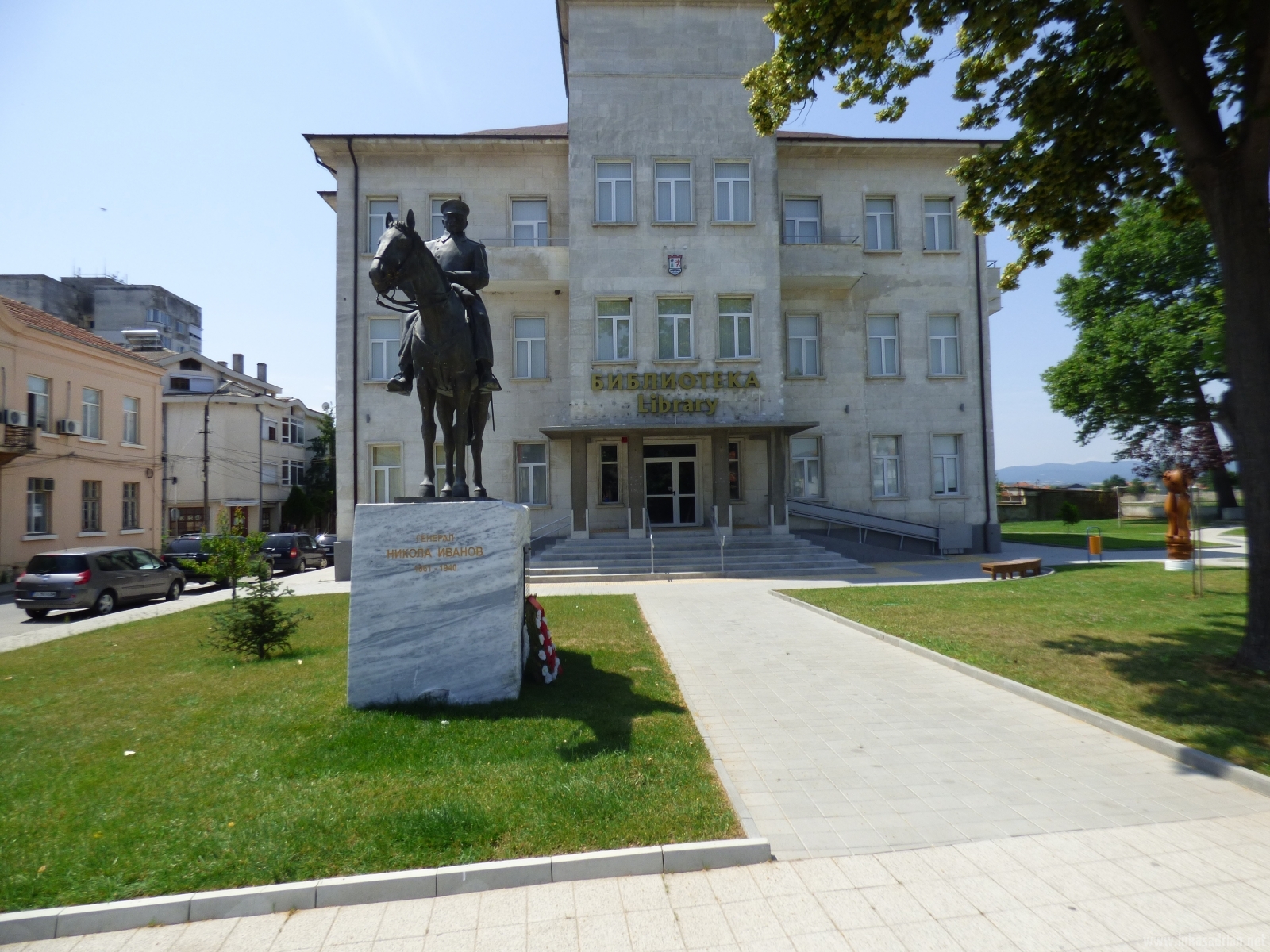 Swilengrad is near the border triangle (Bulgaria, Turkey and Greece) where cyclists get lost now and then 🙂
I talked to the owner, who gave me some tips for Greece. Many cyclists stop at his place, that's why he knows his stuff. I was still allowed to taste his homemade wine, which tasted very fruity, was very tasty. I ate properly in Svilengrad, bought things on the market, recovered well before I went to Greece.
After about 4 weeks on the Balkan peninsula, we first go to the Thracian Sea for a short time, then to Turkey.
Thank you for your kindness, the Balkans is really beautiful and there is a lot to see and not only scenic. Still today I sometimes think of the individual people and don't know how I should thank you for everything.
More pictures in my Bulgaria-Ablum HERE