I left Pandan with a heavy heart, I wanted to or had to go on. The next destination was Caramoran. There is the Toytoy Beach. It was about 6 km, so I tried to walk.
After many goodbyes I was almost out of town, then a man on a scooter next to me stopped and asked where I wanted to go. I'm always sceptical about something like this, because suddenly a high sum is demanded (for this short distance up to 200 pesos, about 3,50 Euro). But he just wanted to take me with him out of kindness. I climbed up and was quite fast at a beach surrounded by banana trees and coconut palms. I took out my hammock and just let myself hang. Swimming and talking to about 15 children or teenagers. It was just great!
On the far left my hammock, I made it! My fantasy pictures became true!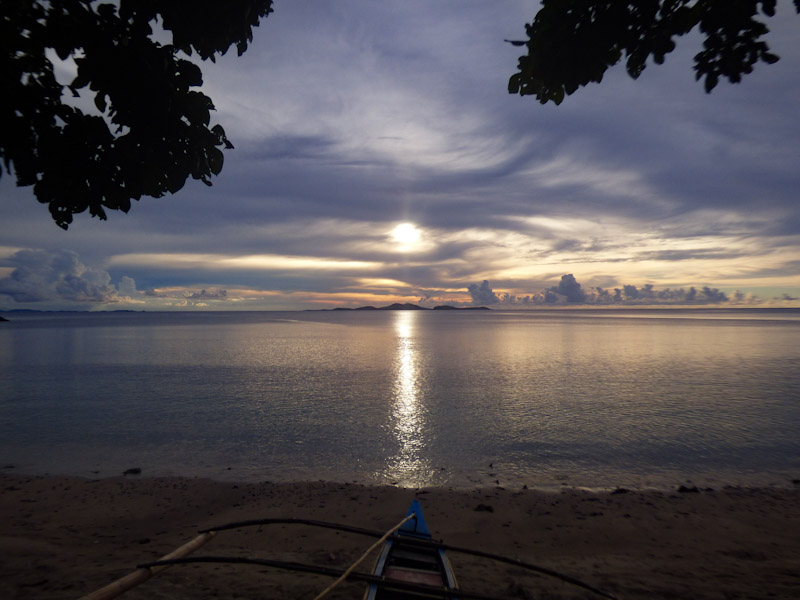 My dream of my hammock hanging under palm trees was almost perfect. Almost, because the palm trees carry coconuts that fall down from a height of 10m. That might hurt a little.
So other trees had to believe it.
Once again with a heavy heart I left the place and headed towards San Andres, from where the ferry to Caramaon should swim.
One day I spent in San Anders, because the ferry was swimming in the morning. I then drove from the port for 200 pesos to Paniman, where I spent three rainy days.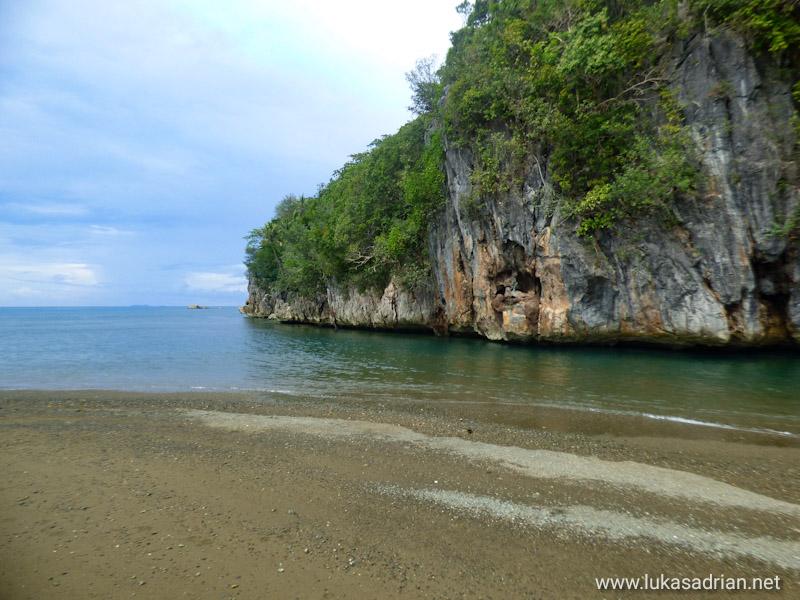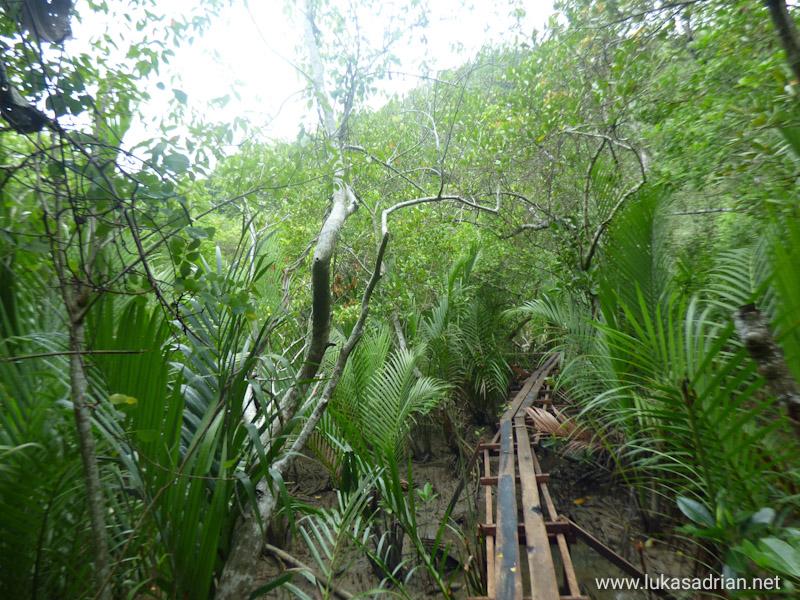 On the last day I was invited by residents celebrating the birthday of a woman in a wheelchair. I loved the way the neighbours took care of the woman.
I drank nothing, sang and danced with them anyway. They remembered me well when I helped them and other fishermen on the first day in Caramaon about 3 hours pulling nets out of the sea.
My tent stood at their hut.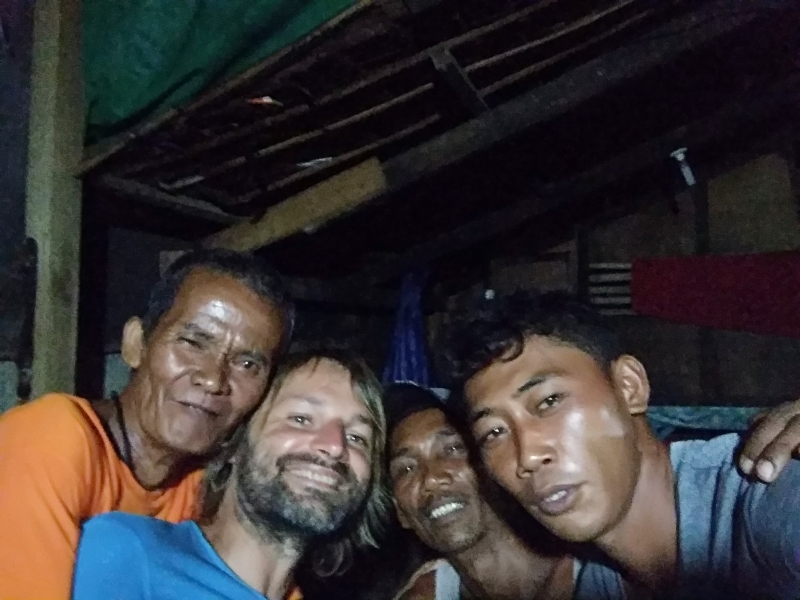 I left the place with the promise to visit them if I am in the area again. In the meantime I have promised so many visits that I will only be busy with visits for 2 to 3 weeks.
First with the scooter, then directly with the bus I went to Naga, where after a one-hour waiting time I went on to Lucena for about six hours. I wanted to go to the island Marinduque. In Lucena it went somehow to the port, where I just caught the ferry at 22:30 o'clock, I still had four minutes 🙂
On the island I went to the next village and searched in light rain, in the dark with head lamp a place on the beach. My tent was full of damp sand and wet outside, wet inside.
Sometimes it is not easy to tell how high the tide is. Around 6 o'clock in the morning the inhabitants of Balanacan told me that the flood would flood my tent, slowly it would come. Under the eyes of the residents, I packed up the wet and sandy tent in the rain, had myself invited for breakfast and drove to Boac with a resident who wanted to help me, by jeepney. I told him to come back to say hello. Unbelievable the people.
In Boac I looked for a room and stayed four days. I didn't want to see any dream beaches, people were more important to me and information about life here.
I went after four wet days in the tent, two days showering only in the sea, in a Guest House.
The people are incredibly friendly, helpful and accessible. They give a lot, although they don't have a lot. But unfortunately Philippinos like to drink. Preferably their cheap 80% gin. The group only drinks from one pinch. Just like the beer. They drink from a cup that is passed on.
Is it dangerous? No idea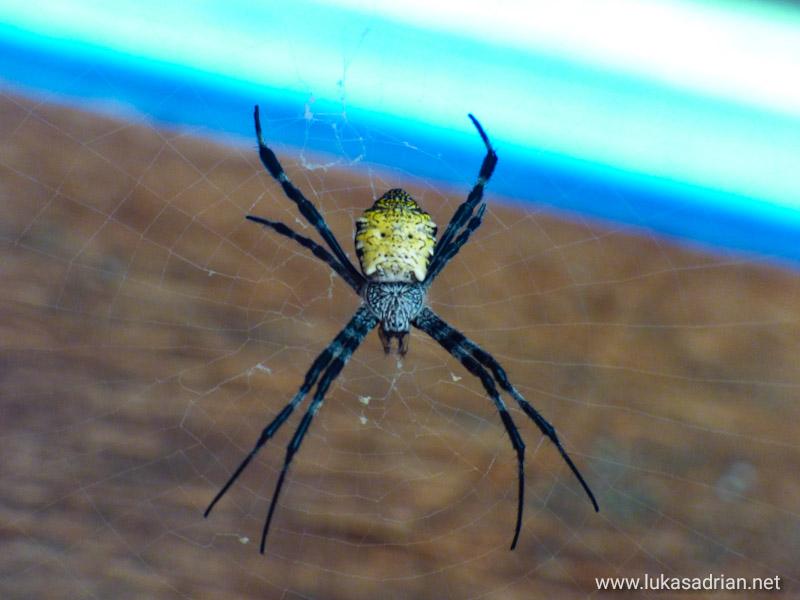 During a walk a "Where do you go?" is often shouted. I always answer in detail, but that's probably something like "How are you", where no correct answer is expected. But I don't care, someone asks me something, I answer also 🙂
The last two days on the Philippines were hard for me, because I had to leave the country. I also made new acquaintances again.
After a small visit with people, where I camped at the beginning, I went to the ferry, then by bus to Manila.
Selfies times again 😀 nevertheless a beautiful small memory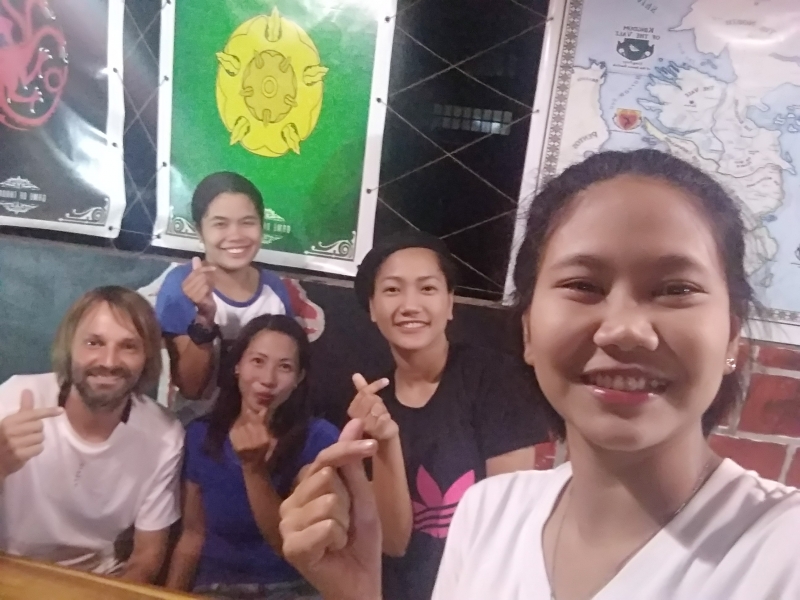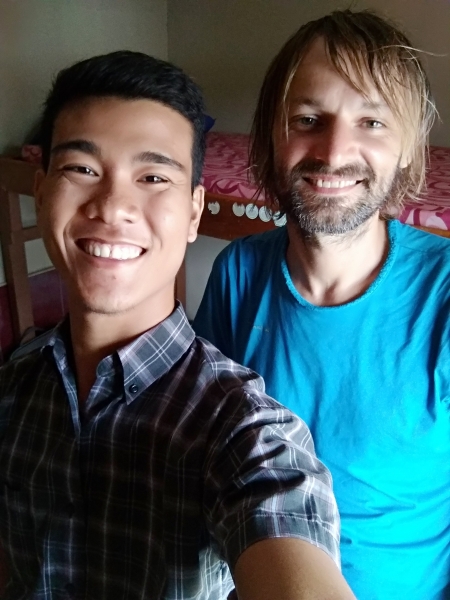 The buses stop at restaurants from time to time where you can go to the toilet and eat. But the air conditioners are so cold.
I invited another motorcyclist, who brought me to the hotel in Manila for 100 pesos (2 dollars), to dinner. Salaries are bad, but people are happy in the country. I know, I repeat myself. Of course he was happy about the invitation. I also learned something about his life in the Philippines.
In the hotel they transferred me into another one, because they had construction work. Of course I should pay for the taxi, about 5 dollars. I refused and wanted to walk the 3 km. The Filipinos are lazy, 3 km or even 2 km are too far for them to walk.
After about 1 km, when I wanted to cross a police barrier again, the policeman came to me. It is not allowed to walk at this time, because I need an ID or something similar. I should take a Tricycle (these motorcycles with side seat.) Sometimes even up to seven people ride). I didn't want to, since I had enough of these rides, pay, pay and pay and the fight for the tourist prices, then only for this small piece. The policeman insisted and said, ok, I'll pay it out of my own pocket. Ok, I took a tricycle, but for my money. It was only one euro, but 50 pesos compared to other prices here, is a lot. I don't compare anything with German prices, but with the local ones. Sometimes the price is more than twice as high for me. I am not a tourist with a big purse, rather a frugal traveller. This fighting is exhausting in the long run or I am not used to it. Enough howling, I was in the new hostel, slept one night and decided to make a decision: I cancel all my plans for next year and come back to the Philippines for a longer time! I will also look around for work as a programmer in Germany if necessary.
Now it should go back to Vietnam, Ho Chi Minh City, also called Saigon.
Short further impressions:
SIM card from Globe, which you have to load weekly for 90 pesos (about 2 dollars), is currently the cheapest, but sometimes Smart is better, depending on where you are. Globe is offering 2 GB for this week.
Burping is also a good thing. The men also like to pull up their T-shirts so that their stomachs are free. Looks funny when the belly is quite thick, like during pregnancy. But I've seen it all over Southeast Asia.
Many people like to sing loudly, karaoke is also very popular.
Food is delicious, but meaty. It often swims in an oil sauce. Also the greasy pig skin. Often coconut milk is also used as sauce, sometimes even only vegetables or with jackfruit. Nevertheless, as a vegetarian you have to look for food. Of course, a lot of fish is also eaten.
In the shopping mall, where there are many restaurants, more than 90% of the food is meaty.
In the local restaurants the rice costs 10 Pesos (approx. 20 Cent), a small plate with meat or vegetables (which one finds too rarely) 40 Pesos (approx. 80 Cent).
Women get pregnant very early, sometimes the man says goodbye. Otherwise families have 6 or more children. The younger generation doesn't want so many children anymore, especially not in the city. I have heard that condoms are even distributed free of charge. It would be better, since more than 80 million people live in the Philippines.
Most of them are Catholic here, divorce is not allowed.
In the evening around 8 o'clock almost everything is closed and the streets often quite empty. People go to sleep earlier and get up earlier. But I don't know if this is the case in the cities as well.
Garbage is also a problem here. In addition, the Philippines would be supplied with garbage from all over the world. But recently the containers went back, you don't want them anymore. The couchsurfer Erich in Boac, with whom I met, collects a lot of garbage at a small beach every day. There are a lot of things coming together every day. You also notice that the sea level is rising. Building a beach house doesn't seem to be very clever if you think about our great future.
I always have the impression that it is too late to save our planet, our planet is just a broken garbage dump.
All Photos: Photos