After many weeks the Vietnam contribution comes now. I had problems uploading photos and it took a long time. It is my last part.
After two weeks of being lazy in Hanoi and two months without sports, it started with 37 degrees in the shade on the bike. My direction, but not my destination, was Sapa, the northeast of Vietnam, right on the Chinese border.
But in Hanoi I also had to organize some things, so that I didn't just lie around lazily.
Shortly before leaving the city, I saw a stand. In the offer there were five spit-roasted dogs. For me no shock, who can eat pig, can also eat dog.
The taste should be strict.
During my first visit to Vietnam a few weeks ago, I drove in a sleeping bus. The couches are for very narrow and small people.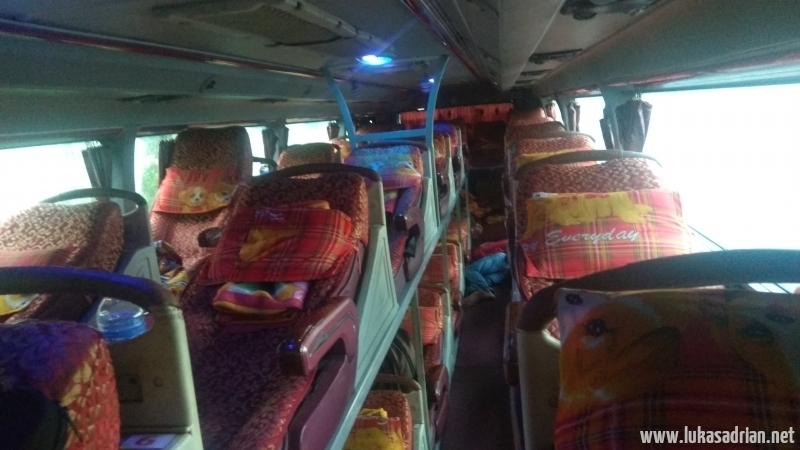 The first look out the window on the bus back then and I saw that: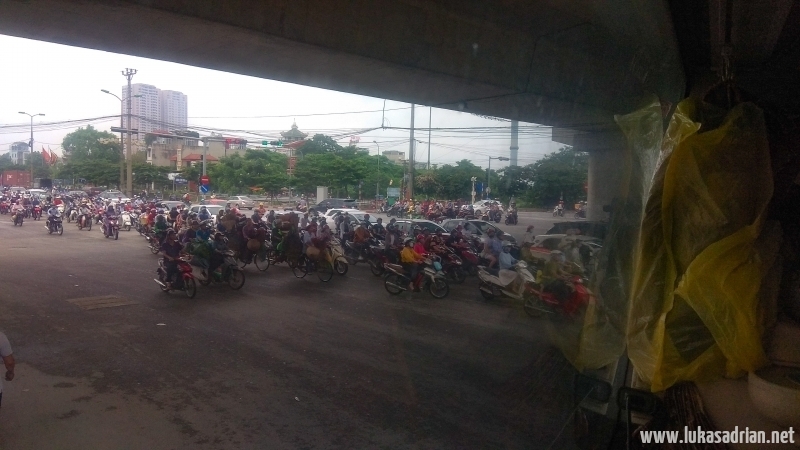 On my second visit to Vietnam I met Hoa again on the street, the Vietnamese woman with whom I hitchhiked in Laos. My first second encounter on the whole trip.

It was hot in the afternoon sun when I started riding my bike, so I had to hide for an hour. That rarely happened to me. I usually get off heat well.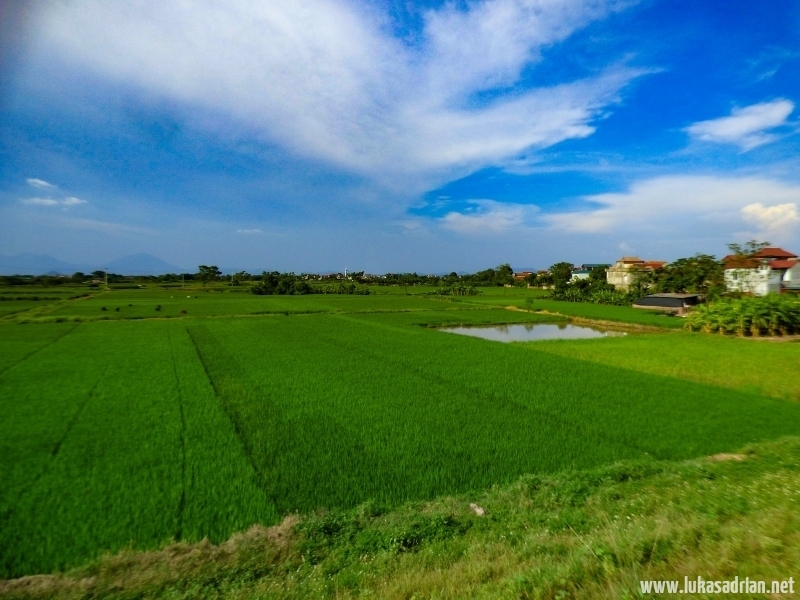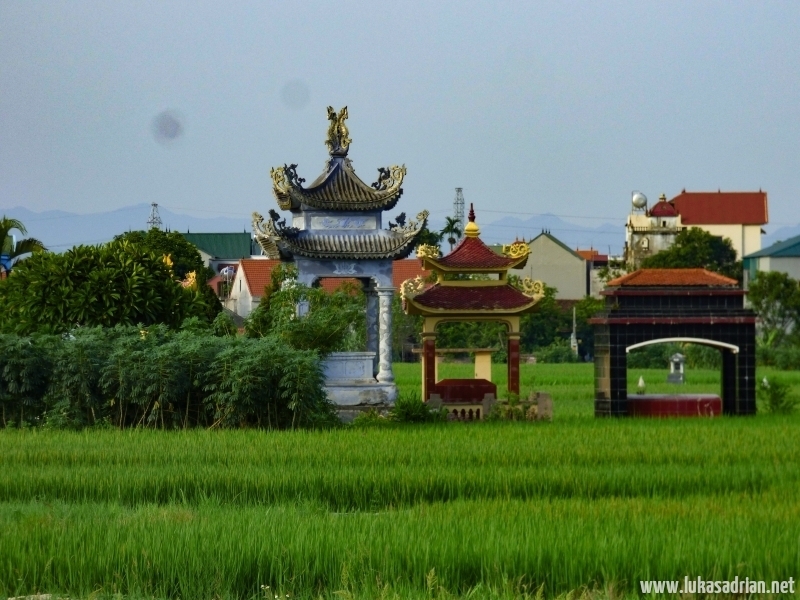 I made surprisingly good progress, listened to music, waved back again and again and also smiled back at the women. Unbelievable how many slim people, especially women, there are in Vietnam. Whether it's food or genetics is hard to say.
Shortly before sunset, around 18 o'clock, I looked for a place in the village Bach Hạc to camp at the river.
Surrounded by some nice inhabitants and a beautiful view I was happy about the place.
I kept talking, new residents came, others left. Then the police also came and said it was too dangerous here, I should go to the hotel. First I refused, tried to discuss. But they did not understand English. Maybe I should have spoken Polish ?
I packed my tent again, contacted a warmshowers user 10 km away and drove with the police escort out of the village. In Vietnam you are not allowed to sleep with strangers. I have the feeling that you are controlled here. With strangers and in the tent it just doesn't work, the passport is registered in the hotel.
The warmshowers user Trứng helped me find a room for 120.000 Đòng (5 Euro) in the town Viết Trị
I stayed there for two nights. For the second night the guy wanted more money. After discussions I gave up because it was only 4 Euro.
Trứng still showed me the city, he was super nice.
Often one sees this kind of architecture in Vietnam, very narrow houses

I eat noodle soup every day that I've learned to love. The soup is kept warm in a large pot. There noodles cooked with a ladle are briefly warmed up. Then vegetables and meat. Some soup is then put into a bowl with everything. You can also order only the vegetables and noodles.
We eat with chopsticks, the soup with a spoon in the other hand slurped. Fresh mint leaves and small limes are added. After the meal one sits down at another table to drink water or tea. Free of charge, of course.
Typical soup, I love the meanwhile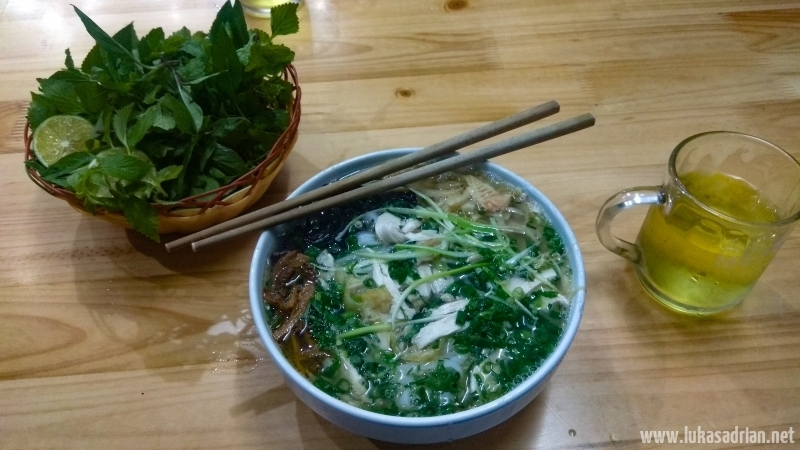 summer roles

Sometimes I ordered two meals. Super delicious food in a vegan restaurant

Wonderful views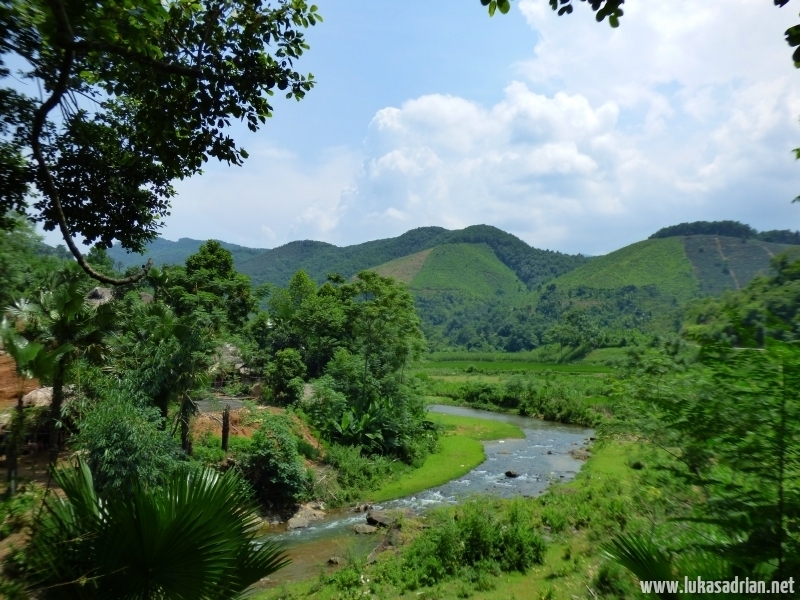 I was often called out for tea or even dinner. I saw people playing chess over and over again. I think it was chess. You knock the pieces out loud on the table. Many also scream at the game.

We continued 80 km past great landscapes to the Xoi Farmstay Eco Hostel, in a small village. Here I stayed 3 nights, ate homemade Vietnamese food and enjoyed the great view and the peace. The hostel is surrounded by rice fields and pointed mountains. We were also invited to a New Year dinner once. The Vietnamese like to drink rice schnapps. After drinking, some make a promise and shake hands.
One always packs small snacks in the small bowl with rice. Sometimes with spicy sauce, sometimes with soup, as you like.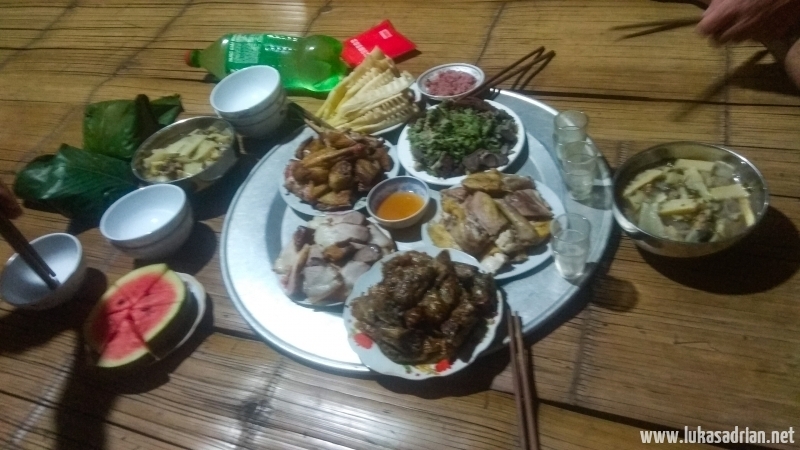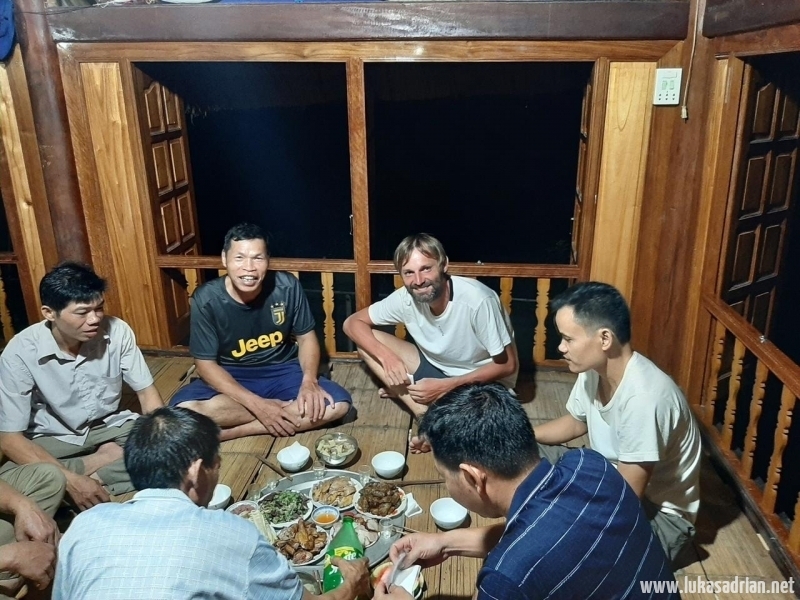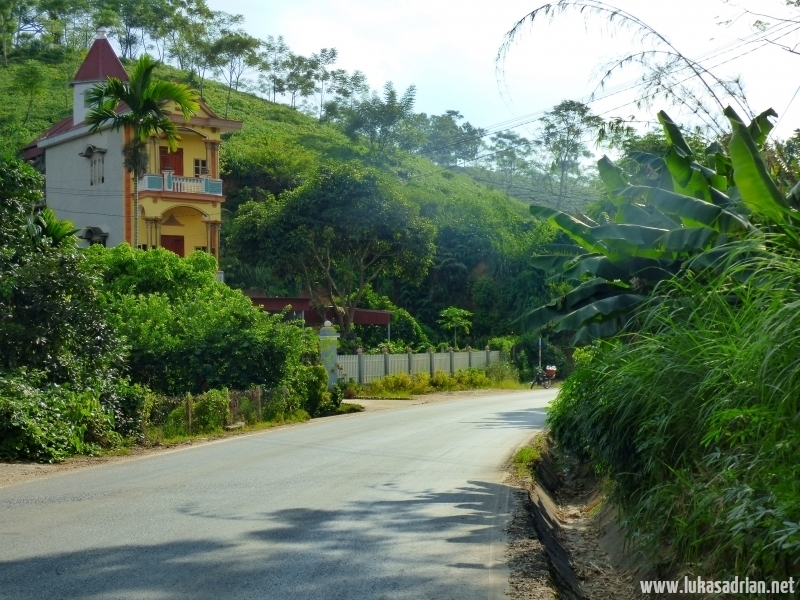 I totally like houses like this. In general: the simple life is the best.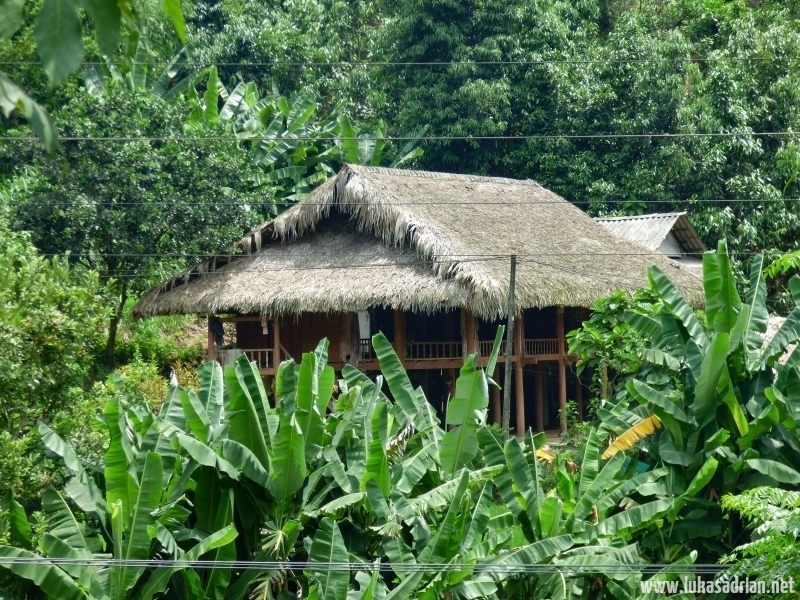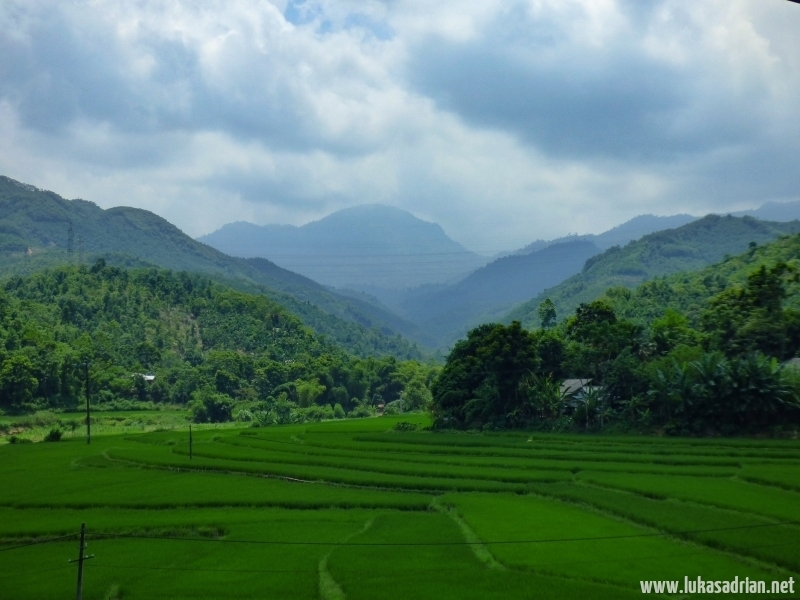 Take a quick shower in full clothing on the way. After 30 min you are dry again anyway.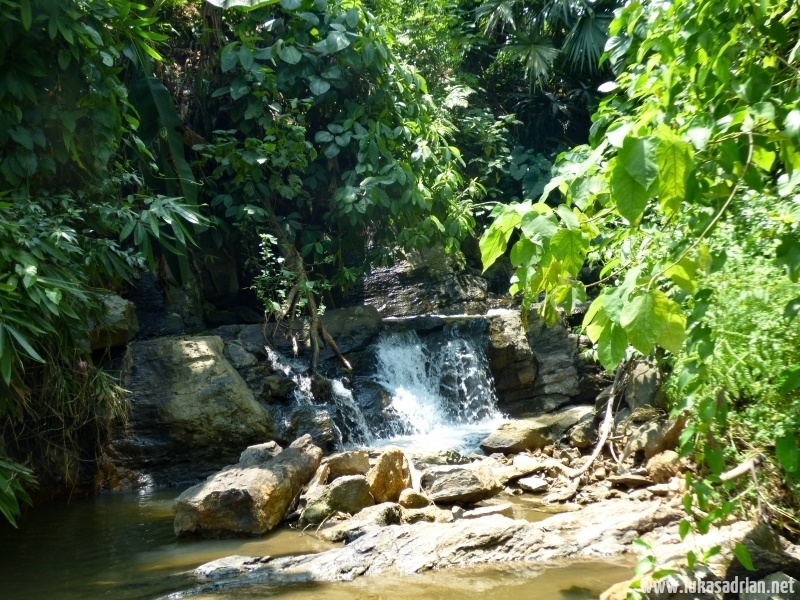 Once, when I was looking for a restaurant at a hostel, I passed a shop where you could also eat. I ordered rice with something and then shook my head when asked and showed that I was hungry.
I was served a lot, all but rice was meat.
When I wanted to pay, they did not accept the money. It was leftover food and they gave it to me.
It was hard for me to leave this nice hostel. Waving I drove further direction Sapa.
On the way I stopped at a waterfall to cool down.
After an incredible 10 km a young man stopped me and invited me to dinner. I can't say no while eating. I stayed there for 4 nights. He showed me the surroundings, I was singing karaoke etc..  It was great to be part of life. We ate freshly killed geese, just like chicken, dog and pig. Everything fresh and from the surroundings. Even the rice is taken from the neighbourhood, vegetables or leaves from the garden.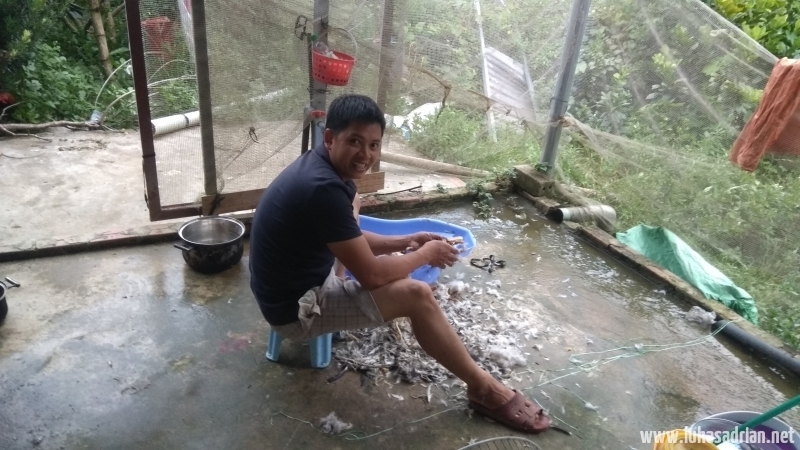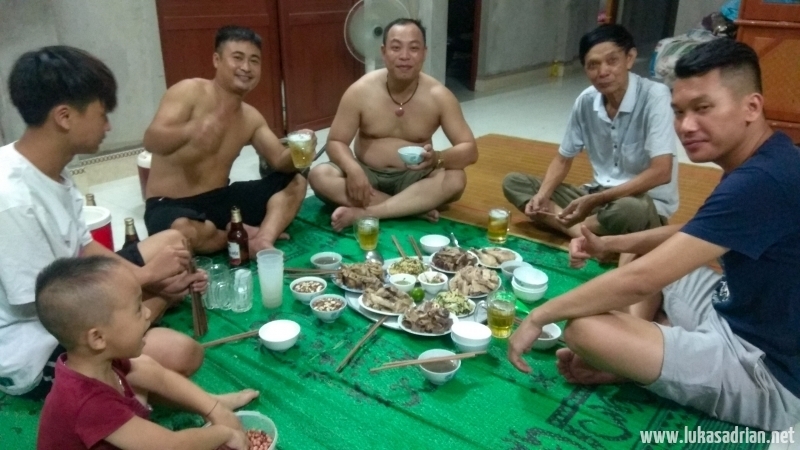 He showed me the non-touristic environment with a lot of potential for quiet tourism in the future. I am curious how this will develop.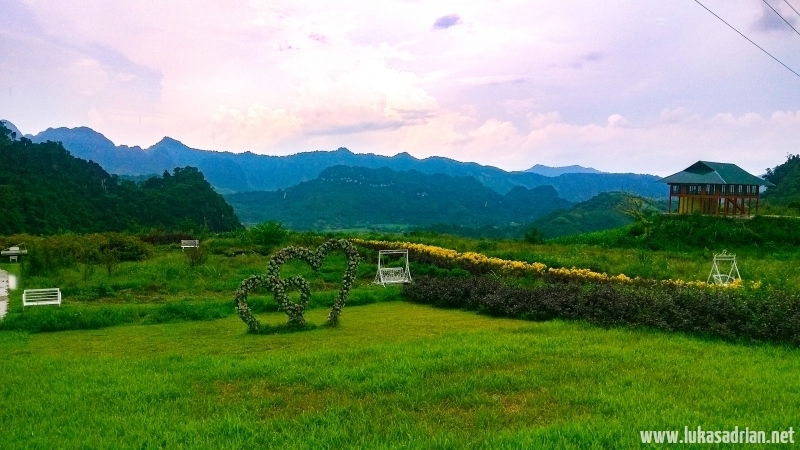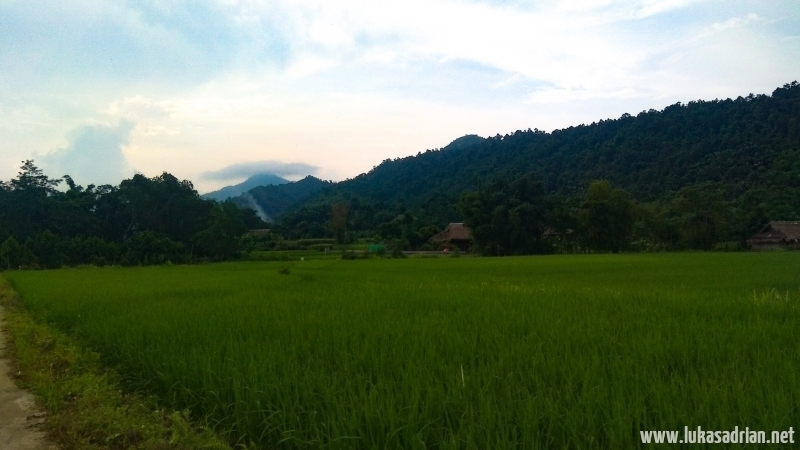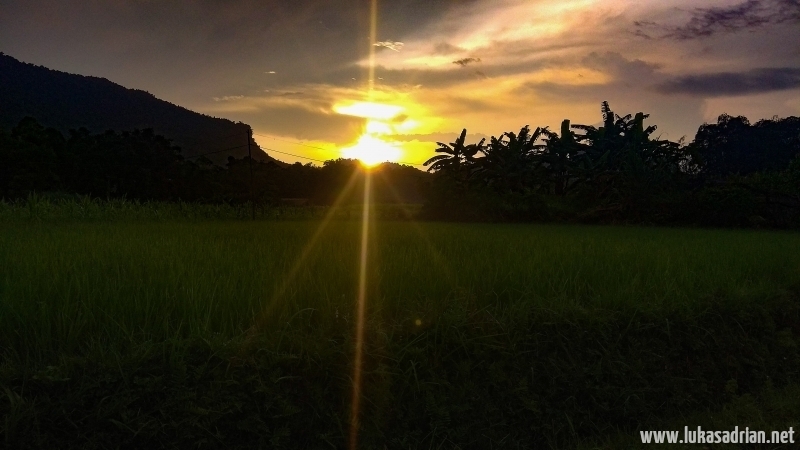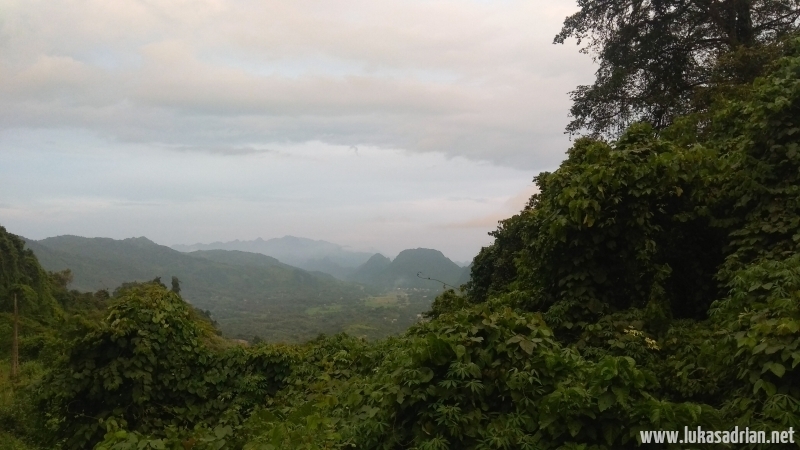 I bought a chicken, slaughtered it and cooked it. With head and legs, of course.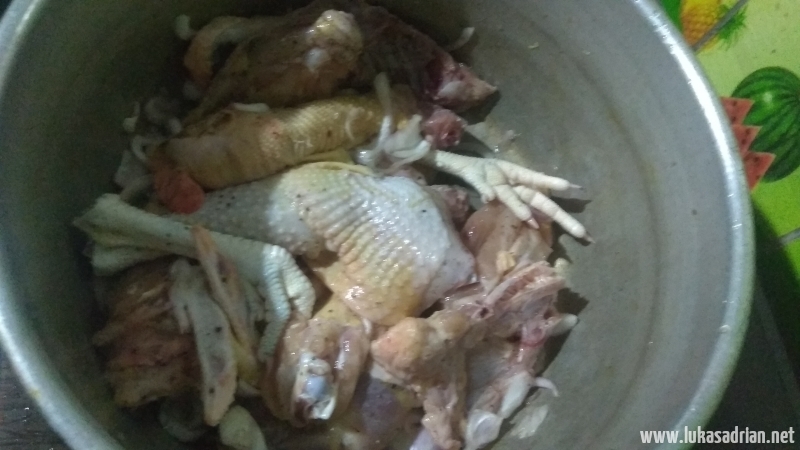 With a heavy heart we went 40 km further to Báo Yên.
I stayed there for 3 or 4 nights, because it was still raining and I had motivation problems.
The place is not the most beautiful, but what is Vietnam for me: soups, rice, vegetables, some chaos, hairdressers outside with a mini stand, mountains, river, not tourist, no English, hard to describe. Maybe I should have taken photos.
I fell totally in love with this kind of houses. My picture of a future house is getting clearer and clearer ? mixture of Laos/Vietnam, Philippines and Lukas.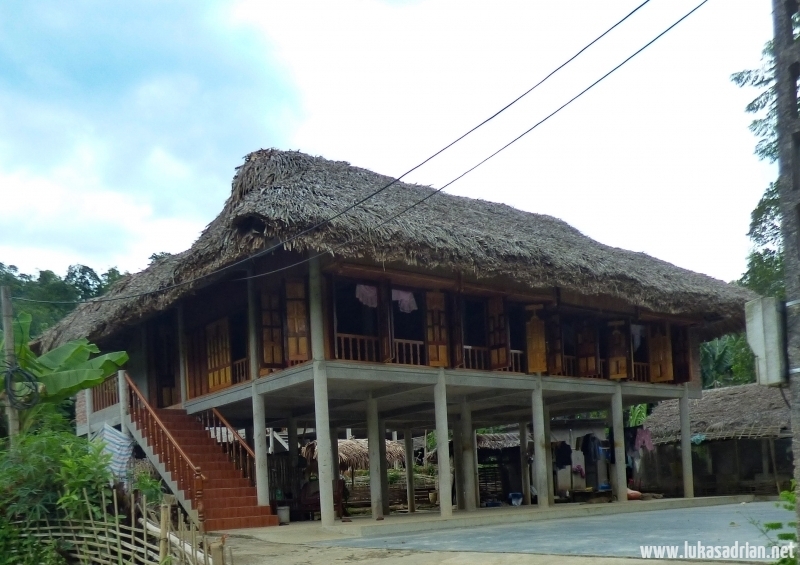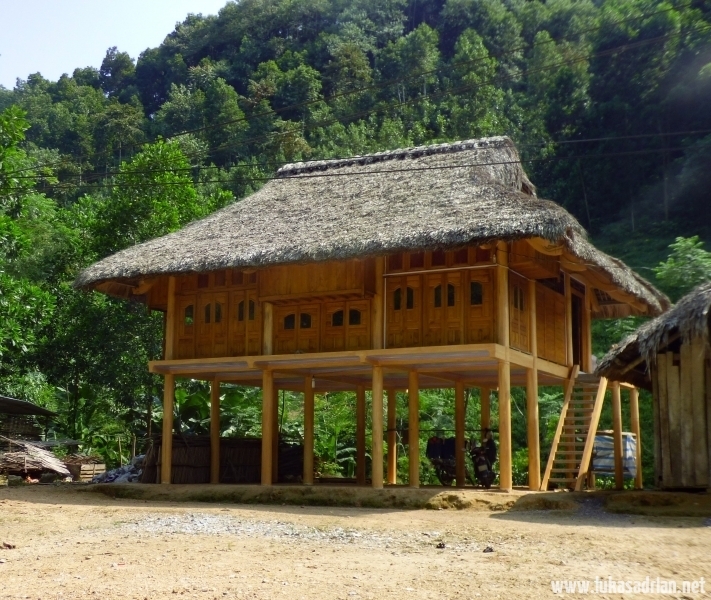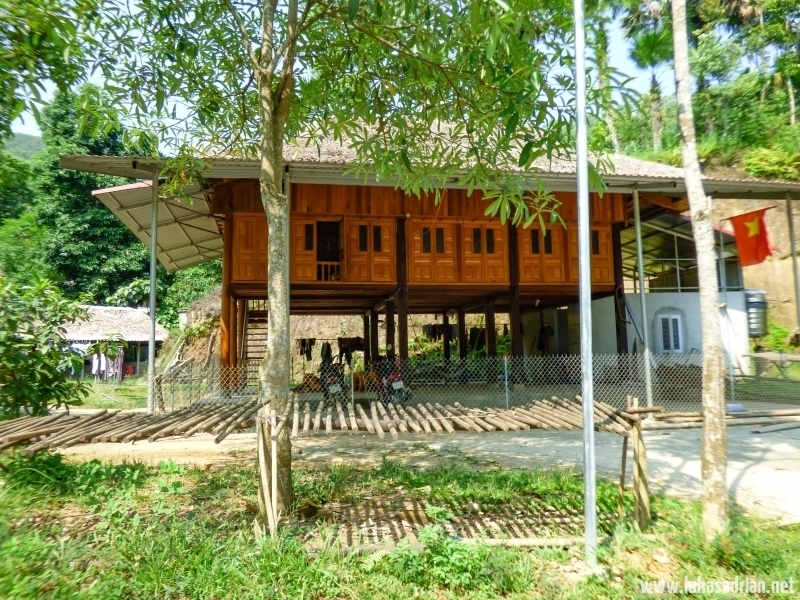 The next 80 km to Lào Cai, which lies at the Chinese border, were beautiful but also hard. Great landscapes and many small mountains up to 200 m high. Not high, but many. I made almost 1000 m uphill. On the way many Hello calls, invitations for tea etc..
I also had the time to think a lot. My motivation is no longer the same as it was some time ago.
Of course I chose among other things also small side roads, what should I drive on roads where all along.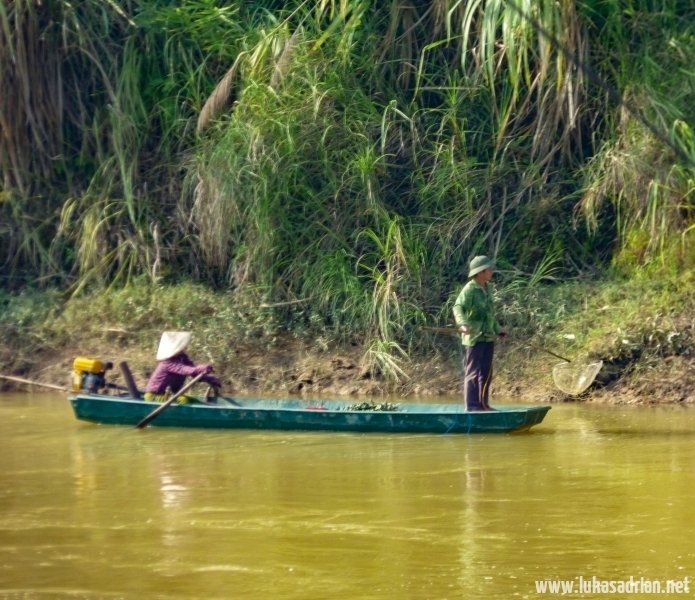 Yeah, one more house.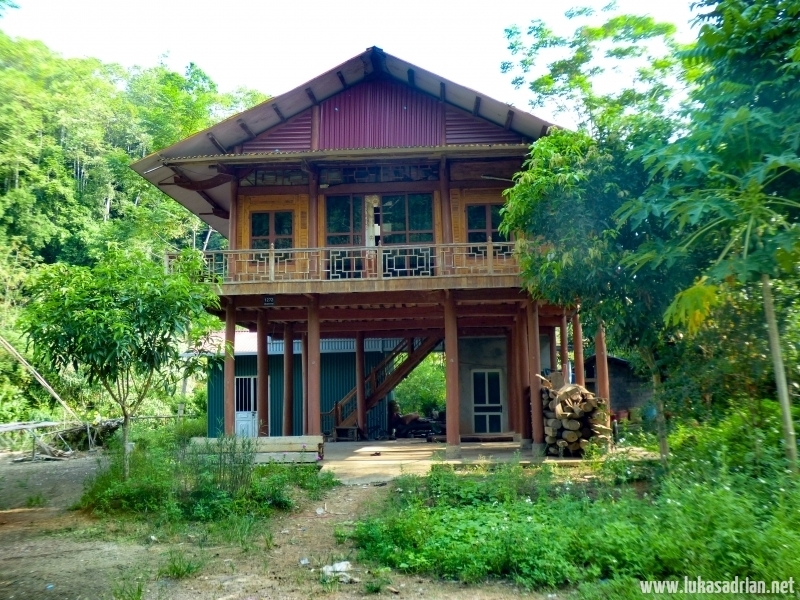 Restaurants are very simply designed. Sometimes not recognizable. Not only once I asked if this is a restaurant.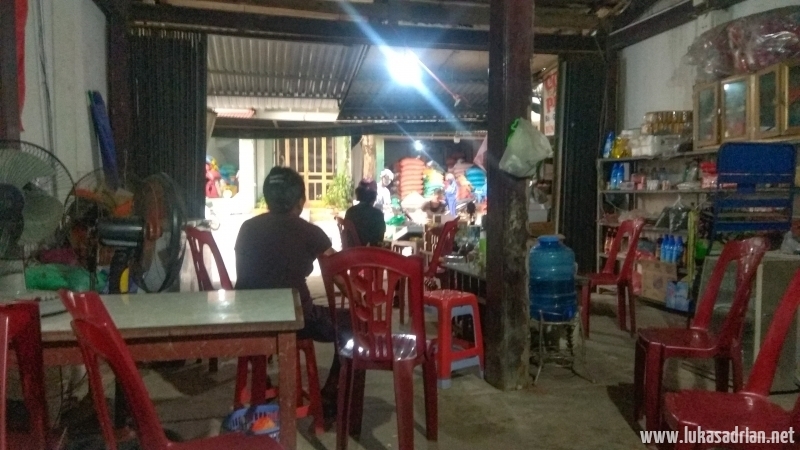 ME!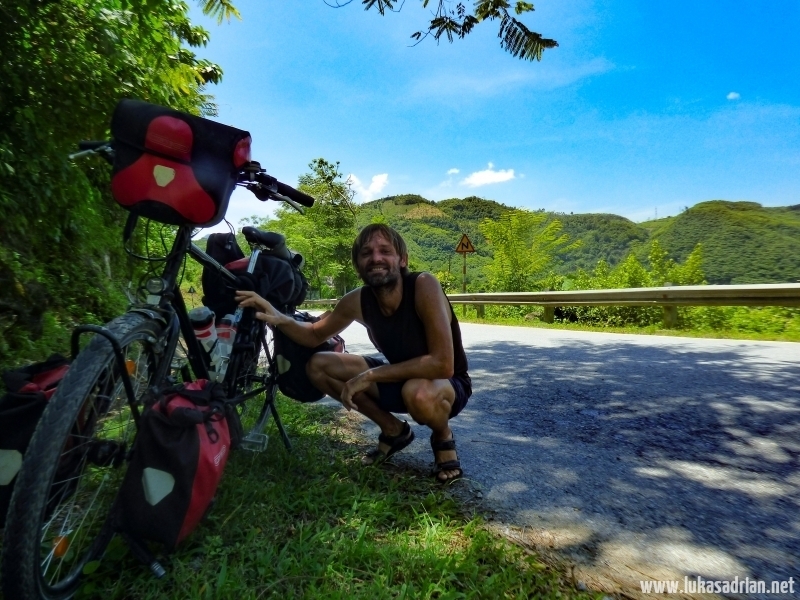 Lots of photos, but they're nice too. Unfortunately I can't photograph my feeling.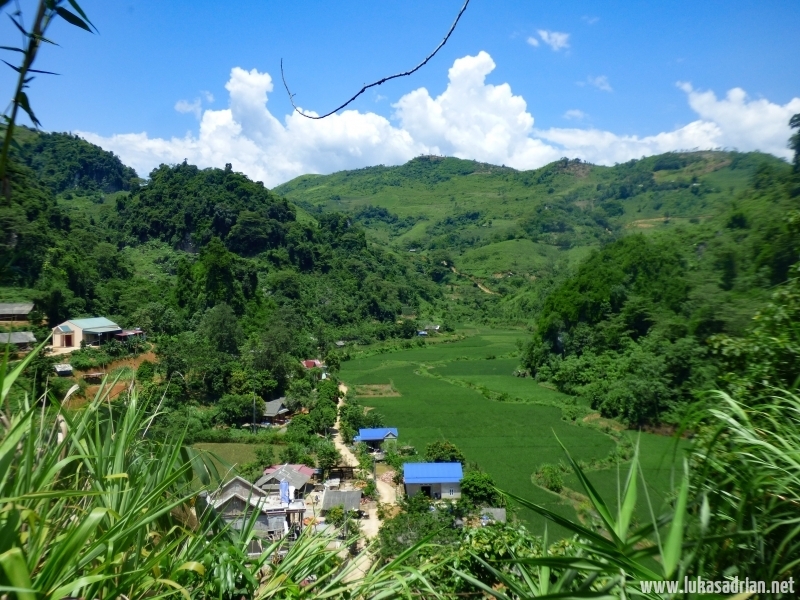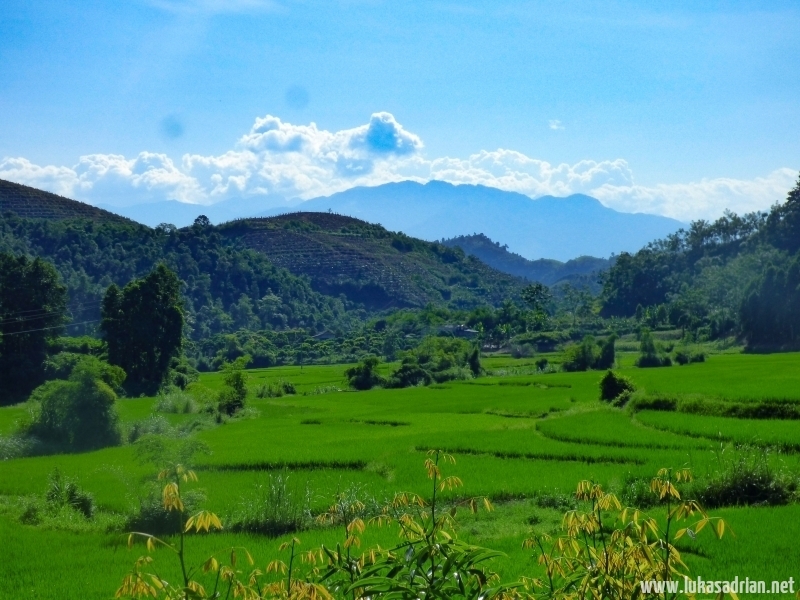 There are many fishponds in Vietnam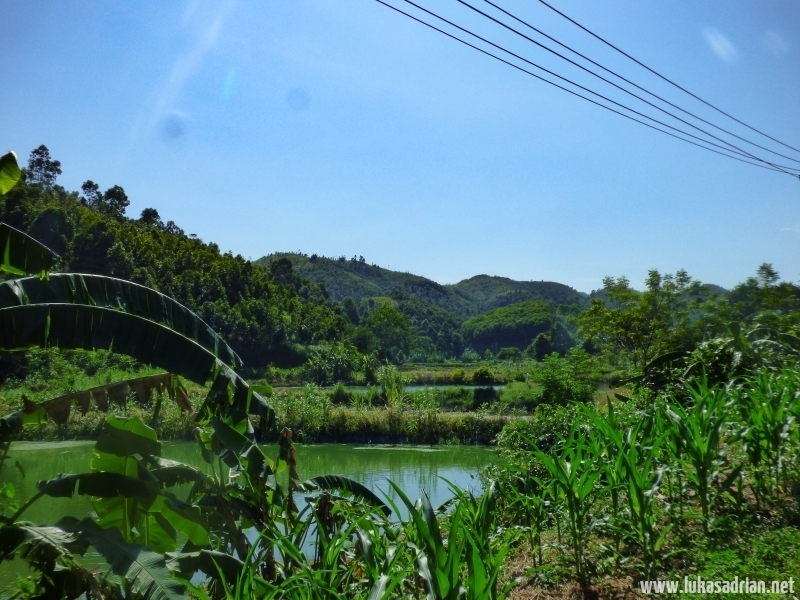 I went to the cheapest $7 hostel in Lao Cai. My legs were heavy, I was totally untrained. But my other destination are mountains with 1400m altitude. Sure, I pack ?, I thought or talked it into my head.
I went to eat, ate many sweets and rested.
I didn't like Lao Cái. Somehow too modern and full of hairdressers and boutiques.
But I stayed there for more than a week. I drove with the Australian Kent on borrowed scooters into the mountains, the route I wanted to drive. It was beautiful and it was definitely worth it. Women continue to wear their traditional colorful dress, rice is mined by hand, it is really a lot of work. Ok, water buffalos help sometimes. But when you are seen by the workers, you are always smiled at. Yes, this is so common here, no matter how exhausted, energy for a smile is still there.
Without experience I drove 150 mountainous and winding kilometres on the scooter. Unfortunately our rear brakes weren't really there. Behind a bend a truck suddenly blocked the road because it was so wide. Kent braked sharply and went crosswise. Fortunately there was only one bloody elbow. We were totally exhausted afterwards. My legs and shoulders were heavy. Probably due to the cramped posture at the beginning. I am just still a total beginner with it.
Kent from Australia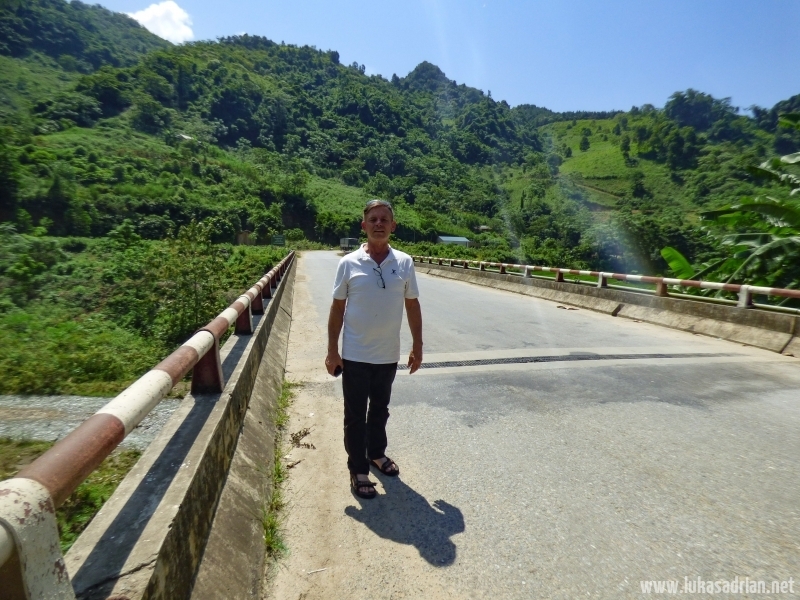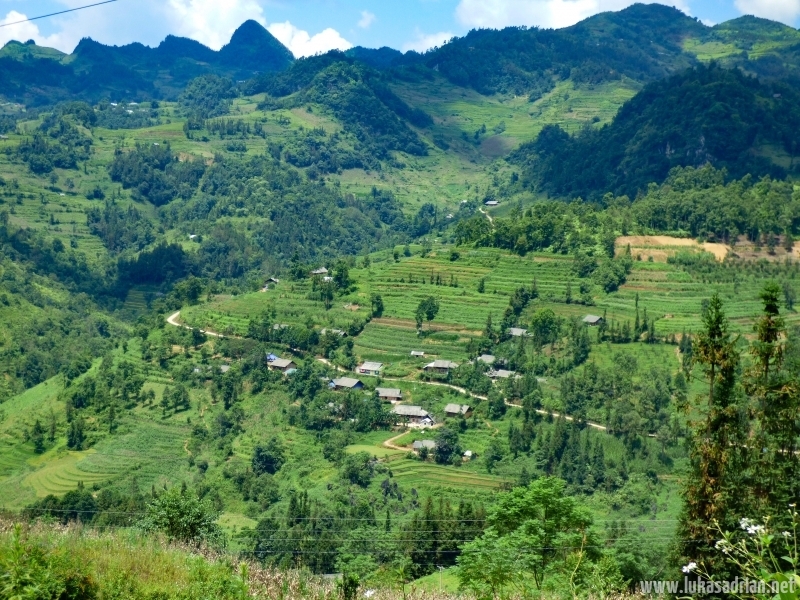 You can see these terraced fields here. Typical and ingenious in the north.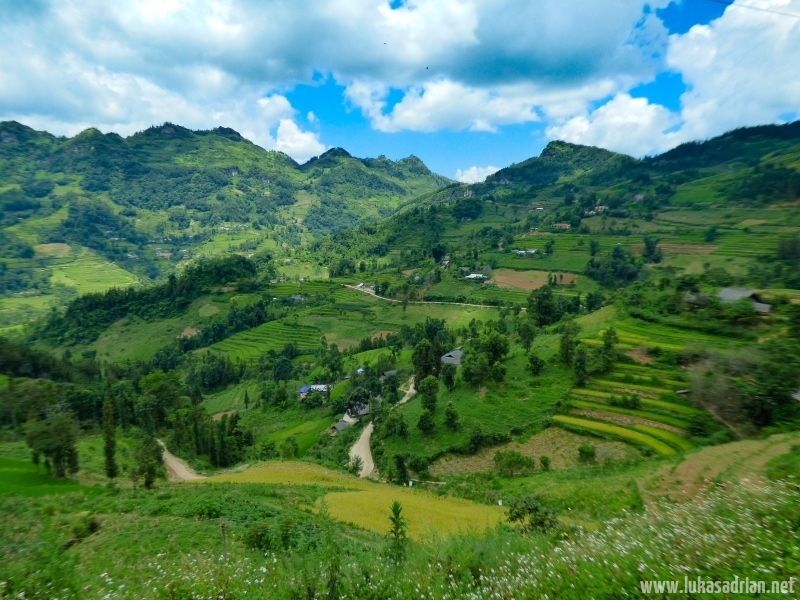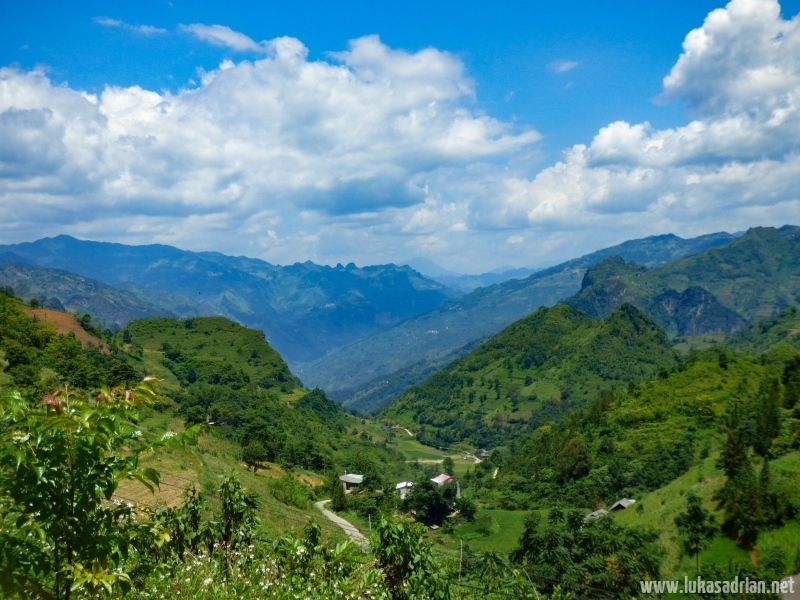 By the way:
Sometimes it's desperate. I go into an open restaurant and get astonished and asked what I want here. With gestures etc I explain that I want to eat. I don't go to a restaurant to learn to play the violin. Lukas is hungry and needs food!
It is closed, I am shown. Just like all other open restaurants. If you try to ask something, you nod your head. Looks like a YES. Does that mean YES now? Ok, then eat later. What is wrong with an ordinary black coffee? In a glass I got a small sip of very bitter coffee and a glass of water and ice cubes. Should I pour the water in there? What is the ice then? Iced coffee? Sometimes I think I have the wrong polarity.
Then in the evening again off into the restaurants. In some full ones you are rejected with a NO, too full or private, no idea. In another one I ordered glue ice cream with vegetables etc.. Finally, that can only taste! I got a hard piece of glue ice, nothing else. Ok, afterwards on the desperate search for a soup, I was hungry. There is rice and chicken or you are asked to shake your head out, so no soup. The open restaurant is just not open sometimes. Back to the hostel and hope for the next day.
The manually harvested rice

Hungry for dog?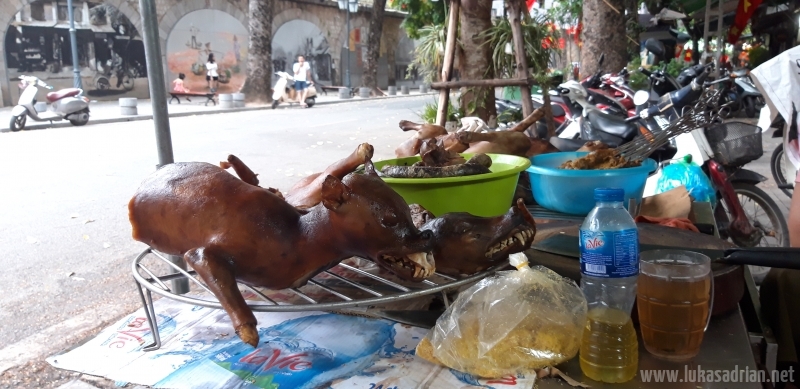 View out of the window. Sometimes I do not know how individual buildings can be reached.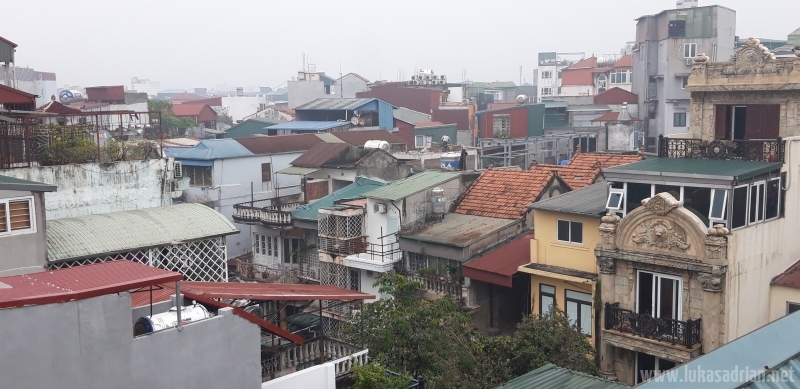 Crossing the intersection looks fierce, especially the scooters start 3 seconds earlier, so at red. Stupid if you are last and you are locked up by cross traffic. But you get used to it quickly.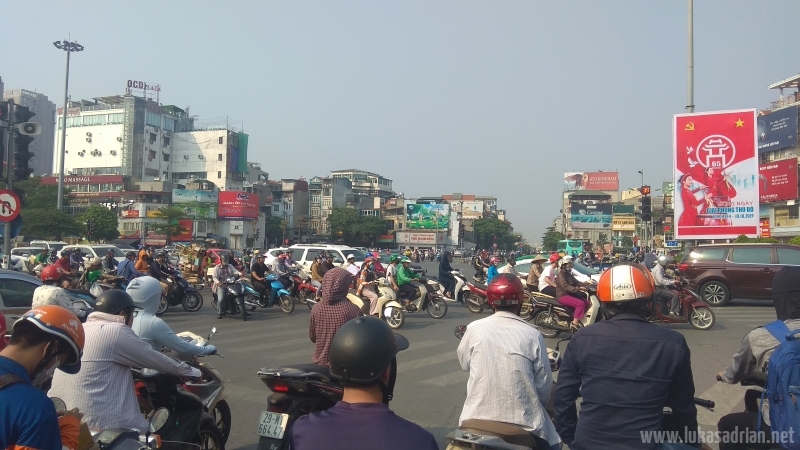 It rained again and again in The Cai, so I couldn't leave.I was thinking a lot about that time. My motivation to continue travelling was gone. Should I continue stubbornly? Flying to the Philippines earlier?I drove with Michael for about 6 months last year. He continued to travel via India. He also had little motivation by now, but he was stubborn and drove on and on. In Nepal, he was caught driving downhill in a bend. He was taken to hospital with broken leg and abrasions to his face. Stop his cycling trip. He had to return to Poland shortly afterwards.It was certainly a sign that he had not listened to his heart, but to his head.This also led to my decision to go back to Hanoi and complete this journey, my complete bike trip. It was my dream, but I didn't know from the beginning how long I would last. But three months was the minimum. Now I've only been on the bike for 13 months, a total of 19 months.
The view to China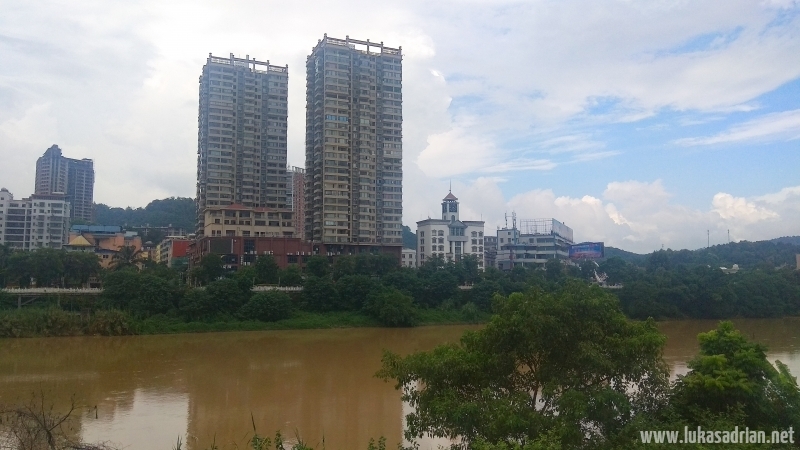 These water pipes are very important in Vietnam. Many smoke them. Right next to the very small teacups. Tea and smoking is just part of it.

On a sunny day, I tormented myself the 80 km with a total of 1000m uphill back to Bao Yon.I thought a lot about my future again, just as I have been doing in recent times. Nevertheless, I enjoyed the landscape, waving people etc. It was beautiful.I was totally finished when I arrived at the finish line, even climbing stairs was too strenuous for me.On the way, I dropped my smartphone for the first time while driving. But it landed nicely soft, in the muddy water ?But nothing happened. Wouldn't have mattered, the way to Hanoi is easy to find.The next day I was hungry, I don't understand how and when you get rice here. Soups without end, sometimes closed, rice is somehow rare to find. Ok, comes to the area etc.  It's just to despair when you're really hungry!
Food in Luke's style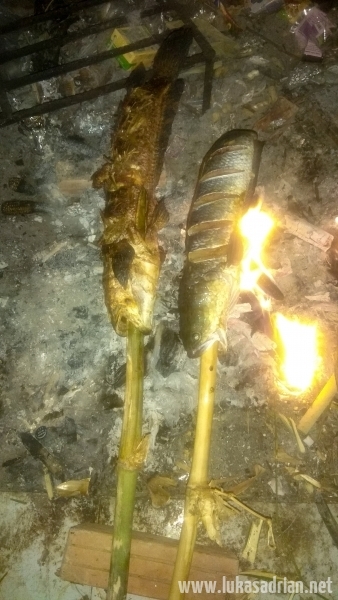 There was the Lunar Festival in Boa Yon. Several hundred children marched through the streets in the evening with a large star on a stick. At the very beginning there were drums and two dragons danced to the drums. A large moon was also present.Funny are the motorcyclists, who pack everything like 2m high and wide boxes, boards, windows, bicycles, pigs or just a scooter. Are they really creative or experienced? How to take it, for me a funny sight. It pushes itself.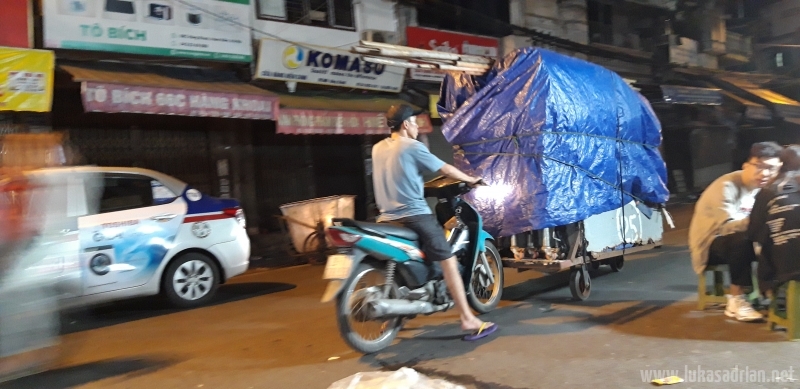 What to say. Most words are short. Similar to German, there are umlauts here, which distinguishes the words written in the same way. As in German. The pronunciation of the umlaut is different. I struggle with the debate, it's just practice.
By the way, as in Iran, it is best to hand over the money with both hands. I think that has something to do with respect.
Gorgeous…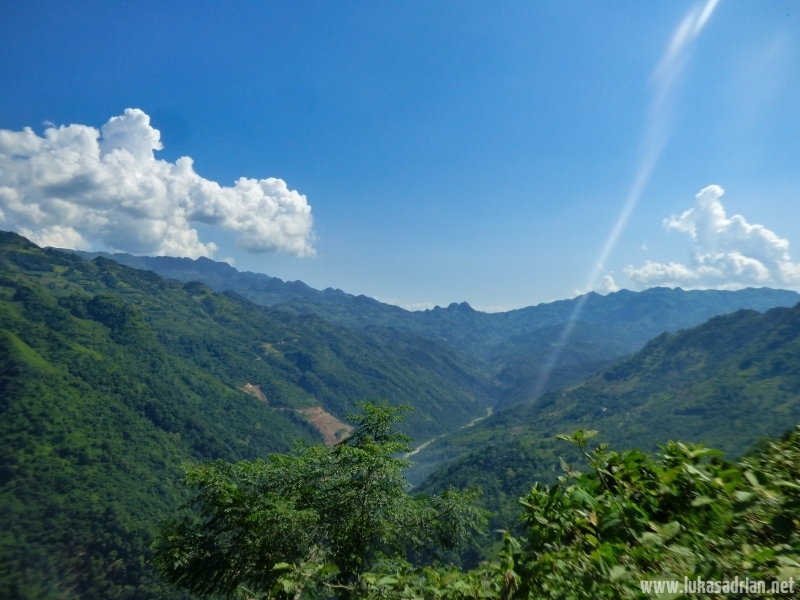 I drove back and stopped at the young man I had stayed with for four days. This time I stayed, I think, five nights.The last kilometers to Hanoi I took the bus. I just didn't want any more.
A quick look at Hanoi:Sidewalks hardly usable, they are fully supplied with scooters or other things. It is totally crowded with scooters, full of tourists, permanent appeal to you whether you need the taxi, in the evening you are pushed into the restaurants, a no every 10 seconds, etc.In addition, the daily price war, even with SIM cards, is lied to the face, selling the main thing.So much for the negative ?
What I like is that on weekends the road is closed by the small lake and a lot of small events take place there. It is sung in the group, danced, portraits painted, games played, music played, it's great.
Still something about Vietnam, both men and women work on the construction sites. I saw women in the blazing sun with the men shoveling. That's what I call equality ?The women from the reception often sleep in the hostel at the counter or, if possible, in the hostel room. Some also have a second job because you can't get around with one. At full-time, some earn about 200 dollars.
In Hanoi, I prepared everything for my two-month stay in the Philippines.I also visited Ham Lon Peak with a friend, a landscape wooded by conifers and a somewhat mountainous landscape. It was great, the perfect place for the tent and for campfires.Within a radius of 50 km around Hanoi are many beautiful not so tourist places.
The last days in Hanoi I spent with great guests, those you rarely meet. Was great. A nice finish.
The Philippines called for me, but it was hard for me to leave Vietnam. It's the people of Vietnam that I like so much, not the landscape or anything like that. But I will always go back there because I have new friends there.
Short conclusion: In terms of landscape Vietnam has really very beautiful corners, but I haven't seen them all. Unfortunately, too much agriculture, i.e. rice fields. I was missing meadows or simply untouched areas, which is unfortunately too rare. It is difficult to find a place to camp. I don't have to say much about people, except that the kindness is really great. That's why it was hard for me to say goodbye.
I don't like too much tourism, I want to see Vietnamese and not Western guys.
Traffic in Hanoi is extreme, but you get used to it. On the scooter/bike it goes again, because you swim in the river. Outside, it's not that bad anymore.
All photos from Vietnam: Vietnam